WiHM 12: An interview with Sarah Glenn

Sarah Glenn and her "Strangely Funny" world of horror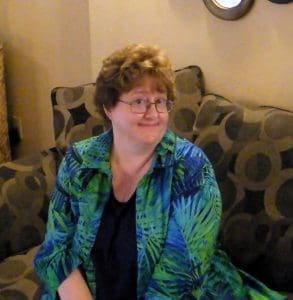 Sarah Glenn has a dark funny bone, and loves sharing humorous horror with her readers. She has a background in journalism and even worked the Reports Desk for her local police department. There she learned some criminals, are in fact, dumb. She and her partner Gwen Mayo have published eight issues of their Strangely Funny anthology series, and are opening submissions for the ninth edition in August. They're looking for funny paranormal stories, and the guidelines give examples from stories they've accepted in the past, "Homicide is summoned to a halfway house for the undead, a finger transplant from a serial killer leads to hilarious consequences, a mummy regrets hiring a cheap embalmer. Lovecraft humor is welcome; shaggy dog stories are not."
I met Glenn when she accepted a story of mine, "The Writing Retreat" for Strangely Funny VII, and sat down with her to learn more about this talented "woman in horror".
AF: Tell me about the creation of your small press, Mystery and Horror, LLC.
SG: Mystery and Horror began in the days before same-sex marriage was legal, long before we set up the press. We could not pass the copyright of our characters to one another unless we were married or related, so Gwen and I set up an LLC that would permit each of us to leave our creative works to the surviving partner. At the time, Gwen Mayo and I each had books published by Pill Hill Press. When they went on hiatus, we discussed our options and decided to set up our own press. We'd been involved in newsletter/zine production before, and we expanded our skills to book publication. Since we were already legally organized, we expanded the functions of the LLC.
AF: I love that genesis story, what a clever solution. How did you originally become interested in horror?
SG: I had an interest in horror from the time I was very small. My favorite holiday was Halloween, and I had a fascination with witches in folklore. Then Kolchak: The Night Stalker came along, and I was glued to the TV through its run. I also watched Night Gallery, The Darkroom, and eventually Tales from the Darkside. Meanwhile, I found a paperback edition of Carrie in the bookstore, and I became one of Stephen King's Constant Readers. Carrie was special to me because most of the lead characters were female, so I could identify with them, and the author had a real handle on what mean girls were like (later, I would learn his wife assisted with that part). 
AF: I'm also a huge fan of Stephen King's novels and Tales from the Darkside. What kind of writing do you do yourself?
SG: When I write by myself, I like to work with paranormal elements. I also like to add humor, although not everything I've written was funny. My first novel (which I hope to re-release via our press when I find time) was the tale of a vampire whose worst battles were with her homeowners' association. I have a number of short stories, because I love short stories (another reason I enjoy Stephen King). Gwen Mayo and I are writing a series of cozy mysteries together set in 1920s Florida. The one I'm working on at the moment, "Ybor City Blues", has a ghost in it, so I'm getting to play a little with the eerie. I have two trunk novels: one is an occult novel and the other is a paranormal thriller.
AF: You had a very interesting job that provided good fodder for fiction. Can you tell me about it?
SG: I used to work Reports Desk for the Lexington, KY police department. I could have done standup with some of the things that happened there. Two brothers were fleeing from Officer Bentley, and they decided to dive over some bushes. Problem was, they were on an overpass. They didn't die, so it was funny. Another: I received an arrest report for a DUI where the suspect claimed he was his twin brother. Unfortunately, he had his name tattooed on his arm. I've often wondered if his mother made him get it so he couldn't pull that with her. I've written up a story about a fellow who had his pants stolen by a hooker: "Excuse me, sir, but I'm afraid to look over this counter. Do you have pants on now?" No bites on that one yet.
AF: Now that sounds like a story I'd like to read! Can you tell me about the inspiration behind your successful series, Strangely Funny?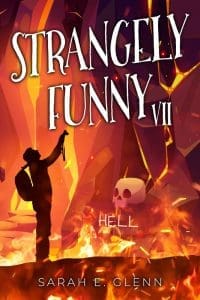 SG: My first novel was the story of a vampire who moves into a gated community to protect her family from vampire hunters, only to discover that the Homeowners' Association is harder to deal with. I also wrote a political stump speech with a Deep One audience for State of Horror: Louisiana. This should give you an idea of my sense of humor. When we set up the press, I knew I wanted to do an anthology of funny paranormal stories. This became Strangely Funny. Strangely Funny is the gift that keeps on giving. I get plenty of submissions for it, plus repeat submissions from certain authors as deranged as I am. People who enjoy one of the books in the series will often read other volumes, especially if they have Kindle Unlimited. I intend to do a Best Of book at some point, but it will involve selecting stories and seeing if we can get the rights to publish them again.
AF: Well, you can definitely have the rights to republish "The Writing Retreat." That sounds like a great project. What's exciting you most in the field of horror?
SG: What I find most exciting in the current field of horror is the new amount of access we have to dark stories in all forms and variety of authors. I can listen to creepy-pasta narrated by an Australian voice, rent horror films made by African-Americans (Black Box was enjoyable), and gory stories in multiple languages on Netflix. Meanwhile, niche presses are giving voice to female horror authors like Gwendolyn Kiste and Carrie Laben.
AF: Any advice for writers submitting to your projects?
SG: I could tell you that I was looking for "fresh views" or "edgy" stories, but what I'm really looking for are well-written stories with distinctive (or even unusual) characters.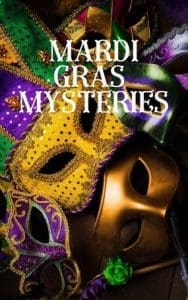 If you're submitting to one of our anthologies, read the call for submissions to see what sort of stories we want. I could produce a "Strangely Vulgar" anthology with the unsuitable stories I've received. 
AF: Any current projects readers should be on the lookout for?
SG: Gwen Mayo and I have just published our first anthology of the year, Mardi Gras Mysteries. I'm working on Book 3 of the Snowbirds series, and Gwen is working on the third book in her Nessa Donnelly series. I'm also choosing stories for the next Strangely Funny, which should be out in late spring. 
Check our site at https://www.mysteryandhorrorllc.com/submissions.html to see what we're looking for and when to submit.
About the Author
Latest Posts
Angelique Fawns writes horror, fantasy, kids short stories, and freelance journalism. Her day job is producing promos and after hours she takes care of her farm full of goats, horses, chickens, and her family. She has no idea how she finds time to write. She currently has stories in Ellery Queen, DreamForge Anvil, and Third Flatiron's Gotta Wear Eclipse Glasses. You can follow her work and get writing tips and submission hints at http://fawns.ca/.