The Horror Tree Presents: An Interview With J.P. McLean

Jason Ivey: Would you mind telling us a bit about yourself for those of us who are new to you and your work?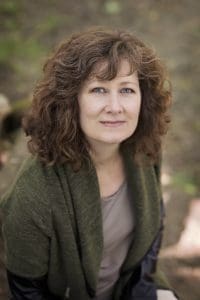 JP McLean: I'd be happy to, and thanks for inviting me. I've been writing full time from my home on Denman Island for ten years. Denman is one of the northern Gulf Islands off British Columbia's coast. It's a small island with 1200 people and only 20 square miles/50 square kilometers in area. Rural. Quiet. Ideal for writing. But we're ferry-bound, so it's not for everyone. I've written eight full-length books over two series, several short stories, and one novella. All of my stories contain elements of the supernatural, paranormal, or magic.
JI: Would you tell our readers more about Secret Sky and that fictional universe? What genre would you best describe it as?
JP McLean: *Secret Sky* is the first in the seven-book Gift Legacy series. The tagline is "Everybody wishes they could fly . . . until it happens." The story is set in modern-day Vancouver in the Pacific Northwest, and centres around a secret society of people who can fly. Their kind are ruled by a Soviet-style Tribunal, and powerful organizations know about them, are hunting them, and Fliers are going missing. Only one Flier has ever escaped, and he returned missing an eye and his will to live. The books are urban fantasy with strong thriller elements.

JI: I find the opening of the book very compelling. What was the research process like? Did you interview people who had experienced falling from great heights and surviving?
JP McLean: It's surprising how much research is involved in writing a scene like that. To get the details right, I first researched from what heights a fall would be survivable, which is how I came up with five stories. That's about fifty feet. Having the character's fall broken by something, in this case tree branches, adds to the chances of survival, as does having the faller land on something softer than concrete.
Next, I interviewed doctors and nurses to learn what types of injuries would be sustained by someone who'd survived a fall like that. Other than broken bones, a head injury was the most serious. There wasn't room in the story for the character to have broken bones, so I gave her a grade three concussion. The hospital scenes incorporate medical responses typical for a serious concussion.
JI: Speaking of research, did you do any skydiving to get the full experience or was the flying scenes based more on your imagination?
JP McLean: How I wish I had the nerve to skydive! Sadly, I'm a chicken when it comes to leaping from planes. The flying scenes are instead based on vivid dreams I have of flying—dreams I've had since I was very young. I also drew on my scuba diving experience. In particular, the point when buoyancy is perfectly balanced underwater—neutral buoyancy. At that point, I'm neither rising nor falling, but floating. If I were in a current, the water would pull me along with little effort. This is what I imagined the characters would experience when they were hanging in the air, hovering.
JI: I also found it interesting how the main character, Emelynn Taylor, had a tragic backstory where her father died in a plane crash. How do you think this traumatic event contributed to the main characters unique gift, if any? Do you think there is a similar connection likewise with the other characters and how they acquired their gifts?
JP McLean: That's a terrific question because the answer is pivotal to the entire series. This is such fun!
Emelynn is unique in the Flier world because she wasn't born with her gift but acquired it in a process called gifting. Her father's death played a critical role in that it eliminated any chance Emelynn had of learning about her gift when she was young. And the coping mechanisms she develops to try to control what she experiences as episodes of weightlessness further isolate her. Her father's death is the root cause of her isolation and her ignorance of her gift. Those circumstances culminate in Emelynn's near death on the night she falls from the sky.
In later books, Emelynn's father will be shown to have played a critical role in Emelynn receiving her unique gift. He is the "why" behind it all. And his plane crash will provide the most pivotal moment in the series.
A few of the characters we meet in the series came by their gifts in a nefarious fashion. Those Fliers are the most dangerous. And though they don't have traumatic events to blame for their actions, the chaos they create provides plenty of trauma for everyone.
JI: Were you inspired by any stories or events that sparked your writing of the Secret Skies series? What were they?
JP McLean: My flying dreams were a big inspiration. I love the sensation I experience in those dreams, the elation and freedom. That's what I wanted to recreate. I also find inspiration in other writers. Deborah Harkness' All Souls Trilogy, Charlaine Harris' Sookie Stackhouse books, and Jim Butcher's Dresden Files to name but a few.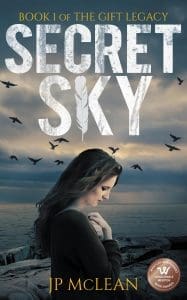 JI: What was your favorite thing about writing the Secret Sky series? What was the most challenging?
JP McLean: I'm tempted to say it's a toss-up between the flying scenes and the fight scenes, because both were fun to write, but my favourite part of writing any scene is the dialogue, especially if there's an argument going on. It's refreshing to have the time to craft the perfect retort to put in a character's mouth—the one I'd never manage to spit out in my real life.
The most challenging aspect about writing *Secret Sky* was figuring out which scenes to cut. I have the same challenge in the garden when it's time to thin the seedlings. Thankfully, I've had the good fortune to work with talented editors who recognize the weaklings that need to go to make the story stronger.
JI: What would think is the scariest idea to you: Spontaneously flying, or doing an activity like skydiving or scuba diving where your equipment might stop working?
JP McLean: The latter for sure. I'd be elated with spontaneous flying. But having my parachute fail? Or running out of air while diving? Yikes.
JI: If you had the chance to have one special gift/talent granted, what would it be?
JP McLean: Please, please, please, let it be the ability to fly! I would be forever grateful for that one special gift.
JI: Taking into consideration both your series and background, which would you be more apt to do if granted a chance: Explore space, or the search the depths of the ocean?
JP McLean: Hmm, interesting choice. As much as I enjoy scuba diving, there's something spooky about the "depths" of the ocean. I think I'd rather explore space. I'd especially enjoy being weightless.
JI: Do you have any upcoming projects that you would like to promote?
JP McLean: I do! Thanks for asking. My latest book is *Blood Mark*, which will be released on October 19th. *Blood Mark* is the first in a new series. It tells Jane Walker's story. She survives the back alleys of Vancouver, marked by a chain of blood-red birthmarks that snake around her body. During her tortured nights, she is gripped by agonizing nightmares when she sees into the past. It isn't until, one-by-one, the marks begin to disappear that she learns the deadly truth: Her marks are the only things keeping her alive.
About Secret Sky
An intrepid young woman. An incredible gift. A terrible price to pay.
Emelynn Taylor's gift didn't come wrapped in pretty paper and tied with a bow, nor can it ever be returned. Now, it's taken over her life. It strikes without warning, strips her of gravity and sends her airborne, unchecked.
Haunted by terrifying flights she can't control, Emelynn vows to take command of her dangerous gift. She returns to the seaside cottage where it all began. Here, she discovers an underground society whose members share her hidden ability, and a man who sends her heart soaring.
But the deeper Emelynn gets pulled into this secret society, the more she questions their motives. Are they using the gift for good or for evil? Unravelling the truth will plunge Emelynn into a fight for her freedom—and her life.
The first book in The Gift Legacy series, Secret Sky is a thriller that skirts the edges of reality in a world within our own. Buckle up and escape the ordinary: take flight with Emelynn Taylor. (Secret Sky was previously published as The Gift: Awakening)
About J.P. Mclean
JP (Jo-Anne) McLean is an urban fantasy and supernatural thriller author best known for The Gift Legacy series. The first book of the series received Honourable Mention at the Whistler Independent Book Awards. Her short story, Boone
Park, won Honourable mention from the Victoria Writers'
Society. Reviewers call her writing addictive, smart and fun. Her books include endorsements from Ethel Wilson awardwinning author Jennifer Manuel and bestselling author, Elinor Florence. The series has been described as fantasy light and is a good introduction to the genre for the uninitiated.
JP's body of work was included in the centennial anthology of the Comox Valley Writers Society, Writers & Books: Comox Valley 1865–2015. She is a member of the
Federation of BC Writers and the Alliance of Independent Authors.
Jo-Anne holds a Bachelor of Commerce Degree from the University of British Columbia's Sauder School of Business, is a certified scuba diver, an avid gardener, and a voracious reader. She had a successful career in Human Resources before turning her attention to writing.
JP lives on Denman Island, nestled between the coast of British Columbia and Vancouver Island. Raised in Toronto, Ontario, JP has lived in various parts of North America from Mexico and Arizona to Alberta and Ontario before settling on Canada's west coast.
You can reach her through her website at jpmcleanauthor.com.
About the Author
Latest Posts
My name is Jason Dwayne Ivey. I was born in Dillon, SC and raised in rural North Carolina. I am a graduate of the University of North Carolina at Pembroke where I majored in Computer Graphics. My true passion though is writing. I've had a few credits to my name so far including: winning a "Last Man Standing" contest with Wizard Magazine, being a finalist in a Game of Thrones compendium for an essay of mine, interviewing a New York times best-selling author for a Star Wars website, and having a bunch of letters published in several Marvel comic books. Besides writing, I am also a huge movie fan (action, sci-fi, horror), love reading (comics, Stephen King, A. Lee Martinez, Ripley's Believe It Or Not), and enjoy the action and theatrics of professional wrestling. I've been living in the same rural area I was raised for nearly 40 years now, with my family, and several pets. As far as life goals go I hope to one day be a professional author, restauranteur, and to work in the comic/film industry. As for any horror-related experiences I've met Gunnar Hansen and Ken Forree years ago at a local halloween themed fund raiser. Oh and I've met Steve Niles too. Then there is my personal project that I hope to publish one day which is a fictional universe about monsters inside of a specially-built prison.
Okay, well, in the words of Forrest Gump, "That's all I have to say about that."