Epeolatry Book Review: The Penguin Book of Ghost Stories by J.A. Cuddon

Disclosure:
Our reviews may contain affiliate links. If you purchase something through the links in this article we may receive a small commission or referral fee. This happens without any additional cost to you.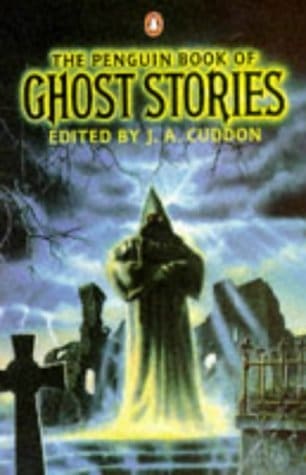 Title: The Penguin Book of Ghost Stories
Author: J.A. Cuddon
Genre: Ghost/Horror
Publisher: Godfrey Cave Associates Ltd
Release Date: January 1, 1984
Synopsis: Short stories by authors such as Alexander Pushkin, Henry James, M.R. James, Ray Bradbury, and Joan Aiken portray strange supernatural occurrences.
In the arena of genre fiction, 'Penguin Books of' have a tendency to be quite historical, almost academic, in their choice of authors and stories, with a strong focus on how the (sub)genre began and precisely how it became established in its early years. For the writer of genre fiction this can be enormously helpful, since many subgenres (for example the ghost or vampire story) operate within well-understood parameters. 
In deference to this tradition, The Penguin Book of Ghost Stories begins with "The Beggarwoman of Locarno" by Heinrich von Kleist and "The Entail" by ETA Hoffman. The rest of the nineteenth century is then represented by a plethora of household literary names. Writing ghost stories was a popular addition to Victorian writers' portfolios, and authors such as Henry James and Alexander Pushkin (better known for their literary novels and poetry) could easily expand their repertoire to include them. The importance of the inner life to the ghost story means that writers such as these have done a great deal to the shape the subgenre. 
Some of horror's best-known names are included here, such as Ambrose Bierce and Algernon Blackwood. Naturally, no volume of ghost stories is complete without a piece from MR James (the master of the subgenre), but perhaps more of his work could have been included. If any writer of ghost stories deserves the rule of 'one author, one story' to be relaxed then it is James. Unexpected voices from elsewhere in genre fiction such as HG Wells are included, together with contemporary masters like Ray Bradbury. The individual choice of pieces for each writer was impeccable, for instance "The Return of Imray" by Rudyard Kipling, "Mr Justice Harbottle" by Sheridan Le Fanu and "Afterward" by Edith Wharton. 
For my taste, the modern section was a trifle weak. There just weren't enough stories from writers who specialise in ghost stories, or even just in horror writing. The career path for horror writers, including those who write almost entirely ghost stories, is very different in the modern world to that of the nineteenth century and very early twentieth century. However, this shift in the literary dynamic in genre fiction was not reflected here. 
In this regard, this volume was notably less impressive than its sister volume the Penguin Book of Vampire Stories edited by Alan Ryan. He didn't miss a beat right up to the cut-off point, and he deftly selected even the most modern vampire fiction with the loving care and confidence of the true genre fan.
The strengths of this book lie in its earlier sections and in the turn-of-the-century writers such as Blackwood and Bierce. For these alone, it is well worth reading and will provide the reader with considerable enjoyment.
4 out of 5 stars.
Sign up for our Newsletter
Never miss a post from our team by signing up!