Bone Appetite: 3 Horror Actors Who Have Written Cookbooks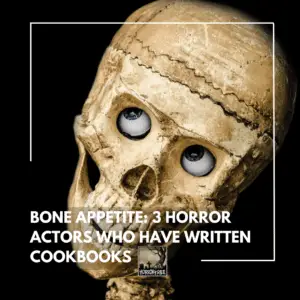 Continuing the series on actors within the horror genre who have written books is this next entry on those who have ventured into cooking. Among this group of actors-turned-authors who have shared their passion for cooking is horror-film icon Vincent Price, Buffy the Vampire Slayer, aka, Sarah Michelle Gellar, and Machete star Danny Trejo.
VINCENT PRICE
Starting this list is horror icon, Vincent Price, who starred in many horror classics including House on Haunted Hill, The Fly, Witchfinders General, The Abominable Dr. Phibes and The Last Man on Earth. Besides his prolific work as an actor, Mr. Price was also a connoisseur of fine art and gourmet dining. Mr. Price was also a prolific writer as well, a few of which were cookbooks.
Mr. Price's first cookbook was A Treasury of Great Recipes, followed by Come Into the Kitchen, and Cooking Price-Wise. All of them showcase Mr. Price's favorite recipes that he compiled with his wife and daughter, who also shared a love of good food. The featured video below shows one of Mr. Price's favorite dishes that he loves to serve to both family and guests.
SARAH MICHELLE GELLAR
Sarah Michelle Gellar is best known for her role as the titular character in Joss Whedon's television series Buffy the Vampire Slayer, which was itself a remake of the 1992 movie starring Kristy Swanson. Besides her popular portrayal of the vampire-slaying Buffy Summers, Sarah has also played the villainous Kathryn Merteuill in Cruel Intentions and Daphne Blake in the live-action Scooby-Doo movie. It was in the latter that she starred alongside her future husband, Freddie Prinze, Jr.
Besides acting, Mrs. Gellar has shown both a passion and talent for cooking. In her book Stirring Up Fun with Food Sarah has compiled several recipes that she created for her kids to inspire both a healthy love of cooking, as well as an appreciation for eating healthy, for all children. In the video below Sarah shares 3 simple recipes for creating healthy snacks.
DANNY TREJO 
Finally, on our list of actors who have written cookbooks is Danny Trejo, nicknamed "The Mexican Charles Bronson." Senor Trejo has starred in such films as Machete/Machete Kills, Predators, Rob Zombies Halloween, and Dead in Tombstone to name but a few of his many films.
Besides starring in many popular action and horror films, Danny has written books as well. Trejo: My Life of Crime, Redemption, and Hollywood details his journey from being on the wrong side of the law, to his lucky break in the movies, and how he has used his unique experience to help others who likewise needed a second chance.  In Trejo's Tacos: Recipes and Stories from L.A. , Danny speaks of something else he's passionate about: food.
Trejo's Taco's features some of the actor's favorite recipes taken directly from the restaurant chain he owns in Los Angeles. The video below shows a few examples of the kind of recipes that you can find in his cookbook.
10 Min vs. 60 Min vs. 1 Day Tacos (ft. Danny Trejo)
That's it for now. May everyone have a blessed Christmas and a happy New Year! Oh…and Bone Appetite!
About the Author
Latest Posts
My name is Jason Dwayne Ivey. I was born in Dillon, SC and raised in rural North Carolina. I am a graduate of the University of North Carolina at Pembroke where I majored in Computer Graphics. My true passion though is writing. I've had a few credits to my name so far including: winning a "Last Man Standing" contest with Wizard Magazine, being a finalist in a Game of Thrones compendium for an essay of mine, interviewing a New York times best-selling author for a Star Wars website, and having a bunch of letters published in several Marvel comic books. Besides writing, I am also a huge movie fan (action, sci-fi, horror), love reading (comics, Stephen King, A. Lee Martinez, Ripley's Believe It Or Not), and enjoy the action and theatrics of professional wrestling. I've been living in the same rural area I was raised for nearly 40 years now, with my family, and several pets. As far as life goals go I hope to one day be a professional author, restauranteur, and to work in the comic/film industry. As for any horror-related experiences I've met Gunnar Hansen and Ken Forree years ago at a local halloween themed fund raiser. Oh and I've met Steve Niles too. Then there is my personal project that I hope to publish one day which is a fictional universe about monsters inside of a specially-built prison.
Okay, well, in the words of Forrest Gump, "That's all I have to say about that."