The Horror Tree Presents…an Interview with Gwendolyn Nix
The Horror Tree Presents…an Interview with Gwendolyn Nix
By: Ruschelle Dillon
Ruschelle: Welcome to the Tree, Gwendolyn! Pull up a nice sturdy branch but watch the thorns and poison sap. The Tree has some trust issues. You know how Horror Trees can be. I'm brewing some wonderfully strong coffee with a hint of spirits, so let's dish. You are not only a fantastic writer, releasing your dark fantasy novel, 'I Have Asked to be Where No Storms Come', in July, but a fantastic writer who has worn a lot of tremendous hats! You have been an editor, a casting producer, a shrimp wrangler, a scientist, and a social manager! I know, I added something to your vitae, but we won't tell your newfound fans what it is. Let 'em guess. LOL. How have those awesome hats contributed to everything you have written; the novels, the trilogies, and the short stories you've been penning?
Gwendolyn: So happy to be here, thank you for the opportunity! I'll try not to get sap and bark all over myself, but promises promises…
First off, I'm a panster-writer and a magpie creator. I am inspired and influenced by experiences – song lyrics, lectures, books, traveling, conversations, even walking my Labrador on the daily provides a dose of inspiration. My little magpie brain picks up these shiny pebbles and stores them away, drawing them out either moments or years later, which all contribute to scenes or storylines I'm working on. So, all these hats are integral to my writing and my creative process in general. Something experienced years ago might pop up in a book I'm writing years later. You can ask me where I got an idea, and I'll most likely go off on a tangent about a time I ran into a blue heron or something like that.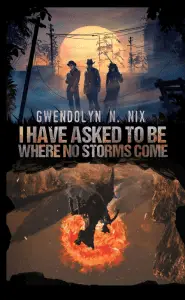 I tend to mentally split my books up into a category of places. My post-apocalyptic ecological disaster novel, Sharks of the Wasteland, is lovingly called "My New York Book" because it was heavily influenced by my time as a marine biologist working with shark populations in New York waters. I visited most, if not all, of the locations used in that novel, such as Greenwood Cemetery, Dead Horse Bay, and Montauk Point. I Have Asked To Be Where No Storms Come is "My Montana Book" inspired more broadly by the American West where I was raised and currently live. Here, this magpie brain of mine offered up tons of half-remembered pieces of inspiration gathered ever since I was young, and because this was a book about my home and the amazing surrounding myths and stories, I finally was able to utilize those pieces. About time. They were gathering dust.
Ruschelle: 'I Have Asked to Be Where No Storms Come' is a fantasy western. What was the inspiration for weaving witches and demons into the wild, wild west?
Gwendolyn: This book became a pretty personal journey. I wanted to write a book about where I came from using a lot of the imagery and landscape of my homeland. The western genre is just part of the territory. Yet, I didn't want this to just be a classic Western book and everything that entails. My passion is for horror, science fiction, and fantasy, after all! I think it all began with a cerebral quest to uncover the magic in my old stomping grounds and places I've visited, much like you might find inspiration in, say, European castles and ruins. And it started by analyzing the names of these places. For example, one of my favorite spots that has special meaning to me is Two Medicine in Glacier National Park, and I'm going to be very generic right now, but broadly, medicine can be type of magic, or spiritual healing. This was something I knew but didn't know know, in a way. So, how did this gorgeous space obtain that name? What kind of legend is associated with it? And as any good magpie researcher will do, I started digging deeper into the myths of places I've been and visited: the ancestral Kalispel and Salish lands I live on; those of Zion National Park, the Dakotas, and the Badlands (just to name a few!). 
But the underworld and different versions of hell continually fascinates me. I've explored this theme in depth within other novels and shorts. I'm convinced the Muse on this particular topic simply isn't done with me yet. I'm always wondering how different cultures clash together regarding the afterlife. Can there be a million afterlives? Or is there just one and it's shaped by your beliefs? And, what about the creatures that normally live in these afterlives and call it home? Are the souls of human intruders on these demonic lands? Can there be a colonial expansion of an underworld, similarity what happened throughout history? These kinds of topics I explore in I Have Asked To Be Where No Storms Come.
Ruschelle: Did you sit through hours of gunslinger shows for inspiration, like Rawhide, Gunsmoke, Bonanza or The Good, the Bad and The Ugly or Blazing Saddles? Or did you research the newer westerns such as Unforgiven, Django Unchained, No Country for Old Men or Yellowstone!  I could go on, but for everyone's sake, I won't.
Gwendolyn: Oh gosh. No. I mean, I've seen those films – Blazing Saddles and Django Unchained, of course! But I live in that Western culture. Yellowstone is filmed in my hometown and just thirty minutes down the valley from me. I have friends and colleagues that work on the show. I know farmers, ranchers, I lived on the Flathead Reservation for a year. I've been close to American bison herds and seen grizzly bears and gotten lost in a huge expanse of prairie in the middle of a thunderstorm. So, a lot of the inspiration I consumed was my natural world and the history of the land and its peoples. Instead of watching or reading western media, I visited state parks, monuments honoring those peoples massacred by the Western expansion, learned about the flora and fauna surrounding me, and researched the myths behind them. The mountains were the castles, to rely on my earlier words. 
A couple of books I highly recommend are Invisible Reality by Rosalyn R. LaPier (she's a phenomenal speaker, too), and Fossil Legends of the First Americans by Adrienne Mayor. Bitterroot by Susan Devan Harness and The Hour of Land by Terry Tempest Williams are other amazing books that I read while in the editing phase of this novel.
Ruschelle: After dipping your pen in the wild, wild west, do you think your story would have taken a different turn if it centered in Ancient Egypt or on Galapagos Island in the 1800's? Or was this the only setting that would make your story sing?
Gwendolyn: Oh, a hundred percent. I think placing it in any other territory would have required reworking the magic system, along with some of the thematic elements of the characters. While bigger themes like fate versus free will and family over the world would remain, it would have become a far different beast. I think that's because some of the myths and legends I relied on to craft this world were specific to this area of the globe – not just Montana, but Utah, Arizona, New Mexico, too. I also think my personal journey would have drastically changed the approach as well. Instead of me exploring and getting to a place I once would have considered well-known, I would have been exploring a land and culture completely unknown to me. 
Although… the Galapagos Island sounds like a really cool setting! Oooo shiny, I shall collect it and hide it for further analysis…
Ruschelle: How long did it take you to create, 'I Have Asked to Be Where No Storms Come,' from inception to final edits?
Gwendolyn: I started writing this novel while in the midst of putting the finishing touches on Sharks of the Wasteland. It was my way to procrastinate on Sharks, I suppose! I was living on the Flathead Reservation at the time, and I would take walks near the Mission Mountains, which are simply majestic. I was also commuting a lot through mountain roads, so I had a lot of time to think. The idea started off as a story to entertain myself until I thought, "Gwen, you should write some of this stuff down!" 
So, that was in… 2014, I believe. I wrote up to about the climax of the novel, and I hit a road bump where my research, education, and conversations with others made me petrified that I was culturally appropriating… well, everything. All those magpie shinies I had collected from my experiences as a child and an adult needed to be analyzed under a microscope. Some of them weren't my stories to tell. My experiences were nice, but they were small compared to this huge evolving discussion of culture in literature. Where exactly had my inspiration come from? Was I using history for my advantage? I put the book away, uncertain how I should proceed, and certain I was swimming in very dark, deep waters far above my abilities. That was in 2015. 
However, the story still had its teeth in me. So, I took my time. I faced my fear and pinpointed where that fear originated. I read articles, books, and listened to other interpretations. I worked with a sensitivity reader on Sharks, which was a valuable experience that I applied here. Essentially, I tried to learn and break through my own discomfort – and I think this pushing and growing is valuable when creating art. Even now, I'm continually learning and evolving. 
The whole story changed when I accepted that there were stories and myths I should not tell. They did not belong to me. However, I could still use my direct experience and emotional journey to influence the character arcs and setting. While these myths might not be directly used, they were important to the setting of the area and should be given the appropriate nod. Once I took that tactic, things really settled into place. This took about five years, leading to an offer of publication in 2020/2021 for a 2022 release.  
It was a long journey, but I'm proud of the product and feel like I did things the right way. It helped me grow as an editor and a writer.
Ruschelle: A little birdy showed me a post where a reviewer compared your writing in, 'I Have Asked to Be Where No Storms Come,' to horror master Clive Barker! Clive f**king Barker! You must be over the moon with that stunning comparison. 
Gwendolyn: I'm pretty sure I blacked out for a moment when I read that. It was amazing praise. Whenever I have doubts about my writing, I will come back to that line. It also gave me relief – I wrote and edited this book very carefully and with certain intention. So, to have that has given me validation that all that hard work has paid off.  
Ruschelle: If you could choose an era or period in time where you could spend a few months drinking in its culture and people and essence, which would it be? Like a long vacation but way cooler.
Gwendolyn: Oh good question! This one was hard to answer. I think I'd like to explore the Byzantium Empire because it was a nexus of culture and exploration. I'd like to go as a man though, because being a woman back then might not be so much fun. Maybe I'd get some leads on if Atlantis really existed…
Ruschelle: I love asking editors questions that can potentially help writers. When you receive a submission, what will automatically slide that sub in the NOPE pile? 
Gwendolyn: Oh, this is a good question! I do want to add a caveat that editors are people with tastes and stories that get them excited. So, for me, the one recent thing I've noticed is authors using an opening line or image to describe the weather. The weather is boring! What do you talk about with people you have nothing to say to? The weather! Blah. I don't care if the sun shines over the mountain or the waters were a deep blue. I want a first line or image to grab me and yank me into the story. Who has taken my hand and is leading me down this rabbit hole of a tale? If there has to be weather, is it blocked out by the hulking shape of a kaiju monster bearing down on me? I don't automatically push a story into a nope pile with this, but my enthusiasm dims significantly when I have to read about the weather.
Ruschelle: Let's talk about your book series, the Celestial Scripts. In 'Falling Down' and 'Seams of Shadows' we are immersed in the life of Eos and her split soul. When creating Eos and the worlds around her, how did you plan out each book? Or was it a full vision that you realized needed multiple books to relate? I'm certain writers who are penning their own series would love to know how to keep all the details breathed into each book together and organized.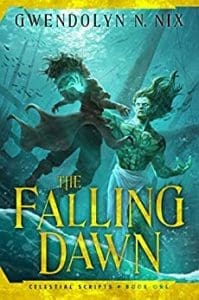 Gwendolyn: My first draft of the Celestial Scripts was one huge book at way over 200k. I was young! I didn't know any better! And then I decided it had to be split up into two books, then three, and I fell into the terrible trap of editing, and editing, and editing, until I almost hated the story and the whole thing had been rewritten a million times.  That was when I started writing Sharks of the Wasteland. It was a book to procrastinate with… I'm sensing a trend. I was convinced everyone had to love my book and if I didn't land an agent, it meant I didn't edit it enough. 
I was young! I didn't know any better! 
I'm a pantser writer, so perhaps I made my life harder than I needed it to be. But, once I finally came back to it with the idea that I would finish this trilogy if it killed me, I had a good outline of what I wanted to happen at the end, and kept true to that vision. Epic trilogies are difficult, and I think part of that difficulty is falling out of love with it before its written. Then, you just don't care enough to continue because that passion is gone. What kept the passion alive for me was keeping that ending in sight and keeping a notebook full of notes of what kinds of themes I wanted to pursue. And then, just getting to the end of it. You can always go back and paint in the details, but sometimes, having a light at the end of the tunnel was more like a guiding light than anything else. 
Right now, I've got the main story crafted and am tidying up additional plot pieces I introduced at a later date. And honestly? It's a much better book. 
Ruschelle: Are your characters based on people in your life? Well. maybe not the supernatural parts, but idiosyncrasies, mannerisms etc. Or are they 100% sculpted from your imagination? 
Gwendolyn: Hmm… I don't naturally base my characters off people I know, but I'm sure subconsciously there are mannerisms and idiosyncrasies that sneak their way into the character creation. I think, maybe, I base character creation off of consumed media characters – like, how can I make a Darth Vader character my Darth Vader character in a Galapagos inspired setting. Then, you have a character outline to work with – little kid from somewhat tragic origins is the Chosen One who ends up doing everything in his power to save the one he loves, only to be accept dark power that triggers his own downfall. Right? Villain origin story. I think that's more how I create a character than basing them on real people.
 I think that's because I'm terrified of people saying, "Hey! That's me!" in regard to my writing.
Ruschelle: I want to hear more about this ghost you met in a Paris train station? (It's on her website folks, check it out!) Where were they going? Did you have a lot in common? Did they buy a ticket? I need answers!
Gwendolyn: The first thing you have to understand is that I am a metaphysical dead spot. Yet, I have always wanted to have an "experience." You know, see a ghost, or something, and I know of people who have! So, this story is one of my favorites.
 I was in Paris with my friend, Stephanie (together we make Gwen Stefani, har har), and we bought a ticket to catch a train to Versailles. The woman at the kiosk spoke French to us, which didn't bother us because we'd both had some handle on the language. And she said to take the train on the right (A droit). Cool.
The platform was empty. No people, no trains, no signs. We waited for the train to show up, which was a few minutes late. But, when the train pulled up, it was packed with people who looked like they were commuting, instead of tourists. I turned to Steph and asked "Do you think she meant the right facing the station? Or facing the direction we came in?" We had no idea. We'd started to overthink the situation. Something just didn't seem right. But, this train was on the right, so we dilly-dallied before the train announced it was leaving. We promptly said f*ck it and hopped on. As soon as I stepped through the doors heard from behind me, in clear English, "Where are you going?"
I turned around and saw this old man who looked like a Newsie – he had wool cap, and a bag over his shoulder that looked like gray burlap. I said, "We're going to Versailles." He responded, "You're on the wrong train." 
Well, we got off that train very quickly, just as the doors were closing. He pointed us to spot on the platform further up and told us that was where we needed to be. Relieved, we began to walk to that spot while the wrong train pulled away. Less than a minute later, I turned around to say thank you again, and the guy was gone. There was no way he could have gotten out of the station that fast, or scampered through some door at the end of a platform. It was like we were alone in the station. We were both stunned and when the right train pulled up, we kept thinking, Where would we have ended up if he hadn't told us we were on the wrong train?
Ruschelle: I'm a sucker for dinosaurs. In the anthology, 'Apex: World of Dinosaurs,' you contributed a story, 'When the Sky was Starless and the Ocean Flat'. Tell us a little about your dinosaur story!  It's perfect timing with the new Jurassic Park film! 
Gwendolyn: I love dinosaurs, too! You'll be happy to know I Have Asked To Be Where No Storms Come features dinosaurs in it too – used in a mystical and magical way. Our characters are digging some of them up at one point. Dinosaurs are everywhere in Montana and we have lots of museums dedicated to them. I'm pretty sure Alan Grant was on a dig site in the Badlands in the original movie. 
As for my Apex story, it's a love story between two women who ride different versions of pterosaurs. One has lived in the same eyrie her whole life, and the other is a wanderer. When their world is on the brink of destruction, they find each other… only the Wanderer is badly injured and her flying raptor sick, carrying three huge dinosaur eggs. Our protagonist must decide if she can save them all before the rising waters consume her home and everything she holds dear. I really love the legend aspect of this story, and exploring the idea of different kinds of pterosaurs… especially their size! They could be both itty bitty and huge!
Ruschelle: Let's discuss your editor's chapeau. You're an editor for Acontye Books. You mention on your website that you are, "always on the lookout for fresh voices?" Do you prefer your voices loud and strong or do you gravitate towards softer more lyrical voices?
Gwendolyn: I am in love with language and prose. On a personal level, I cling to a beautiful turn of phrase or a character that can make my heart ache. I love that overwhelming feeling when I come across a piece of prose that just sings. 
But, as an editor, I also have to make sure that voice can keep a story going and that those lyrical pieces don't weigh the plot down – that they serve the story and setting they belong to. My colleague has a great metaphor that I've been using as of late. Your story is like a sandwich. Too much bread (or the action, plot movements) can make for a bland, boring sandwich (aka a bland, boring story). Too much filling (emotional insight, inner monologue) can make for an ooey gooey experience. So, make your sandwich have a great combo. I will tell you that I see more stories with too much bread and not enough filling. Your characters aren't going to watch their entire family be slaughtered and then just jump into action! They need a moment where they feel that loss and what it means.
Ruschelle: If you could edit the work of any famous author, living or dead, who would it be and why?
Gwendolyn: Sappho! I would absolutely love to edit Sappho… mostly because then I could actually see what her poems were about before they were all lost. Some of the fragments that remain are absolutely beautiful and it would be quite the privilege to work with her and see her full creations.
Ruschelle: You're a scientist! That is so awesome. So, when you were mutating amino acids and identifying species of sharks through DNA, were the wheels already turning for potential stories during that time in your life?
Gwendolyn: Yes! Looking back, I must have had blinders on regarding my "calling." I was always writing stories, but I thought of it as a firm hobby. The whole writing industry was something I could never make a living from. A degree in the arts would just set you up to be a teacher. Honest to God, so many people told me that. I even had a counselor told me I could only pick one path and I had to decide the rest of my life at the ripe age of 18.
So, I pursued my secondary passion, sure that research and science would fulfill my needs and I could pursue my passions by night. I even got a second bachelor's degree in creative writing for fun. My justification was that I needed a break from my science studies. Who does that?? 
I loved my science career. I met so many cool people who have become lifelong friends. I worked with amazing subjects and loved developing the science communication sector. I got to tag sharks in Belize, and try to make tiny algae evolve, and crystalize amino acids into literal crystals. I was good at science, but in my heart of hearts, I never felt I was great at it. I never had that moment of "I have found my true purpose" until I started freelance editing. But none of that time getting to this point was wasted. Looking back, so much inspiration came from those years and has instilled in me a deep passion for ecological horror and climate fiction that seeps into my writing. Without that experience, my stories would not be what they are.
Ruschelle: Your novel, 'Sharks of the Wasteland' plays in the waters of Science Fiction with genetically modified humans and a new world clawing up from one devastated by a volcano. I love your characters names, Thresher and Mako. Sharks! This seems to be informed by your aforementioned studies. Could you elaborate on the inspiration?
Gwendolyn: I was working directly with thresher and mako shark population dynamics when I attended a fishing competition on Montauk. Some colleagues of mine were there to take DNA samples directly from the sharks brought to shore, and it was both a humbling and somewhat ghastly event. I'm not against hunting and fishing – I come from a family who loves to hunt and fish – but seeing these large animals being treated like a trout or carp was uncomfortable. I was up close with these creatures, and I think I wanted to honor them in some way – and what better way than to name your characters after them.
Ruschelle: What project or projects are you working on that we all can look forward to reading, listening, or watching?
Gwendolyn: At the moment, I'm working on my third and final installment of the Celestial Scripts novel. I have a lot of it written, but it just needs a good organizing and I hope that will release in 2023 or 2024. I'm also working on an original novel that was intended to be a fun light-hearted tale… that has inevitably spiraled into something massive involving skeletons of gods as sources of magic and infrastructure, and of course, sorcery. Aconyte Books is producing tons of amazing world-expanding fiction, and we have a ton of cool media coming out at a steady pace. 
Ruschelle: Thank you so much for hanging out with me here at the Horror Tree! I've enjoyed our little chat. I'm certain your newfound fans loved getting to know you as much as I have. So, will you please tell everyone how they might find you on the www?
Gwendolyn: You can find me online at my website gwendolynnix.com, Twitter @gwendolynnix and my Instagram at @gwendolyn.nix. I mostly post about my young son, my wild Labrador, and the books I'm reading. Thank you for having me!
About the Author
Latest Posts
Ruschelle Dillon is a freelance writer whose efforts focus on the dark humor and the horror genres. Ms. Dillon's brand of humor has been incorporated in a wide variety of projects, including the irreverent blog Puppets Don't Wear Pants and novelette "Bone-sai", published through Black Bed Sheet Books as well as the live-action video shorts "Don't Punch the Corpse" and "Mothman". She also interviews authors for the Horror Tree website.
Her short stories have appeared in various anthologies and online zines such as Strangely Funny III, Story Shack, Siren's Call, Weird Ales- Another Round and Women in Horror Anthology Vol. 2, Sanitarium Magazine, Dark Voices and Fear and Fables. Her collection of short stories, Arithmophobia published by Mystery and Horror LLC, is available through Amazon & Barnes and Noble. Summer 2020, Black Bed Sheet Publishing will release her dark Novella, The Stain.