Taking Submissions: Silence in the City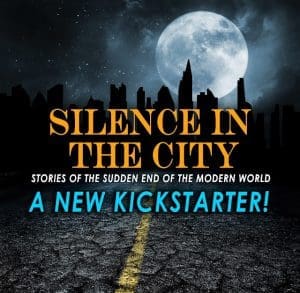 Deadline: September 15, 2021
Payment: 6 cents per word
Theme: A city gone silent
Sudden disruptions in power and other major services sends a city into chaos. In the blink of an eye, the modern technological world fails. Is it a government plot? Experiment gone wrong? A foreign cyber attack? Alien invasion? A mystical incursion from beings beyond this dimension? Who knows? Now the noise and the bustle of the city has vanished and an eerie silence settles over the urban landscape. Within, there are stories of human violence, depravity, and desperation, but also heroism, selflessness, and sacrifice. Silence in the City is an anthology of speculative tales asking what happens when a city—and all of modern civilization—is plunged into darkness.
Open Call for Stories
That's right, folks! I'm holding an open call for stories to fill two or three more spaces in the forthcoming SILENCE IN THE CITY anthology. So here are the guidelines:
Word Count: 2,500-5,000 words
Deadline: September 15, 2021
Pay Rate: 6 CENTS A WORD
Send all story submissions as DOC or DOCX attachments to the following email  address: [email protected]
Be sure to title the email: SILENCE IN THE CITY SUBMISSION
Via: Founders House Publishing.
About the Author
Latest Posts
Stuart Conover is a father, husband, published author, blogger, geek, entrepreneur, horror fanatic, and runs a few websites including Horror Tree!