Taking Submissions: Never Whistle At Night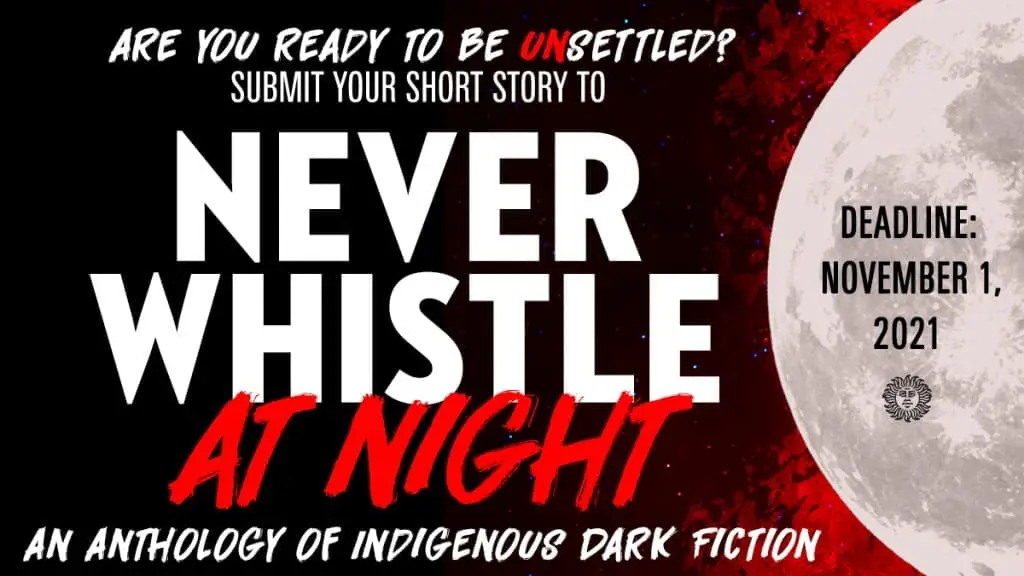 Deadline: November 1st, 2021
Payment: 1,000 USD + 2 trade paperback copies
Theme: Dark Fiction
Note: Author must self-identify as an Indigenous person and must not have more than two published books
Are you ready to be un-settled?
Never Whistle At Night, edited by Shane Hawk and Ted Van Alst, is an anthology exclusive to Indigenous creatives and will be published by Penguin Random House in 2023. The anthology will comprise of twenty-one dark fiction short stories and a foreword by Stephen Graham Jones. Approximately seven stories are reserved for lesser-known and up-and-coming authors who will be selected through this open call. Our mission is to spread both new and established Indigenous authors and their work to as many readers as possible.
The time is ripe to publish an Indigenous dark fiction anthology. Authors of historically excluded communities often float toward dark fiction to tell their stories because of its ability to effectively address social issues. Now it's our turn.
CURRENT CONTRIBUTORS
Cherie Dimaline
Kelli Jo Ford
Owl Goingback
Shane Hawk
Brandon Hobson
Stephen Graham Jones
Darcie Little Badger
Tommy Orange
Mona Susan Power
Waubgeshig Rice
Rebecca Roanhorse
Andrea L. Rogers
Theodore C. Van Alst, Jr.
David Heska Wanbli Weiden
Erika T. Wurth
ELIGIBILITY FOR OPEN CALL
Author must self-identify as an Indigenous person
Author must submit an original, unpublished work
Author must not have more than two published books
SUBMISSION DETAILS AND PROCEDURES
We are not restricting authors to a specific theme aside from an adherence to the umbrella term of dark fiction. We expect to see stories with dark elements from all subgenres of horror, dark fantasy, dark science fiction, and gritty crime. Again, we are looking for original, unpublished work. No simultaneous submissions, please.
Shane and Ted will be working alongside two open-call readers to judge submissions. To ensure a fair process, they will utilize blind submissions. All stories will be read first by the open-call readers, then by co-editors Shane and Ted. Before stories are acquired and authors are awarded contracts, submissions will also be reviewed by editors at Vintage Books, McClelland & Stewart, and Random House Canada.
Anthology Short Story Submission Details
Word Count: 2,000 – 5,000 (soft limit)
Compensation: $1,000 USD + 2 trade paperback copies
Multiple Submissions: No, send us your single best story.
Reprints: No, this anthology will only feature original work.
File Format: Microsoft Word .doc or .docx
Formatting Guidelines: https://www.shunn.net/format/classic
Deadline: Monday, November 1st, 2021, at 11:59pm PST
Response Time: Stories will be acquired no later than Jan 2022.
Each submission must be accompanied by:
A MASTER copy of the story. File name format: "StoryTitle_Surname_MASTER"
A BLIND copy of the story. File name format: "StoryTitle_BLIND" (IMPORTANT: To ensure blind judging, please delete or redact all identifying info, including author's name, from every page of the story.)
A biographical note of no more than 150 words for the author.
FURTHER INFORMATION
All inquiries should be directed to Shane and Ted at [email protected].
Continue to the link below to submit your story.
Via: Shane Hawk.
About the Author
Latest Posts
Stuart Conover is a father, husband, published author, blogger, geek, entrepreneur, horror fanatic, and runs a few websites including Horror Tree!