Taking Submissions: Exploring Infinity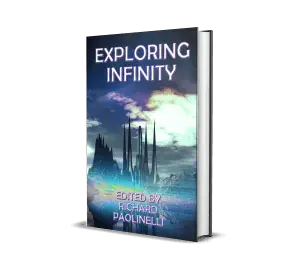 Deadline: June 30th, 2021
Payment: $20.00 USD and a contributors copy
Theme: Exploring the hotel in 'Escaping Infinity', details below
Subs are now open for, Exploring Infinity, a new sci-fi/fantasy anthology based on the Dragon Award nominated novel, Escaping Infinity ( https://www.amazon.com/Escaping-Infinity-Richard-Paolinelli/dp/1541392582 ).
I am looking for 10-12 stories. Maximum word count is 10,000 words and the hard minimum word count is 5,000 words.
Stories must be centered around the novel and can range from other people in the hotel (i.e. the person Liz led to that certain door who failed to solve the mystery as Peter did), a part of the hotel not explored, a person at any point in time that encountered the Infinity but did not enter the hotel (remember, once inside there is no exiting), or life on Earth AFTER Peter leads them out of the Infinity.

You can go all the way up until Peter and Liz depart Earth looking for the Manager's home world, but as the final chapter of Escaping Infinity and the upcoming sequel, Expanding Infinity, will pick up the story from there, please do not wander that far into the future.
Payment will be $20.00 USD plus a free print copy of the book to each author.
Submissions must be in Word doc or docx format. Times New Roman, 12 pt and double-spaced with a return e-mail address and your name, mailing address and other info in the top left corner. An apprx. word count in the top right corner.
Submission deadline is June 30, 2021.
Submission e-mail: [email protected].
The anthology will be released in the late fall of 2021, around the time that the sequel is released.
If you have any questions, e-mail me at the address above or PM me here. If you have not yet read the original novel and would like a PDF copy mailed to you, please contact me and I'll get it to you ASAP.
Via: Scifi Scribe.
About the Author
Latest Posts
Stuart Conover is a father, husband, published author, blogger, geek, entrepreneur, horror fanatic, and runs a few websites including Horror Tree!