CLOSED: Sanitarium Press Is Open To Novella Submissions!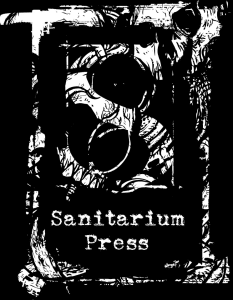 Payment: $25 and a Contributor's Copy as well as 40% Royalties payable every quarter
Sanitarium Press are looking for the best new horror writers out there, in all sub-genres. Sure we all want to be the next Stephen King or James Herbert. Hey and guess what, shorts are where everyone starts, now its your turn. First off the rules of submissions:
What we are looking for at Sanitarium Press:
The best horror you can write in 10,000 – 30,000
The imagination is the key – remember that, if it sticks in your head or gets under your skin as you try to sleep at night – we want to read it.
We are after stories that capture the reader. Any time, place or theme
We aim to respond back within 3 weeks. 
What we are not looking for at Sanitarium Magazine:
No child molestation or alluding to
No rape or torture stories or necrophilia
No erotica, sex is ok but not on every page.
No fan fiction or anything that is not your own creation
It must have a beginning, middle and end – no excerpts from longer pieces.
Fiction Guidelines:
10,000 – 30,000 words (I know its been said a few time but some people…)
Formatting and proofreading is a must, we will not do your work for you. If you are selection some formatting may take place but overall it is up to you. If you need help on formatting we can offer this service for a fee.
We will only take submissions through the correct means, register, log in and follow the form.
DOC / DOCX or RTF only, this will speed up the reading process
Sorry but English language only, if you need to put Latin in for the sake of the story make footnotes!
Only one submission at a time, if you have multiple stories then follow the procedure for each submission.
Please tell us if a submission has been picked up by someone else, if you have sent to other publishers.
In some cases some small editing will take place, but if there is anything major that we feel is needed we will contact you before hand.
Have fun writing
Payment Guidelines:
Although we cannot pay per word, you will received a printed contributors copy as well as a digital copy and $25 for first worldwide publishing rights.
40% Royalties payable every quarter
By agreeing to the above, any work submitted and published by Sanitarium Press. Will be subject to First Worldwide Electronic Rights and First Serial Rights. Please be aware that if your work is accepted and you wish to submit it at a later date to another publication, this may be seen as a reprint and may shorten your odds of getting it published. By submitting your work to us, shows you understand this.
Thank you for taking the time to read our guidelines and we look forward to reading your work.
Regards,
The Sanitarium Team. 
Via: Sanitarium Press.
About the Author
Latest Posts
Stuart Conover is a father, husband, published author, blogger, geek, entrepreneur, horror fanatic, and runs a few websites including Horror Tree!