Prowling the Darkness Blog Tour – The Strengths of the Novella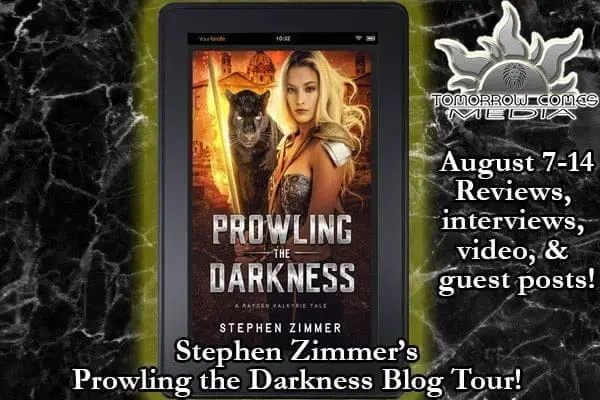 When I embarked on the first Rayden Valkyrie Tales and Ragnar Stormbringer Tales, my desire was to create novella-length, stand-alone stories for my readers to enjoy on a regular basis as they awaited the longer novel releases.  Each of the stories ends up telling a part of the lives of the Rayden and Ragnar characters, and as more of them are created the reader will also discover there is interrelation between them and the novel-length stories. 
Having written many novels and short stories previously, these projects represented my first immersion into the novella format.  Looking back, I have to say that I have really come to enjoy writing novellas for a number of reasons. 
At around 20,000 words and higher, the novella format does take too much longer than a short story to create, but it still involves much less time than a novel project.  This allows me to write more stories from the lives of Rayden and Ragnar that I would not likely have been able to tell if I only stuck to short stories or large novel projects.
The novella allows for me to go a little farther beyond the limitations of most short stories.  There is more space for character development to take place.  An additional few scenes can make all the difference in bringing out the full scope of a given character.  For my purposes, that is a wonderful benefit as the novella being read could well be a reader's first encounter with Rayden or Ragnar, and I do hope that the reader likes them enough to enjoy the other novellas, novels, and short stories involving them.  
Additionally, I have much more space for developing supporting characters, even to the extent that I can have a small and solid ensemble cast included in a given story.  This broadens my storytelling possibilities as I can have some of these characters appear in other tales, or even have a loved supporting character from novels like the Dark Sun Dawn titles be featured heavily in one of these novellas.  
A reader will also allow more room for a story to build in a longer format.  An effective short story must connect with a reader fast and there is not a lot of room to deviate from a core plot to reach a conclusion that is satisfying to a reader.  The novella, on the other hand, does allow for more of an expanded plot, and even subplots, along the way to the finish line. 
While having a longer format than short stories comes with some additional storytelling benefits as illustrated above, the novella also benefits from being smaller than a novel. 
A novella's prose, versus that of a novel, cannot get away with a lot of fluff, resulting in a leaner economy of words and narrative.  This can be very beneficial for maintaining the kind of pace and hooks that will compel a reader to finish the story in one sitting. 
This is also helpful for the genre that these stories are in.  Being action-driven sword and sorcery, a faster pacing can strengthen the narrative.
The novella is a really wonderful format for storytelling in a genre like sword and sorcery or fantasy.  I can use many of the strengths of a novel in my storytelling while also being able to produce a larger number of tales for my readers. I am enabled to give them even more stories of characters they love and provide them with greater exploration of the world that they live in. 
It is a true win-win for the author and for the reader, and I look forward to writing many more of them in the future!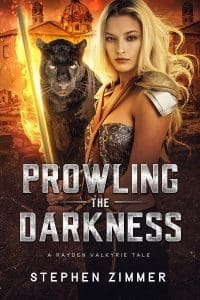 Take a journey east with Rayden Valkyrie as she undertakes one of her most harrowing adventures yet! Prowling the Darkness is the latest release in the Rayden Valkyrie Tales!
A return to hard-hitting, gritty sword and sorcery with an iconic and inspiring main character, the Rayden Valkyrie Tales are a growing collection of stand-alone novellas that will elate fans of the genre!
The Prowling the Darkness Blog Tour features reviews, interviews, guest posts, video, and top ten lists!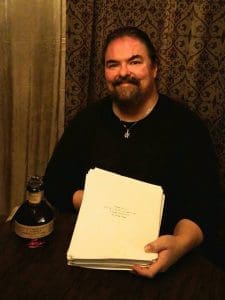 About the author:  Stephen Zimmer is an award-winning author and filmmaker based out of Lexington Kentucky. His works include the Rayden Valkyrie novels (Sword and Sorcery), the Rising Dawn Saga (Cross Genre), the Fires in Eden Series (Epic Fantasy), the Hellscapes short story collections (Horror), the Chronicles of Ave short story collections (Fantasy), the Harvey and Solomon Tales (Steampunk), and the forthcoming Faraway Saga (YA Dystopian/Cross-Genre).
Stephen's visual work includes the feature film Shadows Light, shorts films such as The Sirens and Swordbearer, and the forthcoming Rayden Valkyrie: Saga of a Lionheart TV Pilot.
Stephen is a proud Kentucky Colonel who also enjoys the realms of music, martial arts, good bourbons, and spending time with family.
Book Synopsis for Prowling the Darkness:   Dark rumors and whisperings of unholy sorcery bring Rayden Valkyrie to the remote city of Sereth-Naga.
There she finds a populace cowering in fear of the city's ruthless, mysterious rulers, who remain behind the high walls of their citadel.
An even greater mystery surrounds the city.
Something is prowling the darkness.
Something that has kept the enigmatic rulers for centuries from escaping Sereth-Naga to spread their wickedness to other lands.
Prowling the Darkness is a stand-alone novella that is part of the Rayden Valkyrie Tales.
Author Links:
Website: www.stephenzimmer.com
Facebook: www.facebook.com/stephenzimmer7
Twitter: @sgzimmer
Instagram: @stephenzimmer7
Tour Schedule and Activities
8/7      Armed with a Book    http://www.armedwithabook.com Review
8/7      I Smell Sheep  http://www.ismellsheep.com/        Guest Post
8/7      Fragile Winds http://mariadkins.blogspot.com      Guest Post
8/8      The Most Sublime      http://www.themostsublime.com   Review
8/8      Breakeven Books       https://breakevenbooks.com           Guest Post
8/9      Armed with a Book    http://www.armedwithabook.com Interview      
8/10    Horror Tree    https://www.horrortree.com          Guest Post
8/10    Sheila's Guests and Reviews http://sheiladeeth.blogspot.com     Guest Post
8/11    Speculative Fiction Spot        http://specfictionspot.blogspot.com/         Guest Post
8/12    Literary Underworld http://www.literaryunderworld.com          Guest Post
8/13    Jazzy Book Reviews    http://bookreviewsbyjasmine.blogspot.com Video Interview
8/13    The Book Junkie Reads          https://thebookjunkiereadspromos.blogspot.com Guest Post
8/14    Stuart Conover's Homepage https://www.stuartconover.com     Top Ten's List
8/14    Bookish Valhalla  https://www.bookishvalhalla.com  Review
Links for Prowling the Darkness
Kindle Version:  https://www.amazon.com/Prowling-Darkness-Rayden-Valkyrie-Tale-ebook/dp/B07R75X26Z/
Barnes and Noble Link for Prowling the Darkness: https://www.barnesandnoble.com/w/prowling-the-darkness-stephen-zimmer/1131360526?ean=2940161456958
Kobo: https://www.kobo.com/us/en/ebook/prowling-the-darkness
iTunes: https://books.apple.com/us/book/prowling-the-darkness/id1463010144
About the Author
Latest Posts
Stuart Conover is a father, husband, published author, blogger, geek, entrepreneur, horror fanatic, and runs a few websites including Horror Tree!