On Podcasts And Beyond, A Chat With Luke Kondor of Hawk & Cleaver

Luke Kondor, Hawk & Cleaver
By Angelique Fawns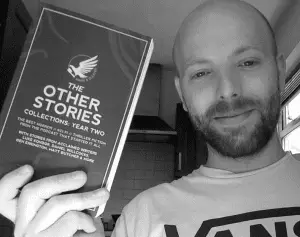 I found the Hawk & Cleaver family when I was trolling for good podcasts to help me endure my soul-sucking commute to work. A co-worker recommended The Other Stories, a horror podcast that promises, "these aren't the stories your mother told you… these are the other stories."
I immediately had a new favorite podcast and joined 150,000 other monthly listeners also captivated by the dark and delicious tales. Hawk & Cleaver started off as four fellows with a similar vision and has now grown to over 20 regular international contributors. Spinning scary stories since 2016, Hawk & Cleaver offers books, comics, and swag. I'm a member of several of their Facebook pages and find the groups funny, approachable and a great resource for horror fans/writers. 
The Other Stories podcast looks for stories according to themes, and I frequently submit to them. Last year, I was thrilled when they picked up my piece "MgS04" about "Silence". Upcoming themes include; Alternate Realities; Space; Post Apocalypse; Mythology; and Doppelgängers.
My acceptance, (and rejections) usually come from "Kez the Hawk", and I chased him for an interview. In a bait and switch, I heard back from Luke Kondor who informed me, "Kez is currently in the nether-dimensions, in an epic battle across space and time with the wizard-demons who provide his broadband connection. Apparently, he's not getting the speed he's paying for and there's hell to pay." (Kondor also provided me with a portrait he drew of Kez.)
AF: How did Hawk & Cleaver get its beginnings?
LK: Around five years ago, I ran a podcast called Luke's Massive Storytelling Podcast Thing… On the show, I used to do something called the 7 Day Story Challenge where I'd try and make a short film in a week, publish a short story on KDP in a week, make a kid's book, that sort of thing. 
They were fun. They were productive. They were also a ton of hard work. And so to ease the pain of productivity I invited other writers on to do the challenge. 
One such writer was a chap from Bristol called Ben Errington. Another was a long-time friend of mine, Matthew C. Butcher. We enjoyed working with each other so much we decided to create a banner to put all of our work under, the thinking being that a rising tide raises all boats. It kicked into high gear when a fourth joined the fleet, now best-selling author, Daniel Willcocks.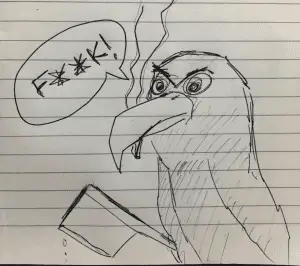 On our very first Skype chat, we suggested putting out monthly anthologies around different themes. The idea was to challenge ourselves as writers and to have some kind of consistent monthly output. Seeing as I lived most of my life in the land of podcasts, I suggested turning it into a podcast, which became The Other Stories Podcast. 
The podcast quickly took off, the download numbers snowballed, and since then we've been incredibly lucky to build up a team of super-powered audio editors, narrators, and illustrators to help. Now we have a regular troop of around 20 creatives based all across the world, have published nearly 100 authors, and are well on our way to our eight-millionth download. 
AF: You've expanded into many different avenues since the start of your partnership, can you tell me about that?
LK: The podcast was only ever supposed to be a single aspect of our creative output. We always intended to publish books and comics and even films and we're still always looking for new and interesting ways to tell stories but we know that audio fiction is where our bread is buttered. It's an amazing medium and a truly exciting place to be right now.
AF: Which is the most profitable and why?
LK: I don't know how much I can go into financials without Kez lopping my head off with that rusty cleaver of his, but Hawk & Cleaver was never intended as a profit-making scheme. 90% of all the revenue we get from ads or book sales goes straight back out to the contributors. On a side note, we've recently been able to almost double our pay to contributors and our hope is that as the show keeps growing, we'll be able to increase that pay even more. 
(Note. They used to pay $5 US, and now pay $20.)
AF:  What do you create/write yourself?
LK: Me? Other than being the dumb voice guy of The Other Stories, I have two novellas coming out this year, one from Eraserhead Press and another from Bizarro Pulp Press. I also have a side-project fiction podcast which I describe as fiction from the weird side, The Twilight Zone meets Adult Swim, The Outer Limits directed by David Lynch, Franz Kafka doing Creepshow. It's called Tales of What!? Season 2 will be out in April.
(Note. I love Luke's voice. Absolutely not dumb.)
AF: What kind of stories do you typically buy?
LK: When we're selecting stories for the show we like to see stories that fit the vibe of the podcast, stand out amongst the other stories within that theme, and have an interesting or unique concept. On top of that, if it's written well and has a good amount of horror to it, there's a good chance we will run it. 
AF: Any extra advice for submitting writers?
 LK: Know what you're submitting to. Listen to a few episodes to pick up on the kinds of stories we like to feature on the show. Personally, I like stories that are darkly comic, or make me feel a little bit ill, and have a sting in the tail. Also for the love of Rod (as in Rod Serling), please read the submission guidelines. If we're asking for 2000 words, it's for a reason so please don't submit a 4000-word story.
AF: What's in the future for Hawk & Cleaver?
LK: We're always looking for ways to make the podcast better, whether that's through special episodes, flash fiction competitions on our Facebook group, inviting horror icons on the show like Horror Channel presenter Emily Booth, or even just bettering our internal production workflow. In my wildest dreams, I'd love to put out longer serialised stories as well as The Other Stories. I'd also like an all-expenses-paid trip to Japan, please. 
About the Author
Latest Posts
Angelique Fawns writes horror, fantasy, kids short stories, and freelance journalism. Her day job is producing promos and after hours she takes care of her farm full of goats, horses, chickens, and her family. She has no idea how she finds time to write. She currently has stories in Ellery Queen, DreamForge Anvil, and Third Flatiron's Gotta Wear Eclipse Glasses. You can follow her work and get writing tips and submission hints at http://fawns.ca/.