Get Ready For Fantasy Writer's Week at ProWritingAid In Late Feb!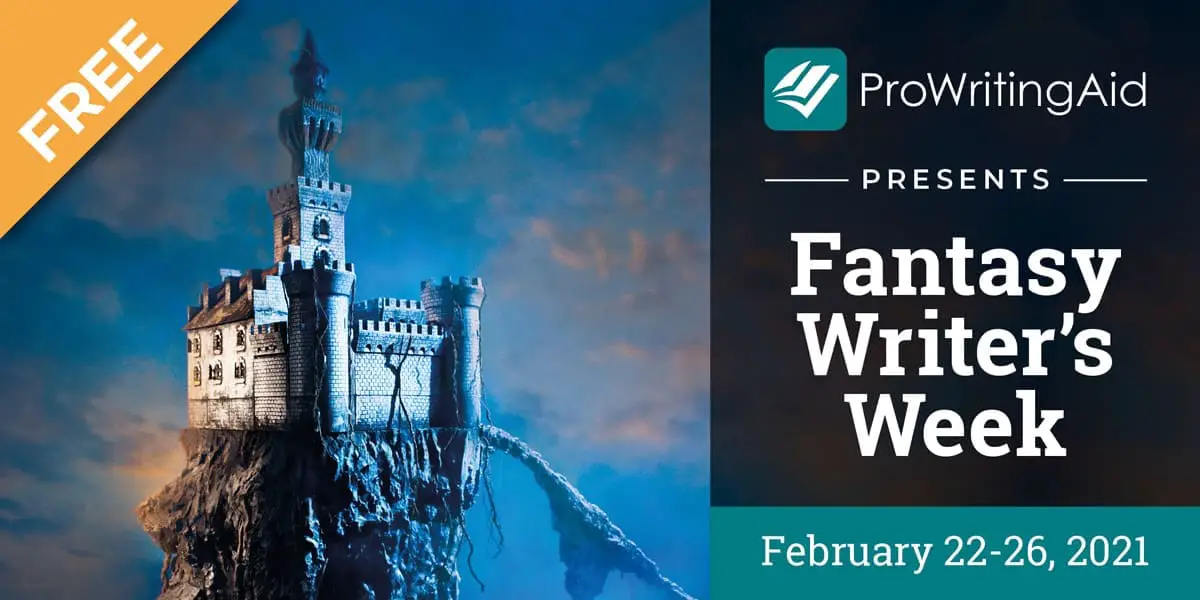 Disclaimer: This article contains affiliate links. If you purchase something through the links in this article we may receive a small commission or referral fee. This happens without any additional cost to you.
Have you been fantasizing about going to a writer's conference this year? Do you write fantasy? Then you wish has come true! ProWritingAid is hosting their first (and hopefully not last) Fantasy Writer's Conference. It will be from February 22nd to the 26th in your living room. No masks required and it is free! All you have to do is sign up!
There will be 11 training sessions including ones from best selling authors David Farland (Writing Wonder- How to Create a Fantasy World and Magical Systems), Stephanie BwaBwa (How to Write Page Turning YA Fantasy That Keeps Readers Up At Night) and Angela Ford (How to Organize Your Story Ideas and Write a Fantasy Novel).
Looking for feedback on your writing? There will be a World Building Write In (something that ProWritingAid members can do every month) that will feature short world building prompts that you can share for feedback with other attending writers.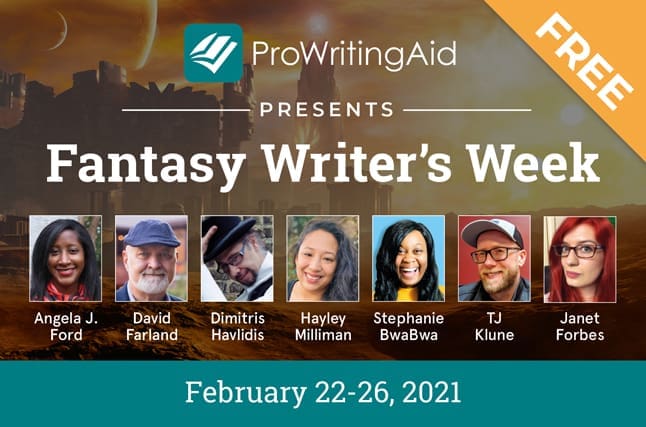 More details about the individual events

Writing Wonder—How to Create a Fantasy World and Magical Systems
Feb 22 (2 PM ET / 7 PM UK)
Presenter: Bestselling fantasy author, Dave Farland

Dave will be talking about what "wonder" literature is and how you can create a sense of wonder in your own fantasy novel. He'll show you how bestselling authors combine wonder with other emotions, like romance and adventure, to create the most successful fantasy novels out there.
World-Building 101: Training and Q&A
Feb 23 (12 PM ET / 5 PM UK)
Presenters: World Anvil founders, Janet Forbes and Dimitris Havlidis

In this workshop, Janet Forbes and Dimitris Havlidis from World Anvil talk about approaches and methods to world-building. They'll discuss tools and strategies you can use, such as world-building meta, to keep your project on track, both in terms of theme and motivations, and make sure your world is serving your novel and story.
The ProWritingAid World-Building Write-In
Feb 23 (2 PM ET / 7 PM UK)
Presenter: ProWritingAid's Head of Learning, Hayley MillimanEach month, we gather for the ProWritingAid Write-In. In this special 

Fantasy

 Writer's Week edition, join us as we work through short world-building prompts and share together for feedback.
How to Edit Your 

Fantasy

 Manuscript With ProWritingAid
Feb 24 (12 PM ET / 5 PM UK)
Presenter: ProWritingAid's Head of Learning, Hayley MillimanIt doesn't matter how many hours you spent meticulously crafting your 

fantasy

 novel's plot. If your writing isn't clear and effective, your readers won't engage with it. That's where editing technology can help. In this workshop, we'll dive into how to use ProWritingAid to make key edits to your 

fantasy

 manuscript.
How to Write Page-Turning YA 

Fantasy

 That Keeps Readers Up At Night
Feb 24 (2 PM ET / 7 PM UK)
Presenter: 

Fantasy

 author, Stephanie BwaBwaIn this workshop, 

fantasy

 author Stephanie BwaBwa will dive deep into creating a page turning novel that will keep your readers up at night. She'll break down the main elements all YA 

Fantasy

 novels need, discuss what to avoid when writing your novel and highlight how to make your characters relatable, and your story themes memorable.
World Anvil Walk-Through and Q&A
Feb 25 (12 PM ET / 5 PM UK)
Presenters: World Anvil founders, Janet Forbes and Dimitris HavlidisJoin Janet and Dimitris, the founders of World Anvil—the biggest world-building platform in the world—as they take you through how to use their award winning toolset to build your world setting, write your novel and even market your work to your fans and make money! Then grab your hammer, and go world-build!
How to Organize your Story Ideas and Write a 

Fantasy

 Novel
Feb 25 (2 PM ET / 7 PM UK)
Presenter: Bestselling 

fantasy

 author, Angela J. FordDuring this workshop, bestselling 

fantasy

 author Angela J. Ford will help you dig deep into taking your ideas and turning them into a story readers adore. You'll learn how to take your ideas and organize them (regardless if you're a plotter or pantser) before you begin writing.
How to Write 

Fantasy

: The Tricks of the Genre
Feb 26 (10 PM ET / 3 PM UK)
Presenters: Developmental editors, Anne Hawley and Rachelle RamirezDo you want to write a story set in a fantastical world but don't yet know how to structure it? Got some great world-building and some random scenes that don't really work together or entertain? You're in the right place.

In this webinar, you'll learn the basics of the Fantasy Genre so you can create emotion in your readers and have them recommending your story to others.
Your 

Fantasy

 Editing Roadmap
Feb 26 (12 PM ET / 5 PM UK)
Presenter: ProWritingAid's Head of Learning, Hayley MillimanAs nice as it would be, writing your 

fantasy

 novel isn't over when you type "The End." In fact, the actual work is just beginning. During the editing process, your novel will go from rough first draft to engaging final manuscript.

In this workshop, Hayley will walk you through the most important edits you should make to your manuscript to ensure it's publish-ready.
An Interview With Bestselling 

Fantasy

 Author, TJ Klune 
Feb 26 (2 PM ET / 7 PM UK)
Hosted by ProWritingAid CMO, Lisa LepkiTJ Klune is the Lambda Literary Award-winning author of The Extraordinaries and the 2020 New York Times #1 bestseller, The House in the Cerulean Sea. We'll be chatting to him about breaking into the worlds of 

fantasy

 and YA fiction, his writing process and why representation is so important in literature.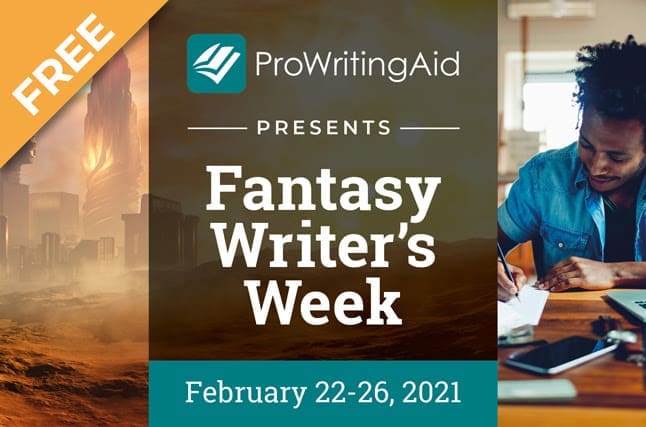 Software demonstrations from ProWritingAid and World Anvil will give you the inside scoop at using their various software, what you can do and how it can help you improve your writing. There's software to help you with everything from world building, keeping your writing on track, editing… in fact everything you will need to write a successful fantasy novel. It will start with World Building 101 which will discuss tools and strategies for constructing your magical world. Other sessions will include learning how to structure your fantasy world as well as building up your editing skills that will tighten your writing and keep your readers reading and recommending your book.
If you like what you see then you can sign up for ProWritingAid Premium and get 40% off. Prices start at $ 20 a month, $79 a year or the popular $399 lifetime membership. Already a Premium member? All Premium members get special access to a special interview with best selling author TJ Klune (sorry this one isn't free to the public). The award winning author will talk about his writing process, breaking into fantasy and YA fiction among other things.
The entire week is geared toward a writing levels, the beginning writer up through the experienced fantasy writer. You will be shown tools that you can use not only to track your work but improve your writing. You will get tips from some of your favorite fantasy authors on the craft of writing fantasy. Don't worry if you can't attend a session live. All sessions are taped so you can sit back and watch them (or rewatch them) at your leisure. This could be the beginning of something magical! Don't miss out!
As hosts of this event ProwritingAid has a long history of helping writers improve their craft. Their software programs help with everything from editing, to spelling and readability improvements. They use quizzes, explanations and videos to help writers improve their skills as they write. The best part is writers can use these tools with most other programs online such as Twitter, Facebook and other apps.
About the Author
Latest Posts
After losing my job of 15 years almost a year ago I decided to pursue my dream of being a freelance writer. I have a few novels and many short stories tucked away while I write for the local paper as well as write books reviews with the occasional interview.
I am the proud Mom of three Pitbulls, a turtle, a snake and many mice. I prefer horror and mysteries but I also have a vast selection of history books. I also love Minions.?