Epeolatry Book Review: When Other People Saw Us, They Saw The Dead Edited by Lauren T. Davila


Disclosure:
Our reviews may contain affiliate links. If you purchase something through the links in this article we may receive a small commission or referral fee. This happens without any additional cost to you.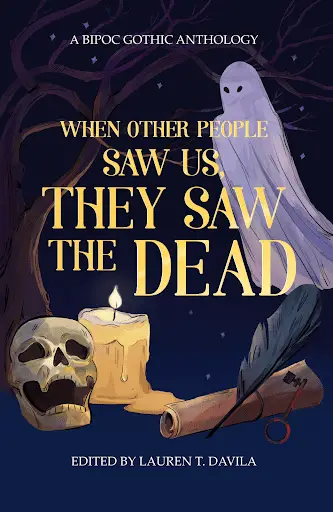 Title: When Other People Saw Us, They Saw The Dead
Editor: Lauren T. Davila
Publisher: Haunt Publishing
Genre: Gothic
Release Date: May, 2022
Synopsis: A faceless man stalks a woman's nightmares in Hollywood. A Kanontsistóntie is summoned to seek revenge in a monastery. A move from the projects to Manhattan leads to ominous shadows closing in. Two sisters discover a secret room in their farm, unearthing a sinister power.
When Other People Saw Us, They Saw the Dead is an anthology of dark, unsettling writing from some of the most exciting contemporary BIPOC writers. Blending Gothic, horror, folklore, fantasy and fairy-tale, these eerie short stories will disturb, move and humour you. Death is ever-present in the pages of They Saw the Dead, blending with notions of home, memory, grief and belonging, as well as gentrification, white supremacy and colonisation.
Edited by Lauren T. Davila, They Saw the Dead explores what it is to be truly haunted.
Horror anthologies are not only becoming more and more popular, but also bigger and bigger.
The digital format allows for a savings in costs and space, so readers and reviewers have more stories included in the recent anthologies, especially those offered by small imprints.
The present volume assembles twenty-four stories, which is still acceptable, compared with the huge number of contributions featured in many recent anthologies from other publishers.
But, in the end, what really matters is quality, not quantity.
And in this brief review I'll simply focus on the best tales included in this book.
"In The Bone Fields" by Anuja Varghese is an offbeat dark fable about twin sisters, endowed with different personalities, living on a farm and bound to face different destinies.
"The Candlemaker's Daughter" by Amiah Taylor is a terrifying story revisiting, with some minor changes, the subject of Bluebeard. Despite the predictable developments the tale is so well written that it manages to remain scary from beginning to end.
"The House by the Dell" by Lauren McEwen, is a rather conventional, yet extremely entertaining tale about black magic, while the intriguing "The Ghost of Creek Hill" by Aliya Chaudhry offers versions of the life and death of a female nurse whose ghost apparently haunts an old house.
My personal favorite is the "Headmaster" by AM Perez, depicting violence, physical and psychological abuse, and a supernatural vengeance.
You may have noted that all the above authors are women, and in fact most of the contributors to this book are female. Which underlines another trend in horror anthologies, where women writers are currently leading the way.


/5
About the Author
Latest Posts
Mario Guslandi was born in Milan, Italy, where he currently lives. A long time fan of dark fiction (especially short stories)he's probably the only Italian who reviews horror and supernatural tales in English. Over the years his reviews have appeared in many genre sites such as Horrorworld, The British Fantasy Society, Hellnotes, Emerald City, SF Revu, Thirteen O' Clock, etc.