Epeolatry Book Review: Untethered Sky by Fonda Lee


Disclosure:
Our reviews may contain affiliate links. If you purchase something through the links in this article we may receive a small commission or referral fee. This happens without any additional cost to you.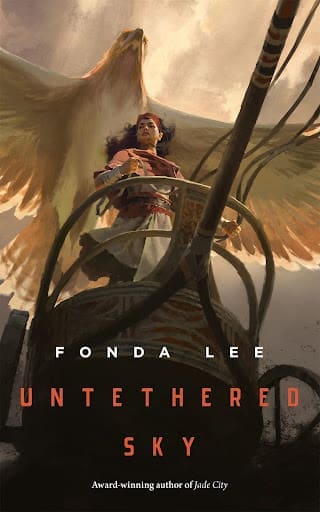 Title: Untethered Sky
Author: Fonda Lee
Genre: Fantasy
Publisher: Tordotcom
Release Date: 11th April, 2023
Synopsis: From World Fantasy Award-winning author Fonda Lee comes Untethered Sky, an epic fantasy fable about the pursuit of obsession at all costs.
A Most Anticipated in 2023 Pick for Polygon | Book Riot | Paste Magazine

Ester's family was torn apart when a manticore killed her mother and baby brother, leaving her with nothing but her father's painful silence and a single, overwhelming need to kill the monsters that took her family.
Ester's path leads her to the King's Royal Mews, where the giant rocs of legend are flown to hunt manticores by their brave and dedicated ruhkers. Paired with a fledgling roc named Zahra, Ester finds purpose and acclaim by devoting herself to a calling that demands absolute sacrifice and a creature that will never return her love. The terrifying partnership between woman and roc leads Ester not only on the empire's most dangerous manticore hunt, but on a journey of perseverance and acceptance.
Fonda Lee has given readers a fully realized fantasy world with kings, falconry, and dangerous mythical beasts all with a setting unlike most epic fantasies out there. Untethered Sky is a succinct tale covering Ester's highs and lows as she deals with a harsh world.
At a young age Ester's family was attacked by a manticore, leaving only her and her father alive. This drove her to pursue a life of hunting these monsters. She joined the King's Royal Mews, where she learns to tame and then hunt with Zahra, a roc, which is a giant bird of prey. There she makes a couple friends but her life as a ruhker makes it hard for her to connect.
Readers explore themes of trauma and how to move beyond it, as well as how to connect with peers. Ester is driven by her will to kill manticores, but also must learn how to relate to other people, not just Zahra, her roc. The story is a little short, enough so to finish in a couple sittings, but it works as structured. This story world is rife with other possibilities, and I hope Lee explores them in the future.
So, if you're looking for exciting new fantasy but do not want a thick epic fantasy or to get roped into a trilogy or series, then give Untethered Sky by Fonda Lee a read. The pages will fly by.

/5
About the Author
Latest Posts
Joe lives with his wife and son in the Pacific Northwest where the Cascade Mountains meet the Salish Sea. He enjoys writing in the weird, horror, and fantasy genres.
Growing up he enjoyed R. L. Stine's Goosebumps books as well as classics like Dune, and Lord of the Rings. In college he discovered Stephen King, and later Mark Danielewski's House of Leaves and authors like Clive Barker and Laird Barron.
Joe's short story, 'Gustav Floats', was published in Dim Shores Presents Volume 2. In the spring of 2021 his story, 'The Pigeon Lied' comes out in Howls From Hell.
You can follow Joe on the following social media sites:
Twitter, Good Reads, Facebook, and Instagram!