Epeolatry Book Review: Unbecoming Me & Other Interruptions by Christopher Stanley


Disclosure:
Our reviews may contain affiliate links. If you purchase something through the links in this article we may receive a small commission or referral fee. This happens without any additional cost to you.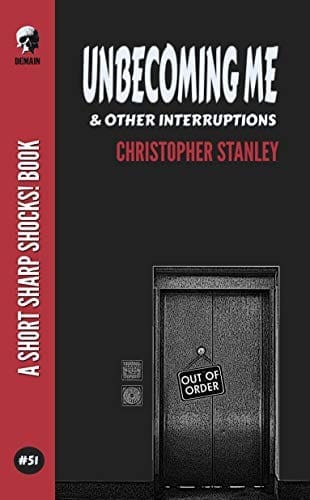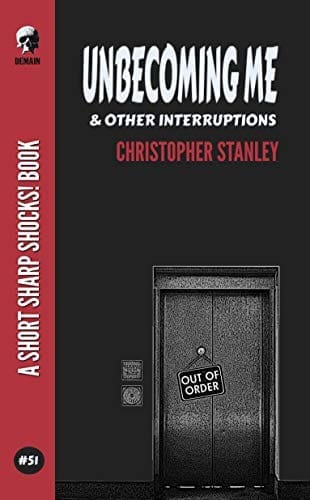 Title: Unbecoming Me & Other Interruptions
Author: Christopher Stanley
Genre: Horror
Publisher: Demain Publishing
Release Date: 18th September, 2020
Synopsis: A chilling new short story collection from the author of 'The Forest is Hungry' and 'The Lamppost Huggers and Other Wretched Tales'.
In DEVIL'S REACH, a frantic father boards a ferry, hoping to save his daughter and escape his wife. But nothing is as it seems as the ferry sails into darkness, and there are forces at work he won't begin to understand until it's too late.
In HELL'S TEETH, a young girl enlists the help of supernatural forces to exact revenge on the school bully, only to find she can't live with guilt.
And in the final story, UNBECOMING ME, a young man's desperate search for love takes an unexpected turn after he's rejected by the woman of his dreams.
Dark, sinister and unforgiving – 'Unbecoming Me & Other Interruptions' will make you want to sleep with the lights on.
This trio of shorts from Christopher Stanley releases on 18 September, for the price of less than a latte, 77p. I received an advanced reading copy from the publisher in exchange for a fair and honest review.
I read Stanley's previous compilation, The Forest Is Hungry (Short Sharp Shocks! Book 16), last year and thoroughly enjoyed it. So, I grabbed Unbecoming Me out of the publisher's hands. Here you get the pleasure of three stories, all linked by a minor character's strange appearance. I won't say more, but see if you spot it. 
The first short, "Devil's Reach", begins with a particularly creepy, unnerving scene in the café. Never has a passage of children playing been so weirdly portrayed. John, the father/husband, is on a ferry ride. He's fleeing his wife, taking his baby with him. Or is he? Within the hidden spaces of the ferry, John tries to hide. No one is a reliable character. And quickly his day becomes a nightmare controlled by forces he cannot combat. This tale has a haunted supernatural feel to it, where nothing is as it seems.
In the second short, "Hell's Teeth", the setting is an ordinary school filled with ordinary kids, including the class bully, Evie, and the bullied girl, Daisy. It's a familiar set-up, and we've all known someone like Daisy. 'Goldfish-bowl glasses and haphazard fringe' … how those words tugged at my memories of my own school days. Teeth feature prominently in this story—losing them. So does the tooth fairy fantasy. There are cringey moments which made me shudder. If you're at all teeth-phobic, then consider yourself warned—this might not be the tale for you. But Stanley's account of a victim taking revenge too far is strong and thought-provoking. How far should a child push back? What is the appropriate amount of punishment? What if your actions come back to bite you? (Excuse the pun.)
The third short, "Unbecoming Me", is my favourite. But I'm biased; I discovered it's set in the environs of my old uni, the University of Birmingham, where the author, Stanley, also studied. He references old student buildings and hangouts that I remember well. ('bars of Selly Oak and Five ways'; Muirhead Towers with 'windows like a bad case of acne'; Yes—just how I remember it.) The story's opening line—'The first time I was born…'—hooked me. I had to read on. The young student (a twin who survived whilst his sister did not) falls in love and longs for reciprocation. His longing enters the fantasy realm and the supernatural. I don't want to say more as it will spoil the fun.
Stanley's sharp prose captured moments with clarity and easy style. It made for a great read.
About the Author
Latest Posts
Alyson lives in the UK; her fiction has been published widely in print anthologies – DeadCades, Women in Horror Annual 2, Trembling with Fear 1 &2, Coffin Bell Journal 1 and Stories from Stone and in ezines, most often on the Horror Tree site, Siren's Call and The Casket of Fictional Delights. In May 2019 Night of the Rider, was published by Demain, in their Short Sharp Shocks! E book series and reached the amazon kindle top 10 best seller lists. Her work has been read on podcasts (eg Ladies of Horror), shortlisted in competitions and published in charity anthologies. Future work will appear in anthologies from Things in the Well, Mortal Realm and Twisted Wing Publishers.
She performs at open mics, teaches, edits and hangs out with her dog on the moor in all weathers.
https://alysonfayewordpress.wordpress.com/
Twitter @AlysonFaye2