Epeolatry Book Review: The Possession of Natalie Glasgow by Hailey Piper


Disclosure:
Our reviews may contain affiliate links. If you purchase something through the links in this article we may receive a small commission or referral fee. This happens without any additional cost to you.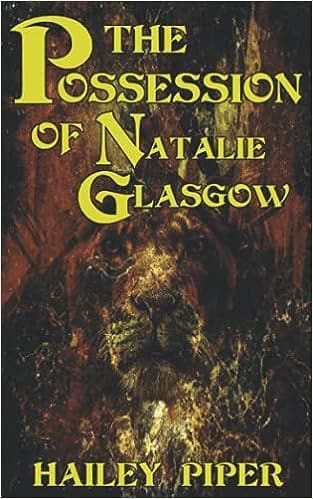 Title: The Possession of Natalie Glasgow
Author: Hailey Piper
Genre: Horror
Publisher: indie
Release Date: 2nd September, 2019
Synopsis: Margaret Willow has never met an eleven-year-old as dangerous as Natalie Glasgow. Natalie spends her days comatose, but at night she prowls her mother's home, unnaturally strong and insatiably carnivorous. With doctors baffled, Natalie's mother reaches out to Margaret, an expert in the supernatural. But even Margaret is mystified and terrified by Natalie's condition. She's dying, and before she dies, she might kill someone. Has a demon clawed its way inside an eleven-year-old girl? Or does the source of this nightmare lie with Natalie's dead father?
A tight, tense novella, The Possession of Natalie Glasgow twists the exorcism tale at every turn down to its final grave confrontation.
Possession stories have been huge in the horror genre, especially ever since Blatty's The Exorcist novel and movie adaptation slammed into popular culture. We have many variations of Blatty's story, but they are just that, only variations. But, on occasion we get something fresh. Standouts for me would be Paul Tremblay's A Head Full of Ghosts or Sara Gran's Come Closer. And now there is Hailey Piper's The Possession of Natalie Glasgow.
Piper deals with themes of responsibility and family sins as she explores the consequences that Natalie's father left behind for those still alive. The story is fairly short, so there isn't a lot of space for character development, but this is not a weakness. Piper makes use of every page and paragraph of this compact story.
Piper has won the Bram Stoker for Queen of Teeth and published a handful of other titles. They are a rising star in the horror genre, and it's worth checking out their earlier published work as you follow their career.

/5
About the Author
Latest Posts
Joe lives with his wife and son in the Pacific Northwest where the Cascade Mountains meet the Salish Sea. He enjoys writing in the weird, horror, and fantasy genres.
Growing up he enjoyed R. L. Stine's Goosebumps books as well as classics like Dune, and Lord of the Rings. In college he discovered Stephen King, and later Mark Danielewski's House of Leaves and authors like Clive Barker and Laird Barron.
Joe's short story, 'Gustav Floats', was published in Dim Shores Presents Volume 2. In the spring of 2021 his story, 'The Pigeon Lied' comes out in Howls From Hell.
You can follow Joe on the following social media sites:
Twitter, Good Reads, Facebook, and Instagram!