Comic Book Review: All Eight Eyes #4


Disclosure:
Our reviews may contain affiliate links. If you purchase something through the links in this article we may receive a small commission or referral fee. This happens without any additional cost to you.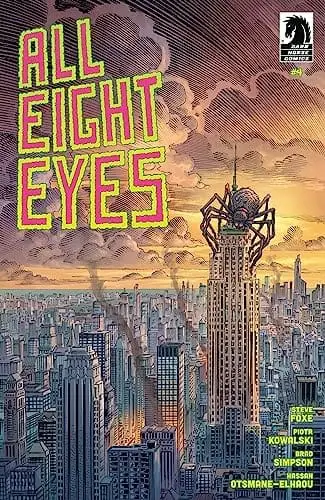 Writer: Steve Foxe
Artist: Piotr Kowalswki
Colorist: Brad Simpson
Cover Artist: Piotr Kowalswki
Publisher: Dark Horse Comics
Publication Date: July 19, 2023
Format: FC, 29 pages; Series
Synopsis: Now that Vin knows the truth about "Reynolds," he's determined to help track down the spider who took everything from him. But they're not alone in their descent into the beast's lair, as a self-interested politician jeopardizes their hunt. Fangs fly in the gory conclusion to this creepy-crawly creature-feature! Jaws meets Arachnophobia in a new vision of creature-feature terror from Eisner-nominated writer STEVE FOXE (Razorblades: The Horror Magazine) and dread-inspiring artist PIOTR KOWALSKI (Bloodborne)!
Reviewer Note: I read this volume out of sequence in the All Eight Eyes series, so this was the first one I read. I have a tendency to do this a lot in my own personal reading habits, with books in a series as well as with comic books and graphic novels. This is a standalone review of this particular comic in the series.
Review: I'll preface this review with saying that I absolutely adore spiders. So, you can bet that without knowing the sequence of events that developed in the previous issues, I was definitely #TeamSpider, without a doubt. And I did have a few chances to root for them. I'll have to skip the spoiler-esque reveal, though, but there were some great laugh-out-loud moments if you like your horror/suspense darkly comic and definitely bloody. 
I liked the gritty urban environment of above- and underground New York City, and I've been curious about taking a tour of the city's abandoned subway tunnels. I'm fascinated by the aesthetic of urban-ness in decay. The sketchbook feel of the art supported the flavor of suspenseful adventure contained within this edition. And I do relish a good, old-fashioned action/adventure story, for sure!
Speaking of the story line, I think it's deftly woven, and both the text and the story's events flow almost seamlessly towards the final scene. It provides just enough of a wrap-up at the end, but with the teaser for the next issue to come. Still, there's a section where two key action scenes are placed almost back-to-back, and there's not enough time to build a little more suspense in between the two, which makes it feel a little repetitive. 
The end of the issue, though, promises more giant spiders, and a whole lot more. And, probably, more hilariously dark laughs to illuminate and enliven our own grim, increasingly urban, landscape.
Thankfully, there were no skimpy bikinis or boob armor in this comic, but there was a little bit of a "shrinking violet" trope that crept in at one part, and it seemed to stand out from the tone of the comic book overall. 


/5
You can Pre-order your copy today at Amazon.
About the Author
Latest Posts