Epeolatry Book Review: The Jewish Book of Horror, ed. Josh Schlossberg


Disclosure:
Our reviews may contain affiliate links. If you purchase something through the links in this article we may receive a small commission or referral fee. This happens without any additional cost to you.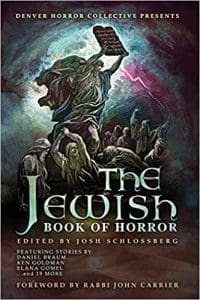 Title: The Jewish Book of Horror
Author: Various, ed. Josh Schlossberg
Genre: Horror
Publisher: Denver Horror Collective
Release Date: October 2nd, 2021
Synopsis: Horror is part of the human condition, but few peoples across the ages know it quite like the Jews.
From slavery to pogroms to the Holocaust to antisemitism, the "Chosen People" have not only endured hell on Earth, they've risen above it to share their stories with the world.
Whether it's pirate rabbis or demon-slaying Bible queens, concentration camp vampires or beloved, fearless bubbies, THE JEWISH BOOK OF HORROR offers you twenty-two dark tales about the culture, history, and folklore of the Jewish people.
This book is not an easy read if unfamiliar with Jewish culture because many terms (mostly concerning festivities and celebrations) require a dictionary. But never mind that. The present, hefty anthology is about horror, and what really matters is the quality of the included stories. The average quality is good, much to the pleasure of any horror fan.
I will mention the stories that appear more accomplished.
Richard Dansky's spooky tale "On Seas of Blood and Salt" revolves around a drifting ship. The crew is represented by dead people and the passengers by a bunch of undead prisoners.
Henry Herz's offbeat dark fantasy "Demon Hunter Vashty", tells the tale of a warrior queen bravely fighting against a group of demons haunting the town's Jewish Quarter.
"The Rabbi's Wife" by Simon Rosenberg is the disturbing portrait of a fascinating but uncanny woman.
The nasty "In the Red" by Mike Marcus is about a plastic surgeon overwhelmed by huge debts. He uses his craft to free himself from financial burden.
The perceptive "A Purim Story" by Emily Ruth Verona vividly depicts long lasting family tragedies.
Colleen Halupa contributes the splendid "Forty Days Before Birth", a story with a sinister undercurrent ready to explode at the end, where a man who lost his fiancée in a tragic accident finds something of her in a different, yet similar woman.
In short, an anthology well worth reading.

 out of 5 ravens.
About the Author
Latest Posts
Mario Guslandi was born in Milan, Italy, where he currently lives. A long time fan of dark fiction (especially short stories)he's probably the only Italian who reviews horror and supernatural tales in English. Over the years his reviews have appeared in many genre sites such as Horrorworld, The British Fantasy Society, Hellnotes, Emerald City, SF Revu, Thirteen O' Clock, etc.