Epeolatry Book Review: The Devil's Harmony by Sarah Rayne


Disclosure:
Our reviews may contain affiliate links. If you purchase something through the links in this article we may receive a small commission or referral fee. This happens without any additional cost to you.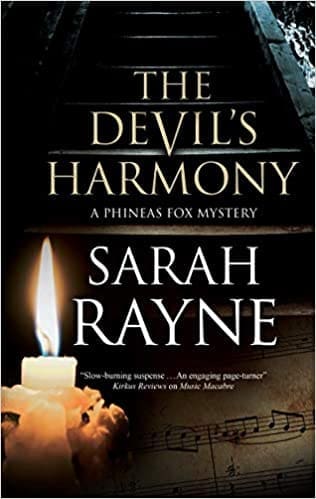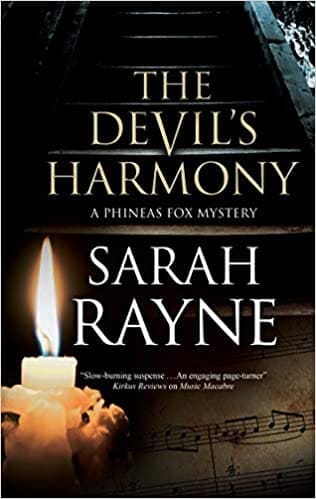 Title: The Devil's Harmony
Author: Sarah Rayne
Genre: Historical Thriller
Publisher: Severn House Publishers Ltd
Release Date: 30th Nov, 2020
Synopsis: The discovery of an old scrapbook in a Warsaw library leads researcher Phineas Fox to uncover evidence of a devastating wartime atrocity.
"We had no choice. But it was a bad way for them to die."
When music researcher Phineas Fox is asked to verify the contents of an old scrapbook, rescued from the site of the historic Chopin Library in Warsaw, he is initially sceptical. But he soon discovers an intriguing link between the Library and an infamous piece of music known as the Dark Cadence.
Legend has it that the Dark Cadence was only performed at a traitor's execution – and it has never been written down. It is believed to have last been played on the night the Chopin Library was destroyed during the Nazi occupation of World War II. What really happened that terrible night in October, 1944? What is the connection with an equally dreadful night in Russia in 1918, the night the Tsar and his family were executed? And what are the repercussions for the present . . .?
The discovery of an old scrapbook in a Warsaw library leads researcher Phineas Fox to uncover evidence of a devastating wartime atrocity.
"We had no choice. But it was a bad way for them to die."
I have been reading Rayne's novels for years now- she is one of my all-time fave authors – so I seek out her annual new books like I seek out chocolate—with determination and happy anticipation.
I received this e-arc direct from my man at Severn House Publishers (Carl) and read it in 2-3 sittings in large happy gulps. Mind you that's the best way to read Rayne, for her plots are twisty, layered, historical, and can be a bit complicated – I daren't take my eye off the ball. I've even considered a spider diagram to help keep the links fresh in my head.
The Devil's Harmony is the latest in the Phineas Fox series (with assistance from his girlfriend/fiancée Arabella Tallis). Phineas Fox is a music researcher/historian and author and is, I suspect from reading interviews about the author's interests, Sarah Rayne's fictional alter ego. You don't have to read the Fox novels in order, though there are occasional references to past plots and conspiracies.
As is usual with Rayne's history/mysteries, she spins her dark web across several different time-lines, countries and characters – though they often are shown to be linked in ways which become clear as you read.
The narrative kicks off in Tsarist Russia, in the crucial year of 1918 when an anonymous child (later the identity is revealed) witnesses more than s/he should of a piece of lethal history. Rayne is adept at expressing characters' different points of view and handling the limited understanding but quicksilver intelligence of children.
The story moves to wartime, Nazi-occupied Warsaw, and specifically focusses on the Polish musicians working at the Chopin Library (now lost to history due to a mysterious all-consuming blaze). Then we move into present day as the ongoing research of Fox and Arabella heats up. This takes them to an obscure English village and a life and death meeting with a spinster, Thaisa, who guards deadly secrets.
Running through all of these different times/locations is the tuneful thread of an infamous piece of music known as the "Dark Cadence", only ever played at a traitor's execution and now lost to history – or is it?
Rayne brings wartime Warsaw alive, and I can almost see and smell the food at Anatol's Polish café in The Street of Music, where the main characters hang out, and feel the heat of the flames as the Chopin Library burns. 
Rayne leads the reader into the heart of evil and shows how the chainlinks which tie and corrupt ordinary people are made stronger by circumstances, war, and their own actions. One man's traitor is another man's hero. No one is without guilt. And the sins of the past always cast long shadows in her novels.
Some of the narrative is told through excerpts from diaries, emails, lost documents, and letters, which is another Rayne motif. If you enjoy multiple time-lines, points of views, stories partly told through historical documents and walks through history, then obviously this is the book for you. I happen to adore this sort of mystery. 
This story doesn't have Rayne's trademark supernatural layering to it, which her earlier ones do. (The Michael Flint/Nell West novels). In The Devil's Harmony the characters are haunted by their acts and their pasts. Some are never free of them. And of course there are deaths and murders, often terrible hideous ways of dying. If you have a fear of confined spaces, read this with care.
The ending is very touching and ties up the threads well, giving this reader great satisfaction.
About the Author
Latest Posts
Alyson lives in the UK; her fiction has been published widely in print anthologies – DeadCades, Women in Horror Annual 2, Trembling with Fear 1 &2, Coffin Bell Journal 1 and Stories from Stone and in ezines, most often on the Horror Tree site, Siren's Call and The Casket of Fictional Delights. In May 2019 Night of the Rider, was published by Demain, in their Short Sharp Shocks! E book series and reached the amazon kindle top 10 best seller lists. Her work has been read on podcasts (eg Ladies of Horror), shortlisted in competitions and published in charity anthologies. Future work will appear in anthologies from Things in the Well, Mortal Realm and Twisted Wing Publishers.
She performs at open mics, teaches, edits and hangs out with her dog on the moor in all weathers.
https://alysonfayewordpress.wordpress.com/
Twitter @AlysonFaye2