Epeolatry Book Review: The Ghost That Ate Us by Daniel Kraus


Disclosure:
Our reviews may contain affiliate links. If you purchase something through the links in this article we may receive a small commission or referral fee. This happens without any additional cost to you.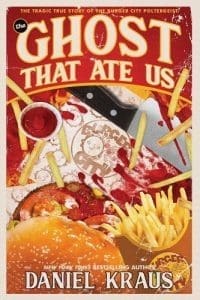 Title: The Ghost That Ate Us: The Tragic True Story of the Burger City Poltergeist
Author: Daniel Kraus
Genre: Horror
Publisher: Raw Dog Screaming Press
Release Date: 12th July, 2022
Synopsis:
You remember the brutal crime, don't you?
Maybe you read about it on Twitter. Maybe a friend sent you a news clip. Maybe you saw it on an episode of Spectral Journeys that night you were flipping through channels, unable to sleep.
Maybe after reading the true story, you won't ever sleep again.
On June 1, 2017, six people were killed at a Burger City franchise off I-80 near Jonny, Iowa. It was the bizarre and gruesome conclusion to nine months of alleged paranormal activity at the fast-food joint-events popularly known as "the Burger City Poltergeist."
The story inspired Facebook memes, Twitter hashtags, Buzzfeed listicles, Saturday Night Live sketches, and more. But the case was never much more than a punchline…until bestselling writer Daniel Kraus (The Shape of Water, The Living Dead) decided to head to Iowa to dig up what really happened.
Presented here is the definitive story of "the most exhaustively documented haunting in history," including-for the first time ever-interviews with every living survivor of the tragedy.
The employees of Burger City were a family. They loved one another. At least, at the beginning.
To be fair, I can understand why a number of early readers of Daniel Kraus's latest creation feel duped: the publisher's summary presents The Ghost That Ate Us as a true crime investigation of some nationally-known massacre described so matter-of-factly, the reader might ponder how on earth s/he missed news accounts of the infamous occurrence. Interested readers should know: it is a work of fiction. However, one part Grady Hendrix's Horrorstor, one part Taika Waititi's What We Do in the Shadows, Kraus's tale is a tongue-in-cheek excursion that draws the reader into its illusion as smoothly as a Forensics Files voiceover.
After a faux disclaimer from the author, Ghost reads like a well-researched crime nonfiction, complete with blueprints of the scene and photographs of "evidence." The catalyst for the malicious haunting is a deadly scuffle in Burger City between two methamphetamine addicts: Ash Muckells and Scotty Flossen. When the latter brutally stabs the former—the event captured for posterity on the restaurant's many security cameras—"the Burger City Poltergeist—so say the survivors—begins to live." 
There's nothing particularly out of the ordinary (as far as traditional ghost stories go) in the story's progression from there; familiar tropes like suspicious cold spots within the restaurant, objects floating about untethered, and poltergeist experts called in to save the day? Check, check, and check. However, in this case, it's the walk-in freezer that houses the cold spot (it's extra-extra cold), an anonymous, sexually explicit photo that captures the hovering object on film, and a second-rate reality show with an anti-climactic animal spirit scraped from a local travel guide. Kraus knows his audience, and his curveballs offer surprises for even the most dedicated of ghost fanatics, even if they are often served with a barely disguised wink and grin from the author. 
One of the greatest strengths of The Ghost That Ate Us is its twist ending, one that will almost certainly take the reader by surprise. The story is worth reading for this aspect alone. The other main asset of the book is Kraus's ability to create quirky but believable characters, their traits slyly revealed in short, sardonic anecdotes as the narrator interviews the "surviving witnesses" and other contributors to the mythos. Vandyke holds a disposable knife in his hand "for the same reason Senator Bob Dole used to clutch a pen" but he does so in a way so that "it looks like Vandyke is threatening Stu with a plastic stabbing." Burger City's longest employee, Cheri Orritt, is a fashion nomad who was rumored to have once played backup bass for the Allman Brothers, and when presented with a longevity plaque from the chain, writes a pithy comment on it and hangs it for her co-workers to read. "Zane Shakespeare was the staff sphinx…he only ate meat he confirms as free range with his own eyes…took dewy dawn constitutionals to commune with deer and quail…[and] practiced neotantric sex featuring yoni and lingam massage." The reader may not feel a bond with any of these characters, but s/he will certainly find the way they are portrayed amusing enough to chuckle out loud.
The Achilles' heel of most documentaries and true crime books is the author or director's overindulgence in unnecessary minutia. Kraus is a veteran scribe: I can only assume his excessive (and it is excessive), painstaking detail of every breath, step, and passing thought even tangentially related to the "case" is part of his parody of the genre. However, like that Netflix doc series we all agree stretched over one too many episodes, Ghost commits the fatal flaw once too often not to become a distraction at times. Simultaneously a witty lampoon, a spooky suspense yarn, and a true crime whodunit, The Ghost That Ate Us holds its readers captive to the very end. It's an original concept that glistens as fresh and tasty as those fast food restaurant commercials film their burgers to be, and anyone with an appreciation for both horror and parody is certain to enjoy it.

/5
About the Author
Latest Posts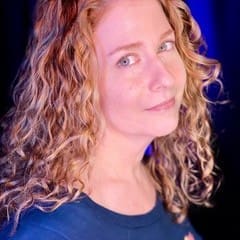 Rebecca Rowland is a New England-born author of dark fiction and editor of horror anthologies. Projects releasing this summer include the anthology in tribute to the late, great Anne Rice Dancing in the Shadows, the transgressive weird horror Shagging the Boss, and the speculative fiction hybrid Optic Nerve. For a preview, visit RowlandBooks.com; for a peek at what shiny object she's fixating on this week, follow her on Instagram @Rebecca_Rowland_books.