Epeolatry Book Review: Parachute by Holly Rae Garcia


Disclosure:
Our reviews may contain affiliate links. If you purchase something through the links in this article we may receive a small commission or referral fee. This happens without any additional cost to you.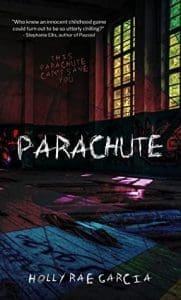 Title: Parachute, 106 pages
Author: Holly Rae Garcia
Genre: Horror
Publisher: Easton Falls Publishing
Release Date: May 20th, 2022
Synopsis: Angela Rodriguez and her friends aren't sure what they want out of life now that they've graduated high school, but they think there is plenty of time to figure it all out. When a trip to an abandoned elementary school leads to a break-in, they discover an old gym parachute.

Raising the fabric above their heads, the group expects it to balloon out around them like it did when they were younger. But instead, the parachute reveals alternate universes and terrifying worlds.

There's only one rule…

DON'T LET GO
I'm a sucker for horror stories involving characters coming-of-age or on the cusp of adulthood. Books like Grady Hendrix's My Best Friend's Exorcism and Stephen King's It come to mind. Or even The Ghost Tracks by Celso Hurtado. Bonus points of it's a whole friend group up to secret shenanigans.
In Holly Rae Garcia's Parachute we get just that. Recently graduated from high school, Angela and her friends have plans to sneak out for one last hurrah at the abandoned elementary school grounds before either moving on to college, beginning a job, or just planning to get out of town. After passing around a joint they start to reminisce about the joys of elementary gym class. They start to wonder if the old colorful parachute they used to play with is still in the gymnasium's rotting storage room, and luckily, it happens to be there. Things get wild once they all grab hold, lift the parachute into the air, then sit beneath the slowly collapsing dome of color.
Parachute takes some wild turns, and I'm here for every twist. Be sure to grab your own copy when it comes out in May.


/5
About the Author
Latest Posts
Joe lives with his wife and son in the Pacific Northwest where the Cascade Mountains meet the Salish Sea. He enjoys writing in the weird, horror, and fantasy genres.
Growing up he enjoyed R. L. Stine's Goosebumps books as well as classics like Dune, and Lord of the Rings. In college he discovered Stephen King, and later Mark Danielewski's House of Leaves and authors like Clive Barker and Laird Barron.
Joe's short story, 'Gustav Floats', was published in Dim Shores Presents Volume 2. In the spring of 2021 his story, 'The Pigeon Lied' comes out in Howls From Hell.
You can follow Joe on the following social media sites:
Twitter, Good Reads, Facebook, and Instagram!