Epeolatry Book Review: My Soul to Keep by Tananarive Due


Disclosure:
Our reviews may contain affiliate links. If you purchase something through the links in this article we may receive a small commission or referral fee. This happens without any additional cost to you.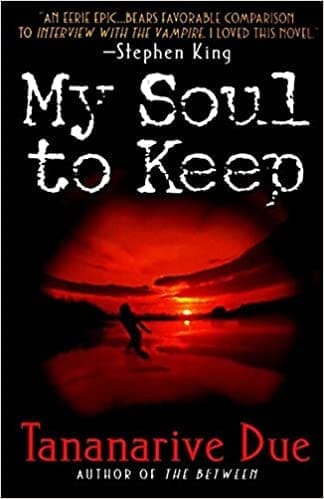 Title: My Soul to Keep
Author: Tananarive Due
Genre: Dark Fantasy/Horror
Publisher: Harper Voyager
Release Date: 8th April, 1998
Synopsis: When Jessica marries David, he is everything she wants in a family man: brilliant, attentive, ever youthful. Yet she still feels something about him is just out of reach. Soon, as people close to Jessica begin to meet violent, mysterious deaths, David makes an unimaginable confession: More than 400 years ago, he and other members of an Ethiopian sect traded their humanity so they would never die, a secret he must protect at any cost. Now, his immortal brethren have decided David must return and leave his family in Miami. Instead, David vows to invoke a forbidden ritual to keep Jessica and his daughter with him forever.
Harrowing, engrossing and skillfully rendered, My Soul to Keep traps Jessica between the desperation of immortals who want to rob her of her life and a husband who wants to rob her of her soul. With deft plotting and an unforgettable climax, this tour de force that Stephen King called 'An eerie epic' is sure to win Due a legion of new fans.
A most welcome development in the vampire subgenre—the increase in the number of writers of colour. In My Soul to Keep, Bram Stoker Award finalist and Miami Herald columnist Tananarive Due draws upon her Ethiopian heritage to craft vivid vampire characters within this new tradition. 
Jessica is a journalist in Florida keen to advance her career, raise her daughter Kira, and maintain her marriage to David; not an easy balance to strike, especially when David's behaviour becomes increasingly challenging and concerning. They met when he was her Spanish tutor at university. Jessica was bowled over by the sophisticated man who seemed to know everything. It's a familiar idea, but David has kept from his wife that he's a vampire—so, 'older man' doesn't even begin to cover it. 
David's work provides an opportunity to pursue his second life. This includes sneaking over to the nursing home where his other daughter is drawing her last breath, decades after she last saw him, to be with her at the end. Courtesy of his longevity, most of the women he's loved in the past are long dead, though he hasn't forgotten them and has barely changed since. Centuries ago, David abandoned the vampire order home in Ethiopia. Since then, he's been cast into slavery and transported to America, freed himself, and made a new life. However, he is still pursued by members of his order determined to remind him of his pledge and punish him for breaking it. 
Much of this novel's tension comes from David's physical violence. It can be very gruesome but never gratuitous. Some rationale for killing—the urgent need to conceal his identity, and to silence those who have (accidentally or otherwise) uncovered the truth. Gradually, the killing circle engulfs their close family; the price of David's vampire condition is laid bare. Bloodlust supplies the remainder of his motivation. 
As vampire stories go, this is toward the literary end of the spectrum. The writing is excellent. Much of the reader's time is spent with David as the point-of-view character, which means we experience both his ruthless love of killing and his yearning for those he has loved and lost. Jessica is the other main point-of-view character, and through her the more affirmatory story aspects are told: the bravery of standing up to David, her care and love for Kira, and her determination to establish a truth ever closer to home, and to face the consequences head on supported by the strong women in her family. 
The story's vibrancy is partly due to superb characterization. I mostly enjoyed the development of a full and impressive backstory based upon David's Ethiopian heritage, and his personal experiences since leaving his vampire order to go it alone. Vampire traditions exist all over the world, and writers of colour are only getting started in sharing their cultural richness within the subgenre. There is much for them yet to draw upon and this bodes well for one of horror's best loved subgenres.
About the Author
Latest Posts
They are a non-binary writer and reviewer of fantasy and horror fiction. They are a Contributing Editor with Albedo One Magazine and a reviewer with the British Fantasy Society and Schlock! Webzine. Their fantasy novel 'Dagmar of the Northlands' is out now on Kindle and Smashwords. They have had short fiction published in many anthologies from small presses and in a number of magazines, including The Horror Zine. They also hold a Postgraduate Certificate in Creative Writing from Newcastle University.