Epeolatry Book Review: Close to Midnight, ed. Mark Morris


Disclosure:
Our reviews may contain affiliate links. If you purchase something through the links in this article we may receive a small commission or referral fee. This happens without any additional cost to you.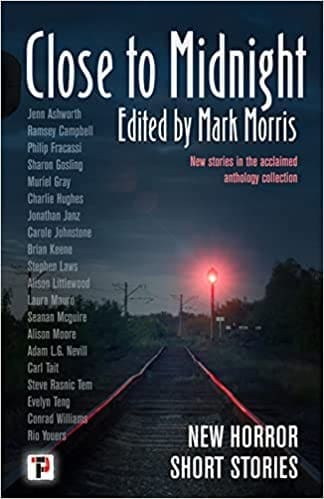 Title: Close to Midnight
Author: Various, ed. Mark Morris
Publisher: Flame Tree Press
Genre: Horror
Release Date: 18th October, 2022
Synopsis: Close to Midnight is the third volume in an annual, non-themed horror series of entirely original stories, showcasing the very best short fiction that the genre has to offer, and edited by Mark Morris. This new anthology contains 20 original horror stories, 16 of which have been commissioned from some of the top names in the genre, and 4 of which have been selected from the 100s of stories sent to Flame Tree during a 2-week open submissions window.
By now we know that Mark Morris is not only a successful writer but also the award-winning editor of various anthologies (New Fears 1 and 2, Cinema Macabre, After Sundown, Beyond the Veil).
In this horror short story assortment, Morris assembled twenty new tales written by Rio Youers,
Muriel Gray, Sharon Gosling, Ramsey Campbell, Alison Littlewood, Conrad Williams, Jenn Ashworth, Carl Tait, Philip Fracassi, Seanan McGuire, Charlie Hughes, Brian Keene, Stephen Laws, Carole Johnstone, Jonathan Janz, Alison Moore, Evelyn Teng, Laura Mauro, Steve Rasnic Tem, and Adam LG Nevill.
Many big names among the contributors to this volume are actually included in my own personal list of favorite horror writers who, for an unfortunate coincidence, do not seem to be at the top of their game. In other words, here we have all the ingredients for a juicy dish, which, in the end, doesn't quite fulfill expectations.
I cannot really say that the stories are bad or disappointing, but most of them are no more than honest, run-of-the-mill horror tales, entertaining enough, but bound to be forgotten as soon as you turn the page.
Personally, in this compilation of average quality, I found just a few worth mentioning.
"Wolves" by Rio Youers is an unusual piece portraying a very tight, isolated community sharing strict, exclusive rules and living under the menace of hungry wolves.
"In the Wabe" by Alison Littlewood is a perceptive, intense story about the disappearance of a little girl in Central Park, while "Remains" by Charlie Hughes is an offbeat tale where a murdered woman keeps observing the living and watching the moves of her assassin.
Steve Rasnic Tem contributes "Bags", an insightful piece depicting the physical and psychological horrors surrounding the house of a terminal cancer patient whose belongings are filling his decrepit dwelling.

/5
About the Author
Latest Posts
Mario Guslandi was born in Milan, Italy, where he currently lives. A long time fan of dark fiction (especially short stories)he's probably the only Italian who reviews horror and supernatural tales in English. Over the years his reviews have appeared in many genre sites such as Horrorworld, The British Fantasy Society, Hellnotes, Emerald City, SF Revu, Thirteen O' Clock, etc.