Epeolatry Book Review: Mists and Megaliths by Catherine McCarthy


Disclosure:
Our reviews may contain affiliate links. If you purchase something through the links in this article we may receive a small commission or referral fee. This happens without any additional cost to you.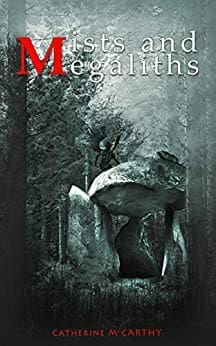 Title: Mists and Megaliths
Author: Catherine McCarthy
Genre: Mythology, Horror
Publisher: C. McCarthy
Release Date: 27th April, 2021
Synopsis: Welcome to Wales, land of mists and megaliths, where mythical creatures and ancient spirits lurk in the strangest of places.
This collection of 10 supernatural stories offers a flurry of folklore, a gathering of ghosts, and even a cosmic cave creature.
Stories include…
Lure: A fisherman who nets the tail fin of a lure becomes obsessed with finding the rest, but what else lies hidden in the ancient lake?
Carreg Samson: A Neolithic burial chamber stares out to sea, remembering times long since past, but when it loses its heart of stone to a young girl the repercussions are hard to bear.
Coblynau: An old man watches the mountain which was once a slag heap of coal. He listens for the knock of the Coblynau, certain they will come for him… soon, just like they did to warn of the Aberfan disaster.
Author Catherine McCarthy's second collection invites the reader on a regional journey, evoking a sense of quiet horror from the cosmic to the Gothic.
I first came across Catherine McCarthy's fiction last year when we shared the Table of Contents on the NHS fund-raising anthology, Diabolica Britannica. She is one of many burgeoning female indie horror writers thrusting ever upwards, whose work I rate, admire, and enjoy. If you like quiet horror, sometimes Gothic, dashes of suspense, the supernatural with hauntings-a -plenty, but no gore or splatterpunk, then like me, you will love her fiction.
Catherine's second collection of ten tales (a percentage of which are reprints or extended versions, but many are originals) are set in the land she loves, Wales. Some of her stories reshape Welsh myths (who do the Coblynau knock for?) and legends, while other tales create new monsters and weave suspenseful yarns set in locations as varied as abandoned railway stations ('Jagged Edges'- where dutiful Harold Hodges still turns up to work, but why?); down coal mines ('Retribution'); and in a newly-built Victorian icehouse. In the wittiest, most darkly comic tale of the collection, an overfilled cemetery, 'Two's Company, Three's a Shroud', is one of my faves. 
The author prefaces each story with informative paragraphs on the history of the tale, its significance, and/or source. I liked these prefaces and found them engaging and useful. However, I also think her stories are more than strong enough to stand alone.
Catherine McCarthy's writing style verges on the poetic at times, though she is equally at home with dialogue as well as narrative. Her stories are strong on sensory effects, the smell and sound of the sea, and the taste and feel of the landscape. Indeed, one of her most unusual and compelling stories, 'Carreg Samson' is told in the voice of the Neolithic burial chamber- yes the stones speak and their language is lyrical.
The opening story, 'Cragen' (Welsh for Shell) has, as its protagonist, a beloved only daughter, Lily, (same for me while growing up) and her invisible friend, whom the parents indulge, yet do not for one moment believe is real. Until a series of freakish incidents mount and Lilly's answer is 'Cragen did it.'
McCarthy delicately charts Lily's blighted childhood and the ways in which Cragen's non-presence tears her and the family apart, until the final brutal and sad finale in the ocean—Cragen's real home. I had tears in my eyes.
A personal favourite of mine is one I first read last year – 'Ysbrid Y Mor' (Spirit of the Sea), in the online version of 'Life and Style' a Welsh magazine. It is a beautifully told supernatural tale (PG 12- it had to be so, for family consumption) about a village by the sea. Whilst totally isolating itself from the plague ravaging the land, it is fearful of the visiting stranger who arrives from the sea on Christmas Eve, carrying a strange sack which rattles. The villagers call him 'a ghost from the sea' – and perhaps he is just that? For he has no name and is ancient. But he could be something more, for he has a message worth listening to. Self-imposed isolation has made the villagers sad, bitter and fearful. Is it worth the risk to reach out? Or not? We need to ask these questions. Reading this story in lock down UK during COVID days, well, the resonance struck me hard and provided another layer to the tale. 
Every reader will have their favourites in this collection. Its strengths along with the cohesiveness of the Welsh backdrop, the myths, the humanity and pathos of its characters, and its poetic language, all combine to make this collection an outstandingly good read.
Highly recommended.
5/5 stars
About the Author
Latest Posts
Alyson lives in the UK; her fiction has been published widely in print anthologies – DeadCades, Women in Horror Annual 2, Trembling with Fear 1 &2, Coffin Bell Journal 1 and Stories from Stone and in ezines, most often on the Horror Tree site, Siren's Call and The Casket of Fictional Delights. In May 2019 Night of the Rider, was published by Demain, in their Short Sharp Shocks! E book series and reached the amazon kindle top 10 best seller lists. Her work has been read on podcasts (eg Ladies of Horror), shortlisted in competitions and published in charity anthologies. Future work will appear in anthologies from Things in the Well, Mortal Realm and Twisted Wing Publishers.
She performs at open mics, teaches, edits and hangs out with her dog on the moor in all weathers.
https://alysonfayewordpress.wordpress.com/
Twitter @AlysonFaye2