Epeolatry Book Review: Little Eve by Catriona Ward


Disclosure:
Our reviews may contain affiliate links. If you purchase something through the links in this article we may receive a small commission or referral fee. This happens without any additional cost to you.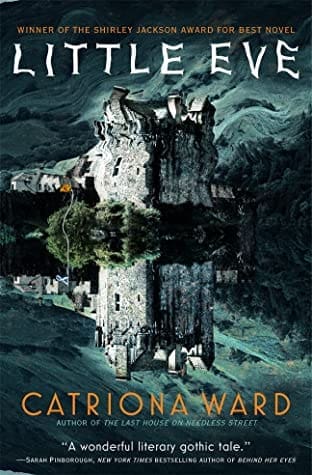 Title: Little Eve
Author: Catriona Ward
Publisher: Tor Nightfire
Genre: Horror
Release Date: 11th, October, 2022
Synopsis: From Catriona Ward, author of The Last House on Needless Street, comes the Shirley Jackson Award-winning novel Little Eve, a heart-pounding tale of faith and family, with a devastating twist
"A great day is upon us. He is coming. The world will be washed away."
On the wind-battered isle of Altnaharra, off the wildest coast of Scotland, a clan prepares to bring about the end of the world and its imminent rebirth.
The Adder is coming and one of their number will inherit its powers. They all want the honor, but young Eve is willing to do anything for the distinction.
A reckoning beyond Eve's imagination begins when Chief Inspector Black arrives to investigate a brutal murder and their sacred ceremony goes terribly wrong.
And soon all the secrets of Altnaharra will be uncovered.
Little Eve by Catriona Ward was a treat of a read. Imagine if Shirley Jackson's We Have Always Lived in the Castle (which is one of my very favorite books) was cranked to eleven and you are constantly questioning what is real and what is lies. Yes, Jackson does this quite a bit in that final book of hers, but Ward really amps things up and leads us readers in all sorts of interesting and unexpected directions. It was everything I love in a gothic horror with a slow burn to it.
I love how Ward plays with our emotions as well. I went back and forth on my opinions of different characters a few times due to the insane revelations throughout the story. This is the sort of book I wish I could read for the first time, again.
Oh, and don't get me going on the setting. This abandoned castle on a forgotten island off the coast of Scotland. The closest town is only a village. What could go wrong?
Definitely check out Little Eve by Catriona Ward as soon as you can. You will not be disappointed.

/5
About the Author
Latest Posts
Joe lives with his wife and son in the Pacific Northwest where the Cascade Mountains meet the Salish Sea. He enjoys writing in the weird, horror, and fantasy genres.
Growing up he enjoyed R. L. Stine's Goosebumps books as well as classics like Dune, and Lord of the Rings. In college he discovered Stephen King, and later Mark Danielewski's House of Leaves and authors like Clive Barker and Laird Barron.
Joe's short story, 'Gustav Floats', was published in Dim Shores Presents Volume 2. In the spring of 2021 his story, 'The Pigeon Lied' comes out in Howls From Hell.
You can follow Joe on the following social media sites:
Twitter, Good Reads, Facebook, and Instagram!