Pulling Magic from the Air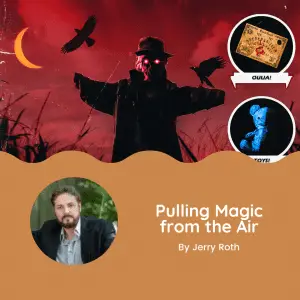 At every book signing, writing event, or anywhere a reader can corner an author, one question finds its way off the tongue. Where do your horror ideas come from? The question itself doesn't appear as anything more than a simple curiosity. The same asker might mention the weather to their friends or talk about their next meal with a partner. But for an author, the inevitable request requires a much deeper gaze into their soul. And as the thoughts swim through the brain to find an appropriate way to answer, the writer must navigate back to the furthest reaches of their past to unravel the most complicated enigma ever. Where does divine inspiration come from?
Like breaking the surface of water and desperately catching a breath of air before it's too late. The answer that always bubbled to the top is my childhood. Friedrich Froebel believed that "Learning begins when consciousness erupts, education must also." My knee-jerk answers dwell in the foggy haze of my youth. When I was five years of age, my young parents took me to our local drive-in theater once a week. On one occasion, it was a double feature of Disney's The Rescuers and The Exorcist. 
To this day, I can't really remember the storyline of the adventurous mice in the animated film, but I will never forget a child, not much older than I was, ruined by a demon called Captain Howdy. Knowing that something so dark could exist in the same world as my favorite Sesame Street episodes altered me. Did my parents swing open the gate to hell when they took me to see that horror movie? I doubt it, but perhaps it slid wider, just a crack?
Once I pushed aside the guilt of blaming my parents for the dark thoughts that end up on paper, my mind moved forward to the time I was a teenager. Part-time jobs and car keys were the portal to the first freedom I felt as a human being. You learn later in life to be careful what you bring into your world, but when life doesn't seem as precious, a teenager seeks the thrills that lets them know they're alive. It was the small rectangle boxes that sat on shelves and glimmered through the video store windows. There was something freeing about slapping down .99 and watching the most terrifying spectacle Hollywood could conjure. And all from the safety of a living room.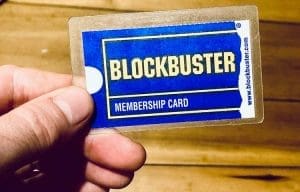 Each monster movie or slasher film spoke against the conformity of everything around me. And with every horrific story or splatter of blood across the screen, a spark of creation came alive inside my shell. It wasn't the depravity of what I witnessed in the films that had an effect. It was that the world was much larger than the small slit I peered through. Was it the rise of Blockbuster Video that carved my path toward horror? Perhaps the gate slid just a crack?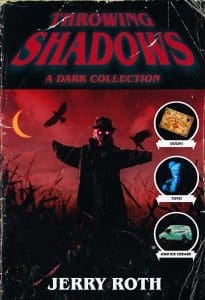 Before I could rest my destiny in the hands of a video rental store, I fell toward the memory of the first story I believed was worth anything. The short story called Ice Cream Man, from my upcoming novel Throwing Shadows: A dark collection. But how I created the story wasn't careful outline or meticulous research. The world of the story unfolded in front of me like an act of possession. It was then I realized that there is never one thing that helps deliver a work of art from the ether. Even as the human body or mind isn't one solid piece, either is art.
An author draws from everything that was ever around them and creates a mystery stew; served to the reader. And although we may never know where the magic comes from when we sit behind a typewriter or computer, we believe in the magic. So, when a reader asks, where do your horror ideas come from? I smile, shake my head, and let them know I haven't a clue.
Check out my latest novel Throwing Shadows: A Dark Collection, from Brigids Gate Press or on Amazon.
About the Author
Latest Posts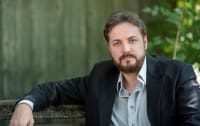 Jerry Roth is an award-winning author of Bottom Feeders and On the Tip of Her Tongue. His influences on writing can be traced backed to authors such as Anne Rice and Stephen King. Jerry's upcoming literary projects include a short story novel, Throwing Shadows: a dark collection— Due out from Brigids Gate Press.