Epeolatry Book Review: Les Femmes Grotesques by Victoria Dalpe


Disclosure:
Our reviews may contain affiliate links. If you purchase something through the links in this article we may receive a small commission or referral fee. This happens without any additional cost to you.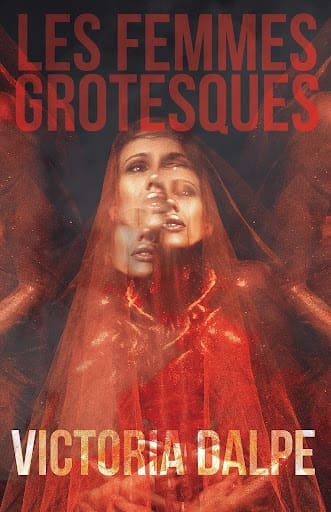 ​
Title: Les Femmes Grotesques
Author: Victoria Dalpe
Publisher: CLASH Books
Genre: Horror, Weird
Release date: 1st November, 2022
Synopsis: In each of these stories, the reader is lured into a sinister shadow space, one both familiar and uncanny.
Life is strange, beautiful, and terrible in the world of Victoria Dalpe's debut short story collection. Her characters run the gamut from nosy neighbors to boomtown prostitutes, sentient moss to ghouls with a taste for artist's flesh. The stories contain chance encounters with truck stop mystics, haunted reality show renovations, and cat people roaming the western plains. In Dalpe's writing, horror mixes with humor, and the ordinary with the macabre. Les Femmes Grotesques is a unique and lush reading experience. Tragic and transformative—an unabashed exploration of the dark feminine.
It's been more than a decade since I'd discovered the wonderful world of Weird fiction, and for a while I hadn't come across a voice that whispered dark truths like those of my original forays into this New Weird. Victoria Dalpe's Les Femmes Grotesques is exactly what I've been looking for. It's proof of the many great authors out there that I strive to find. It's a wonderful feeling.
In Les Femmes Grotesques Dalpe gives us a survey of the current landscape of weird horror fiction. Daple serves up a healthy serving of feisty femmes in a smattering of situations. There are haunted houses, liminal spaces, urban cults, forbidden lovers, and so much more.
These stories deal with loss, jealousy, isolation, and general existential dread with deft aplomb. The characters within are all relatable in a way, even those who lean toward darker morality. Such phantastic material. After each story, readers are left wanting more, not due to the story feeling incomplete, but because the story is engrossing and immersive.
I'm beyond thrilled to see the works of Dalpe and others still driving the Weird fiction genre. She is now among the names I will look for in the wild alongside Laird Barron, John Langan, Nathan Ballingrud, and Livia Llewellyn. While flipping through the original publication sources, I discovered a wonderful resource of interesting venues and names to watch for.


About the Author
Latest Posts
Joe lives with his wife and son in the Pacific Northwest where the Cascade Mountains meet the Salish Sea. He enjoys writing in the weird, horror, and fantasy genres.
Growing up he enjoyed R. L. Stine's Goosebumps books as well as classics like Dune, and Lord of the Rings. In college he discovered Stephen King, and later Mark Danielewski's House of Leaves and authors like Clive Barker and Laird Barron.
Joe's short story, 'Gustav Floats', was published in Dim Shores Presents Volume 2. In the spring of 2021 his story, 'The Pigeon Lied' comes out in Howls From Hell.
You can follow Joe on the following social media sites:
Twitter, Good Reads, Facebook, and Instagram!