Epeolatry Book Review: Humans are the Problem, ed. Michael Cluff & Willow Becker


Disclosure:
Our reviews may contain affiliate links. If you purchase something through the links in this article we may receive a small commission or referral fee. This happens without any additional cost to you.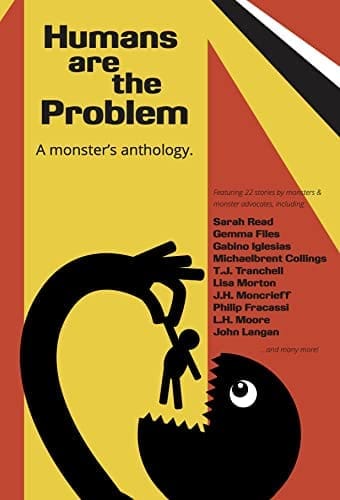 Title: Humans are the Problem
Author: Various, ed. Michael Cluff & Willow Becker
Publisher: Weird Little Worlds Press
Genre: Horror
Release Date: 15th October, 2021
Synopsis: You are not alone.
Written by the scariest minds in horror today, these 22 brand-new tales show how monsters are taking back their power in a world that desperately needs an inhuman intervention.
From violent tooth fairies and Twitter-addicted trolls to vengeful vampires and bittersweet Eldritch family holidays, these stories of real-life monsters—both familiar and never-before-seen—will soothe the monstrous soul of every reader.
Because part of you knows that humans are the problem… and monsters are the solution you've been looking for.
Humans Are The Problem: A Monster's Anthology is the premiere short-story anthology from Weird Little Worlds Press and made possible by the generous support from the horror community and Kickstarter backers.
This fun read, Humans are the Problem, contained stories from a few of my favorite authors currently writing in the horror genre, and a selection of tales written by new-to-me authors. I found the cover and design of the book fresh and original, and haven't come across anything that looks similar within the genre. 
My favorites were: 'The Aquarium Diver' by Phillip Fracassi, 'If Wishes Were' by John Langan, 'The Fingernail Man' by Jonathan Mast, 'Mea Tulpa' by Gordon Linzer, and 'The Blanch' by Dominick Cancilla.
Some stories were atmospheric and immersive (à la Langan), while others were short and punchy. Some were dark and violent, while others were whimsical and sweet. The common thread across the collection—Humans are the Problem.
Be sure to grab yourself a copy of this wonderful anthology today and take a walk in the shoes of monsters.


/5
About the Author
Latest Posts
Joe lives with his wife and son in the Pacific Northwest where the Cascade Mountains meet the Salish Sea. He enjoys writing in the weird, horror, and fantasy genres.
Growing up he enjoyed R. L. Stine's Goosebumps books as well as classics like Dune, and Lord of the Rings. In college he discovered Stephen King, and later Mark Danielewski's House of Leaves and authors like Clive Barker and Laird Barron.
Joe's short story, 'Gustav Floats', was published in Dim Shores Presents Volume 2. In the spring of 2021 his story, 'The Pigeon Lied' comes out in Howls From Hell.
You can follow Joe on the following social media sites:
Twitter, Good Reads, Facebook, and Instagram!