Epeolatry Book Review: After Sundown ed. Mark Morris


Disclosure:
Our reviews may contain affiliate links. If you purchase something through the links in this article we may receive a small commission or referral fee. This happens without any additional cost to you.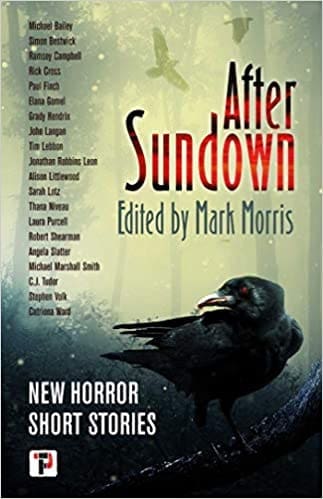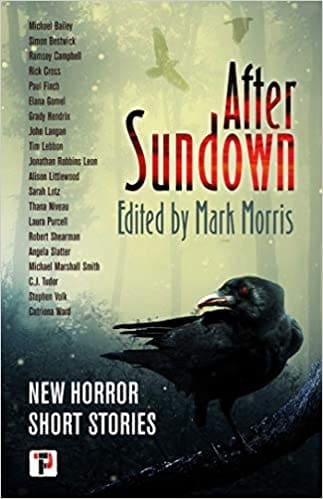 Title: After Sundown
Author: Various, ed. Mark Morris
Genre: Horror
Publisher: Flame Tree Press
Release Date: 20th October, 2020
Synopsis:This new anthology contains 20 original horror stories, 16 of which have been commissioned from some of the top names in the genre, and 4 of which have been selected from the 100s of stories sent to Flame Tree during a 2-week open submissions window. It is the first of what will hopefully become an annual, non-themed horror anthology of entirely original stories, showcasing the very best short fiction that the genre has to offer.
This is the latest horror anthology from indie press, Flame Tree. It contains 20 tales, 16 commissioned from some of the biggest hitters in the biz, e.g. C. J. Tudor, Ramsey Campbell, Laura Purcell (Silent Companions, anyone?), and Stephen Volk (remember Ghost Watch?). Another four stories were chosen from an open call out of hundreds of submissions, in what Flame Tree Press is hoping will become an 'annual, non-themed horror anthology of entirely original stories, showcasing the very best short fiction that the genre has to offer.'
That's a tall order. One could argue for eternity over how to define 'the best' of any genre, and that's before you toss in a reader's personal taste.
I didn't read these stories thinking, 'Wow, this is the best I've ever read.' But I didn't expect to, either. Some of the stories felt as if they should be longer, and other endings didn't entirely work – well, not for me. It's tricky wrapping up a short story and giving the reader emotional closure within 4000 words.
I like dipping in, choosing authors like Alison Littlewood ("Swanskin") whom I personally go to first, and reading one or two in a sitting, taking a break for real life stuff, and then reading another. So, basically, I don't read them in order. I also don't feel I have to finish a story if it's not working for me (total honesty here). Hey- sometimes the style doesn't gel.
As there is no theme, each story is a plunge into the dark and the unknown, and you have to factor in different authors' narrative styles, lingo and voices. Some readers will enjoy this. I do, but others won't so much. It can be jarring as you move from one yarn to the next.
There is a very broad spectrum on show here of what constitutes the horror genre. For me, some of the stories skirted very close to thrillers, not full horror. For example, C.J. Tudor's pulpy fast moving "Butterfly Island" (which is the opening story) could, to my mind have been a novella. Its ending left me dangling somewhat, as did Grady Hendrix's, ingenious multi-point of view, "Murder Board".
The supernatural is well represented. Sarah Lotz's entertaining and blackly humorous "That's the Spirit" (witty title too), stars an over-the-hill medium, Brendan.
One of my personal faves, "The Mirror House", was written by an author new to me, Jonathan Robbins Leon. Leon's eerie, unsettling, downright scary narrative packed in a lot of content and emotion, and he did it quite well. Leon plays with the ideas of doppelgängers, mirror people, and the secret parts of us, very effectively.
Thana Niveau gives us "Bokeh" (you will have to read the story to find out what the title means). There are fairies in this one, a young girl who is seriously unnerving, and a brilliant bloodbath of an ending. Another hit for me.
Simon Bestwick (I had the pleasure of meeting him at EdgeLit in Derby Quad last year – but I doubt he remembers me!) whose work I've since sought out, wrote, "We All Come Home". It's a quiet, slow build where the grown-up protagonist revisits his childhood woodland playground to retrieve lost memories and lost playmates. What could go wrong, you ask yourself, especially since he has his girlfriend with him to keep watch? Read it and find out. The last line really struck me in the quivering guts.
I am a huge and long-term fan of Alison Littlewood's fiction and have reviewed and interviewed her at the Horror Tree. I was biased before I read her tale, "Swanskin" while I sat at the hairdressers with my foils in, like the queen of tinfoil. "Swanskin" is beautiful, weird, magical and horrific. It made me shiver and cry inside at the cruelty and injustice of it all. The last paragraph blew me away. Probably my top fave of the anthology – can you tell?
There were authors' bios at the end of the anthology and an interesting introduction from editor Mark Morris. I'd have quite liked a story in here from Morris. I also would have enjoyed the authors giving us readers some background to their story, the inspiration, and why they chose that particular piece. I suppose I was after more context.
This is an entertaining, slickly written, mainstream, fun, something-for-every-horror-fan anthology. It would make a great Christmas gift.
4/5 stars
About the Author
Latest Posts
Alyson lives in the UK; her fiction has been published widely in print anthologies – DeadCades, Women in Horror Annual 2, Trembling with Fear 1 &2, Coffin Bell Journal 1 and Stories from Stone and in ezines, most often on the Horror Tree site, Siren's Call and The Casket of Fictional Delights. In May 2019 Night of the Rider, was published by Demain, in their Short Sharp Shocks! E book series and reached the amazon kindle top 10 best seller lists. Her work has been read on podcasts (eg Ladies of Horror), shortlisted in competitions and published in charity anthologies. Future work will appear in anthologies from Things in the Well, Mortal Realm and Twisted Wing Publishers.
She performs at open mics, teaches, edits and hangs out with her dog on the moor in all weathers.
https://alysonfayewordpress.wordpress.com/
Twitter @AlysonFaye2