Apex Magazine IS BACK EARLY! Kind Of!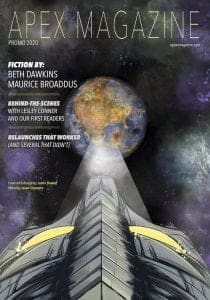 We already know that Apex Magazine is slated to return on January 5th of 2021 with issue 121 but they wanted to give us a taste of things to come. Instead of making us wait out the rest of 2020 without their fantastic fiction offerings, Apex Magazine has kicked off with a mini-issue to enjoy! This one "contains original fiction by Maurice Broaddus and Beth Dawkins" and I am thrilled to give you something extra to read this week (or weekend) by sharing the details!
This is also a teaser for those who aren't subscribed to the magazine and might just convince a few of you to sign up! (The first taste is free my friends.)
The stories and content are available to read online or you can order the free eBook edition below!