ChillerCon UK 2022
Once upon a time, the HWA announced that Stokercon would be held in the UK for the first time ever. Cue much delight and cheering on this side of the pond and a scrambling for tickets during 2019. Information filtered through about attendees, a number of our US cousins would be here, a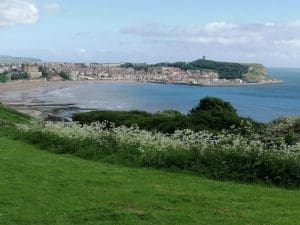 nd all was right with the world – until it wasn't. Covid reared its ugly head and the event started its first of a number of reschedulings until it could no longer be Stokercon and transformed into Chillercon UK. The indefatigable Co-Chairs Paul Kane and Marie O'Regan worked tirelessly with fellow committee member Alex Davis, to keep the show on the road and we got there. Despite the ceiling collapsing in a venue room in The Grand Hotel, one of the partner sites for the weekend, and having to move everything – and everyone – into The Royal only a few weeks beforehand, Chillercon UK went ahead in Scarborough. And what a wonderful event it turned out to be.

I arrived with my husband, Geraint, on the Thursday and after we'd checked in, it was pretty much 'go'. I had my colour-coded timetable on phone and tablet so I knew where I wanted, or needed(!) to be. The first panel for me was Pod People Podcasts (Gemma Amor, Mick Garris, Helen Gould & Trevor Kennedy). Author Beverley Lee joined me for this one, both of us mentally taking notes for our Darkfusion podcast (with Shane Douglas Keene)! There followed the first of two panels on which I took part – Strange as Folk: Folk Horror with authors James Brogden, Jan Edwards and Paul Kane (standing in for Martyn Waites, there were a few last-minute substitutions as covid continued to impact the event).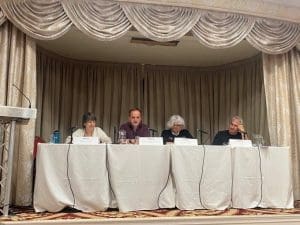 This was only my 2nd ever panel but I really enjoyed it and the copies I'd brought with me of The Five Turns of the Wheel and As the Wheel Turns to give away disappeared in a flash at the end! The empty bag Geraint showed me afterwards was magically filled up again by purchases of my own over the weekend.
My second panel, Independent Horrors: The Indie Presses with Gemma Amor, J.R. Park and Steve J. Shaw, was on the Saturday. I wore my Horror Tree t-shirt for that day (product placement, Stuart!). It was a really good discussion about indie v big 5 publishers, the marketing issues, and possible ways for the indie presses and writers to promote themselves in future. With my own panels out of the way, I was able to relax a bit more and take in panels covering topics such as TV and movie tie-ins, monsters in horror, vampires and horror/crime cross-over. I enjoy just listening to others as it sometimes makes you think in new ways and gives you new ideas. I know I certainly came away with one or two plans.
Highlights came in different forms. One was the meeting of online folk in real-life. We'd filtered in timeout from the schedule to go to the lounge and sit and chat with people, writers such as:
Lauren McMenemy – a writer committed to the genre and one of the nicest and most engaging of people you could wish to meet. I'm mentioning her here because you will probably be seeing more of her at Horror Tree (teaser). We had some lovely chats over the weekend and I know there will be more in the future.
TWF contributor, Martin P. Fuller. His highlights were Grady Hendrix's An Evening with the Final Girl Support Group and How to Get a Short Story Published. Martin regarded Chillercon as 'college, not junior school'. Whilst wishing for a few workshops, he has been inspired to finish his current WIP and has an idea for a story involving seagulls. I think we could all relate to the latter!
Author Dave Jeffery (A Quiet Apocalypse series) chaired Mental Health in Horror. As someone with a professional background in the area and a leader in the HWA initiative into Mental Health, he was delighted that the HWA was 'raising awareness and challenging stigma within the genre'. Look out for more from him in this field which he believes is vital in breaking down barriers and incrementing change. The con for him was also the chance to be around like-minded people for a few days. Look out for Tribunal, the last of his A Quiet Apocalypse series, at the end of June. With current work involving his Beatrice Beacham YA books and a new sci-fi folk horror in the pipeline, you will see more from Dave in the not too distant future.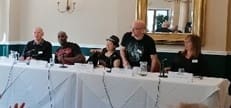 Author C.C. Adams thoroughly enjoyed the Sinister Horror Company's launch for John McNee's Doom Cabaret and Duncan P. Bradshaw's You've Accidentally Summoned a World-Ending Monster. What Now? C.C. declared this was a template for how launches should be and that Justin (J.R. Park of Sinister Horror Company) was the 'priest of the ceremony'. After his description, I was sorry I missed that event! C.C. also took part in the Making a Monster panel (Simon Clark, Tim Lebbon, Ally Wilkes, and Sarah Jayne Townsend), which I did attend, and was a lively discussion on the nature of monsters and where they come from. Needless to say, human monsters featured heavily – we're such a terrible species. C.C. is currently working on final edits and mss is with the publisher. Look out for this in the autumn. In the meantime, why not pick up a copy of Downwind Alice or Forfeit Tissue. Be warned – they pack a punch, but I have enjoyed both.
There were also a couple of authors travelling in from Europe. Steve Toase came over from Germany and it was wonderful to sit down and have a drink and a chat with him. I've loved his writing from the time I read 'The Jaws of the Oroboros' in The Fiends in the Furrows. A hugely talented writer who has had stories appear in Ellen Datlow's Best of Horror anthologies, I think you might even be able to find a drabble of his in TWF! (We do sometimes get big names 😊 ). He was also selling his latest collection, To Drown in Dark Water so I bought a copy, deciding to pay via paypal. Let's just say with the tiny keyboard on my phone, he nearly got £1000 more!
Also over here was Andy, otherwise known as Austrian Spencer. In the UK for a short while, he took timeout from family to pop into The Royal and have a drink with us. Updates from him include news that The Masocheist, follow up to The Sadeist, is due out at the end of the year. He is also working on a creature feature, The Dawn Chorus, which he hopes to finish end of the year. With Andy and Steve linking up, they might just have found their own writer's support group – I mean Austria and Germany are next door to each other!
There were so many other people here and I would've like to talk to more but 1) time and 2) by the time you've worked out that the person you've been comparing to your recall of their social media image is who you think it is, they've gone or been nabbed by someone else. But next time!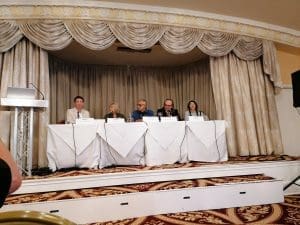 So – personal highlight for me? It has to be attending Grady Hendrix' panels, talks and interview. Since I picked up his The Southern Book Club's Guide to Slaying Vampires, I have been collecting his work. It's not just the quality of his writing which I love but the humour. He hits just the right level so that it makes you chuckle but it's not slapstick. Dark comedy par excellence. And the man in person is just the same, razor-sharp wit and a genuine love for his work and the people in the industry. He engaged with everyone equally.  Once Bitten: Vampires was a great discussion on the origin of the trope, Dracula, and their continuing fascination for us.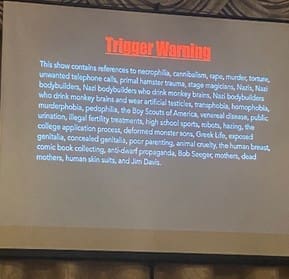 Like Martin, I attended The Final Girl Support Club presentation and spent my time cracking up – and yes, there were trigger warnings! There was also the interview – not many prompts or questions needed on that! I managed a quick chat with Grady at the end of the night and asked how Chillercon compared Stokercon. Verdict? 'More chilled, more relaxed', he also noted our British politeness. I'm not sure whether I should be worried that he 'enjoys British seaside towns with their edge of menace and the expectation that children would go missing'!
After waiting for so long for this event to take place, it felt as if it had gone in a flash. It would have been lovely to stay for the banquet but we needed to return home for another event (family this time). I've taken away some very happy memories and confirmation that the horror family is one of the most welcoming communities out there. I also have a much increased TBR pile!
Thank you, Paul Kane, Marie O'Regan and Alex Davis and the Chillercon volunteers, for making this wonderful event a reality.
​
About the Author
Latest Posts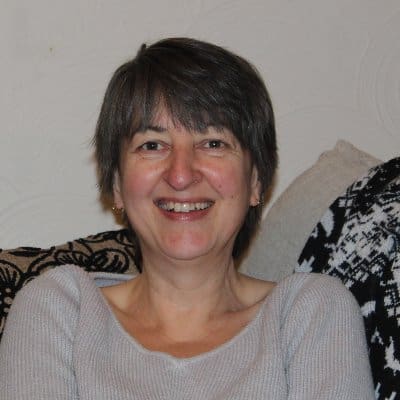 Stephanie Ellis writes dark speculative prose and poetry and has been published in a variety of magazines and anthologies. Her longer work includes the folk horror novels, The Five Turns of the Wheel, Reborn, and The Woodcutter, and the novellas, Bottled and Paused (all via Brigids Gate Press). Her dark poetry has been published in her collections Lilith Rising (co-authored with Shane Douglas Keene), Foundlings (co-authored with Cindy O'Quinn) and Metallurgy, as well as the HWA Poetry Showcase Volumes VI, VII, VIII, and IX and Black Spot Books Under Her Skin. She can be found supporting indie authors at HorrorTree.com via the weekly Indie Bookshelf Releases. She can be found at https://stephanieellis.org and on Blue Sky as stephellis.bsky.social.