An Interview With Erika T. Wurth
An Interview With Erika T. Wurth
By Lauren McMenemy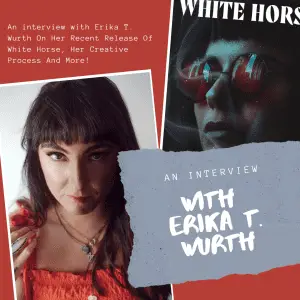 You can't help but bring your personal history to your fiction, even if you're desperately trying to *not* "write what you know". But Erika T. Wurth actively embraces what she knows – the places, the people, the landscapes, the stories – to deliver chilling tales steeped in the real world.
An urban Native writer of Apache/Chickasaw/Cherokee descent, Denver-based Wurth is the author of one of the season's most talked about books, White Horse. This one follows two novels, two collections of poetry, and a short story collection, but it's her "big publisher" debut. It's seen her hit the Seattle Times's list of 5 books from debut authors worth having on your radar in Fall 2022, while White Horse has also been named one of the most anticipated books by the Seattle Times, LitHub, Boston Magazine, Kirkus, BookRiot, Boston.com, and SheReads.
What's the fuss all about, though? Erika sat with Horror Tree to talk about the tag "literary horror," controversial deaths, the increasing representation for Indigenous horror writers, and extremely fluffy dogs.
You've had some great advance press and blurbs from amazing writers for White Horse. How are you feeling about the official release coming up?
Completely over the Moon and tremendously nervous. Historically, I've published with indie presses, and my editors have always been generous with their time, and they did whatever they could with the budgets they had. But Flatiron is my "big 5" debut, and they've treated me beautifully. They're an imprint with one of the best reputations, in terms of how they treat their writers, and that's absolutely been my experience. And it's cool that one of the folks on my publicity team is also a writer, with a forthcoming memoir, so she really knows what's at stake, and what's important. 
How has the process of working with a "Big 5" publisher been different to the indie experience?
The presses that I worked with were very, very small. They were wonderful! But they just didn't have the budget to put you on tour, or really market you in the way that the Big 5 can (or stronger indies). That said, there are plenty of folks who have published with the Big 5 and were not given a tour budget or much of a publicity budget. But Flatiron is a perfect blend of literary and commercial – and they really invest in their authors. And I think enough big things happened to me early on that they were able to justify paying for a physical face-to-face tour and investing in the kind of publicity and marketing that I received.
White Horse is being classified as "literary-horror" – what does that mean to you?
Some of my horror peers have bristled at the term literary, and I completely understand why. It's because literature isn't really a genre. But of course, genre isn't a genre! In my mind, literary is a series of conventions: depth of theme, complex characterization, and attention to form and language–and those conventions can be applied to any genre. And because I am interested in having anybody who would like to read the book, read the book, but I'm not 100% only invested in my novel as entertainment, I feel that it's literary. And perhaps commercial too. But I love horror. I love the slasher. I love especially supernatural horror. I was a tremendous nerd as a kid, and science fiction,  fantasy, and horror were my jam. And that was ironed out of me during my masters and doctoral program. But I missed the elves and the spaceships–and especially the ghosts and monsters. And so I came back.
One of the inspirations for the novel has to do with controversial deaths in your own family. What was your process in using that history to make fiction? How did you protect yourself emotionally?
I think I'm still in that process. But because it's most tender to my mother who was so close to my mother and who is the person who was told by a cop that perhaps her mother's suicide wasn't a suicide, but maybe even a murder by her husband, I've tried to work with her really directly about it. She read White Horse recently, she reads all my books, and she said she had to put it down a few times. But that when she got through it she thought it was the best book I'd written. That meant everything to me.
Kari loves metal and horror – how much of you is also in there?
I wanted to give dignity to folks like Kari, who are self-educated, because I think that's really meaningful. Kari is an expert when it comes to Denver history, and when it comes to horror film and fiction, but she just doesn't enjoy school. Whereas I went for a doctorate. And honestly, I connected with indie rock and hip hop in high school, because heavy metal had this veneer of toxic masculinity. But over time, I came to see the virtuosity that exists in metal, and appreciate the rawness. I realized that I had been enjoying listening to it as a young person, just like Kari had, but I had to have a decades-long process to really understand that. As to horror, like I said earlier, like Kari, that's always been my thing. Loved all of the nerd genres, but that one's always been close to my heart, and I'm so glad to have come back to it.
It sounds like there's also a lot of Denver in your work. What is it about your home town that makes it fertile ground?
I don't really understand people who write about places they haven't been or places they haven't spent a significant time in. The work suffers. On a craft level, your work is stronger when you're able to really sketch on the tiny details. I will say though that Denver in particular is a city with a large Native population, a large Latinx population, and a completely brutal history. And on top of it, Denver has become a city where a lot of people want to live in the last 10 to 15 years. So the sweep of change has been massive – and that kind of tension makes it an interesting place to write about. You can see old Denver in White Horse (set in 2016), really starting to decay and be bulldozed over in replace of the new Denver.
I love Stephen Graham Jones's blurb, especially the "Native without trying" comment. Is it important to you as a writer to purposefully reflect the quote-unquote 'Native experience' in your work, or is it something that just is automatically there because it's your work?
Ultimately, I want a Native audience. I want an audience of any demographic who can appreciate a good story, but I feel sometimes in Native literature there's this pressure to explain all Indians to all non-Indians, and that's just not fun to read. I'm also a scholar, and I publish in The Writers Chronicle–and Buzzfeed for that matter. So when I feel the need to platform an idea, and prioritize a concept, I think the essay is the proper form. Fiction should be more organic. I adore the dance of action, dialogue, and description and the coming together of an overall structure that pulls the reader forward, and makes them go on a journey they might not have otherwise gone on.
There seems to be a boom in indigenous horror brewing alongside a lot of new, diverse voices coming through in the genre. Is there something about horror that is more curious, maybe, about diverse and own voices? Or is that wishful thinking on my part?
I have been working with my tiny little microphone for decades for the renaissance in Native American literature to come about, and I think that it has, and analogously, I'm seeing the same in horror. In adult Indigenous horror, there's Stephen Graham Jones. V. Castro. Cynthia Pelayo. Shane Hawk. And though I respect that Silvia Moreno Garcia Identifies more broadly as Latinx or Mexican as this is her country of origin, she's talked about her indigenous (and Black) roots–and her indigenous character in Mexican Gothic, there's no one like that character in American fiction. And more broadly, you're seeing diversity in horror of the kind that I didn't see as a young person. And this means there are more and better stories out there, it's not just a checkmark thing. Folks like Victor Lavalle or P. Djeli Clark are knock-out storytellers. And then there are the queer voices like Haley Piper, Gretchen Felker-Martin, and Craig Laurence Gidney (who is also Black). 
What drives your creativity?
Mainly caffeine. All joking aside, I'm never really sure. I know that I'm driven. I know that I don't have writer's block. I know that I've been working to get where I'm at for a very long time and that for whatever reason, whenever I would field defeat I would pout and then get back up. I'm not sure what does that, but I think that what I've noticed is that often it's a combination of a difficult childhood and the desire to lose oneself in stories. And then one day, even if you haven't grown up around writers, for some reason it occurs to you that you could be one.
You're making a lot of "debuts to watch" lists. Besides yourself, of course, who else do you think we should be keeping an eye on and why? Who's got you excited for horror right now?
I'm so grateful for that! And a lot of my friends have asked me if I'm troubled by that label since I've published books with small presses. I'm really not. I went through a very intense period of realizing that I needed to come back to my nerdier roots if I really wanted to be writing what I enjoyed writing. And I still engage with what I like to call realism in my work. My novel takes place on this planet, in an Indian bar that just closed after decades of being THE spot for Natives to hang about 30 minutes from where I grew up. 
As to other writers, as you can see I listed a ton above, I'm a tireless advocate for other writers (any, but especially BIPOC, especially Native), in fact I would say that I have a reputation in that regard. And because I've seen people in spaces where they're getting attention not give their peers air time, because I was raised with the value of bringing everyone up at once, I try to be the opposite of that. 
What's next for you? What are you working on now?
Well, it's another supernatural horror novel with contemporary gothic vibes; Room 904. The main character is a paranormal investigator, whose "power" if you will, was turned on when her sister suicided in the famous Brown Hotel in Denver. She's asked to investigate a series of murders that occur every nine years in The Brown after women check into the hotel and reappear in Room 904, but doesn't want to, considering the history with her sister, until her mother checks in and reappears in room 904–and has two weeks to live, unless she solves the mystery of the room.
Finally, tell me more about your "extremely fluffy dogs" please!
You have no idea how fluffy they are. So fluffy! Both of them (Ava and Addie) are a combination of poodle and maltese and bichon frise, and they are the lights of my life–I'm one of those annoying people whose pictures on social media are 50% pictures of my INCREDIBLY FLUFFY DOGS.
White Horse is on sale November 1st through Flatiron Books. 
About the Author
Latest Posts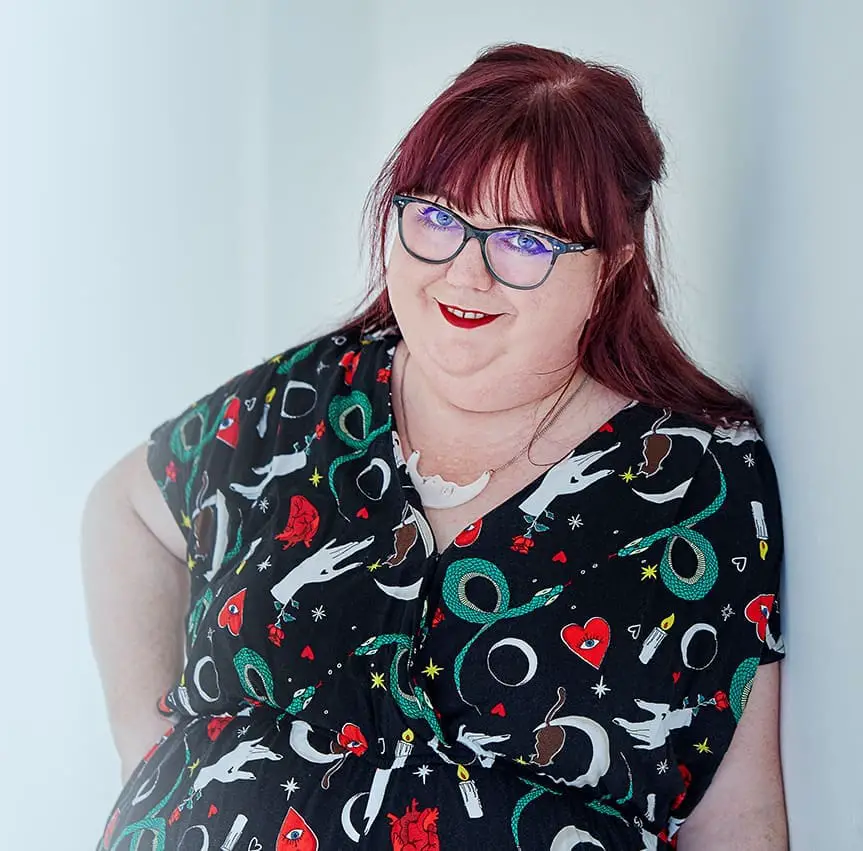 Lauren McMenemy wears many hats: Editor-in-Chief at Trembling With Fear for horrortree.com; PR and marketing for the British Fantasy Society; founder of the Society of Ink Slingers; curator of the Writing the Occult virtual events; writers hour host at London Writers Salon. With 25+ years as a professional writer across journalism, marketing, and communications, Lauren also works as a coach and mentor to writers looking to achieve goals, get accountability, or get support with their marketing efforts. She writes gothic and folk horror stories for her own amusement, and is currently working on a novel set in the world of the Victorian occult. You'll find Lauren haunting south London, where she lives with her Doctor Who-obsessed husband, the ghost of their aged black house rabbit, and the entity that lives in the walls.