Epeolatry Book Review: Predator: Eyes of the Demon edited by Bryan Thomas Schmidt


Disclosure:
Our reviews may contain affiliate links. If you purchase something through the links in this article we may receive a small commission or referral fee. This happens without any additional cost to you.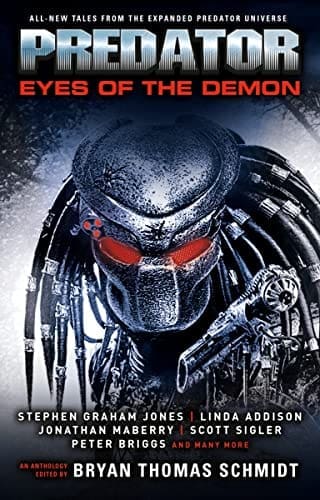 Title: Predator: Eyes of the Demon
Editor: Bryan Thomas Schmidt
Publisher:  Titan Books
Genre: Scifi/Horror
Release Date: 9th, August, 2022
Synopsis: Fifteen original, never-before-seen short stories set in the expanded Predator universe from the first film, featuring the ultimate hunters, the Yautja from the movie Predator. Set in the recent past, the present, and the future, these edge-of-your-seat adventures by many of today's top SF and horror authors take place on Earth and in the dark, unforgiving reaches of space. The diverse, multi-ethnic group of authors includes New York Times bestsellers, Stoker Award winners, and acclaimed contributors to the Alien and Predator universes. Included in this volume are Native American award-winning horror author Stephen Graham Jones, Linda Addison— the first African American to win the Stoker Award, Peter Briggs, screenwriter for Hellboy, New York Times bestselling author and visionary podcaster Scott Sigler (Aliens: Phalanx), award-winning author Ammar Habib (The Heart of Aleppo), New York Times bestseller Jonathan Maberry, Emmy nominated writer Joshua Pruett of Mystery Science Theater 3000, Tim Lebbon, author of the Aliens vs. Predators "Rage War", and many more.
Featuring Stephen Graham Jones, Linda Addison, Jonathan Maberry, Scott Sigler, Peter Briggs, Tim Lebbon, Nancy A. Collins, A. R. Redington, Robert Greenberger, Ammar Habib, Gini Koch, Kim May, Yvonne Navarro, Joshua Pruett and Bryan Thomas Schmidt.
I'm a little late to the party with this review as this anthology dropped at roughly the same time that 20th Century Fox released 'Prey' on Hulu. I'm not going to lie, I wish I had made time to read this when it had come out. While none of the stories directly tie into the latest release, there definitely is a vibe that puts these in similar territory as the cinematic return of this fantastic franchise.
Thanks to editor Bryan Thomas Schmidt, we're given fifteen fun new tales about the return of the hunters known as the Yautja. Not only that, but horror fans everywhere will recognize some of the names, which include the likes of Stephen Graham Jones, Jonathan Maberry, Tim Lebbon, and more!
I'm not going to give you a full breakdown of all of the stories found within. However, I will say that to one degree or another, they are all hits. Some of them absolutely were stronger additions than others, but you can't go wrong with this anthology if you are a fan of the top of the pecking order when it comes to intergalactic hunting. There are too many to do each of them justice, and, as someone who has both edited and contributed to anthologies, it is always a pet peeve when not every story gets a shout-out. 
If you've been wanting to see the world first introduced in the 1987 classic expanded upon, 'Predator: Eyes of the Demon' does just that with modern storytelling. From culture and morals, to politics, to interactions with humans, this has something for everyone. You may not like every story in this particular outing, though I do think that fans of the franchise will like the majority of them and this is a great addition to any Predator fan's bookshelf! 

/5
About the Author
Latest Posts
Stuart Conover is a father, husband, published author, blogger, geek, entrepreneur, horror fanatic, and runs a few websites including Horror Tree!