5 Games You Can Play to Inspire Your Writing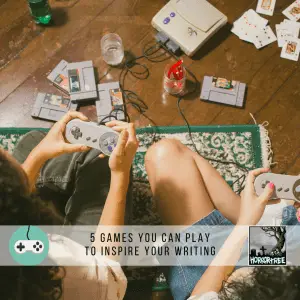 5 Games You Can Play to Inspire Your Writing 
Inspiration plays a key point in all kinds of writing – particularly novels. This is why it's incredibly important to continuously seek out sources that inspire your creativity. 
For many people, it's music. For others, it's movies. Surprisingly, in more recent times, people have started to use video games as a source of inspiration before writing their novels. 
For instance, if somebody is planning on writing a horror novel, they might turn to a classic horror game such as Resident Evil 4 or Silent Hill. The visuals and storylines in these games are incredibly powerful; and are enough to spark anyone's creative instincts. 
The next time you need a boost of inspiration to drive your writing in a positive direction, here are 5 games you can play. After playing these games, you'll be ready to grab your laptop and start typing!
Online Casino Games 
For decades, casinos have played a big part in many horror-based novels, such as The Cursed Casino by Sara Brooke. This is because casinos are the perfect location for intense and spooky activities to take place. 
So, if you feel like writing a horror novel that features a casino, it's a good idea to try cafecasino.lv/casino/table-games/craps so that you can get a feel for how casinos and their games work. If possible, you could even try and visit a land-based casino for an in-person experience. 
Grand Theft Auto V 
Grand Theft Auto V is the ultimate video game that can inspire any writer (no matter which genre they're focused on). 
In GTA V, there's lots of action, glamor, scary moments, and much more that all take place in the amazing Los Santos. Essentially, it's a gold mine of material that you can learn and make adaptions from. 
During the story mode of GTA V, you'll be able to switch between 3 main protagonist characters: 
Michael De Santa 

Franklin Clinton 

Trevor Philips 
If you were looking to stick with a horror novel, then Trevor Philips is an excellent character to gain an inspiration from, as he's crazy, calculating, and extremely aggressive. 
Resident Evil 4 
As mentioned in the introduction, Resident Evil 4 is an all-time classic when it comes to video games. In fact, many critics believe it to be the best horror game ever made – but you'll need to see for yourself. 
In Resident Evil 4 (which was released all the way back in 2005), you play as Leon Kennedy while navigating through rural Spain. The aim is to rescue Ashley Graham, the president's daughter, from a sinister cult who have kidnapped her. 
At times during the Resident Evil 4 story, you might find it too scary to play, particularly in the early stages when you're situated in an isolated forest village. 
To play Resident Evil 4, you'll need to buy an old PlayStation 2 or XBOX. Alternatively, you can play the ported version on PlayStation 4, PlayStation 5, XBOX 360, or XBOX Series X/S. 
Alien Isolation 
Alien Isolation is perfect for any writer who is looking to write a horror/adventure story based around aliens or the supernatural. 
In this game, you must survive in space while under attack from an unknown alien species. Everything starts from an abandoned space base and takes place from there – so it's all very exciting and creepy. 
The events are set 15 years after the original Alien movie, which might be interesting for anyone who's a fan of that specific film. 
Silent Hill 1 
Fifth and finally, there's Silent Hill 1, which is a cult classic horror game. On Twitter today, people still discuss this game and the lasting impact of it. 
The story is simple: you play as Harry Mason and navigate through the fictional town of Silent Hill, doing everything possible to find your missing adopted daughter. There are tons of twists and turns in the story – some of which are good inspiration for writers looking to add unexpected moments into their own novels. 
If you've already played Silent Hill 1, there's a sequel – Silent Hill 2 – that you can also play. A remake of Silent Hill 2 is also coming to next-gen consoles, so make sure to look out for that over the next year. 
Conclusion 
Whether it's one of the many online casino games available or Alien Isolation, make sure to give some of the games discussed in this guide a try. As a novel writer, you should be able to find some inspiration from them – particularly if you're a fan of horror and adventure. 
About the Author
Latest Posts
The Horror Tree is a resource for horror authors which was created in 2011. The main goal when starting the site was to include all of the latest horror anthologies and publishers that are taking paying submissions. A resource useful for both new and experienced publishers alike looking for an outlet for their written material!