WIHM: Writing Men Well


As a female Horror writer, I've been asked by several male Authors how I manage to write men so well. They're curious about how I go about capturing different nuances and mannerisms. My answer is shockingly simple: I write from experience—I base my characters on the men in my life, both past and present. Over the years, I've based male characters in my novellas and stories on co-workers, ex-boyfriends, family, and even the occasional passerby on the subway or the bustling streets of New York City.
Whether it's his piercing blue eyes, the scuff of his beard when he kisses me, or the quiet desperation of a homeless man camped out on the sidewalk in front of his cardboard condo, rattling¾clink, clink, clink¾a dark, blue paper cup full of grimy change and crumpled dollar bills that says, IT'S OUR PLEASURE TO SERVE YOU in wavy, white letters that rise like steam, I always pay attention. The casual passerby who interests me start out as a character sketch in a little, red notebook I carry with me everywhere, while I draw directly from my personal interactions with co-workers, ex-boyfriends and family, changing names to protect any guilty parties.
Men residing in New York City, you've been warned; if we cross paths, like it or not, there's a good chance you'll be spending some time between the covers of my books…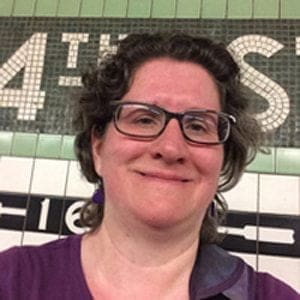 Amy Grech
Amy Grech has sold over 100 stories to various anthologies and magazines including: Apex Magazine, Beat to a Pulp: Hardboiled, Dead Harvest, Deadman's Tome Campfire Tales Book Two, Expiration Date, Fright Mare, Needle Magazine, Real American Horror, Shrieks and Shivers from the Horror Zine, Space and Time Magazine, Tales from The Lake Vol. 3, and many others. New Pulp Press published her book of noir stories, Rage and Redemption in Alphabet City.
She is an Active Member of the Horror Writers Association and the International Thriller Writers who lives in Brooklyn. Visit her website: https://www.crimsonscreams.com/.
About the Author
Latest Posts
Stuart Conover is a father, husband, published author, blogger, geek, entrepreneur, horror fanatic, and runs a few websites including Horror Tree!