WIHM: The Purging Method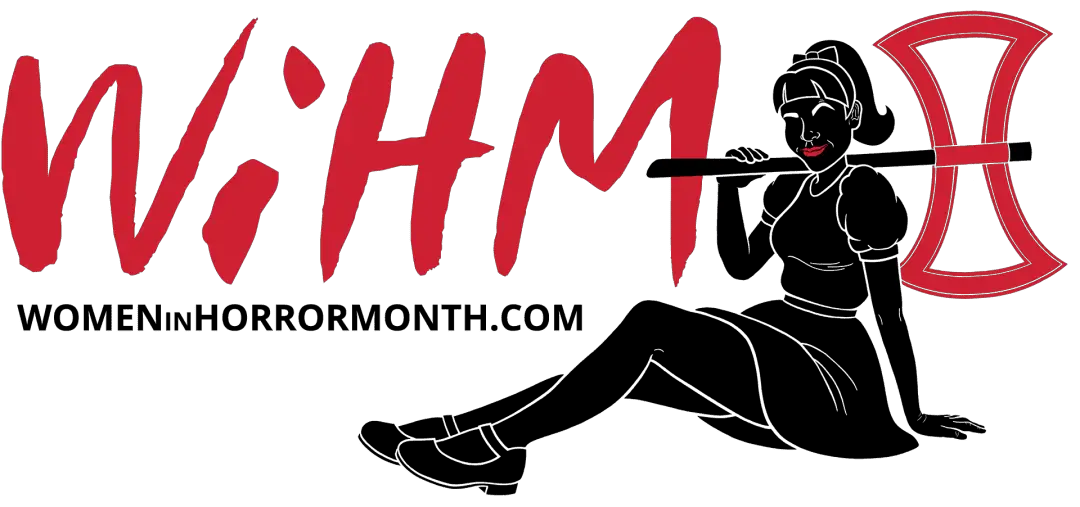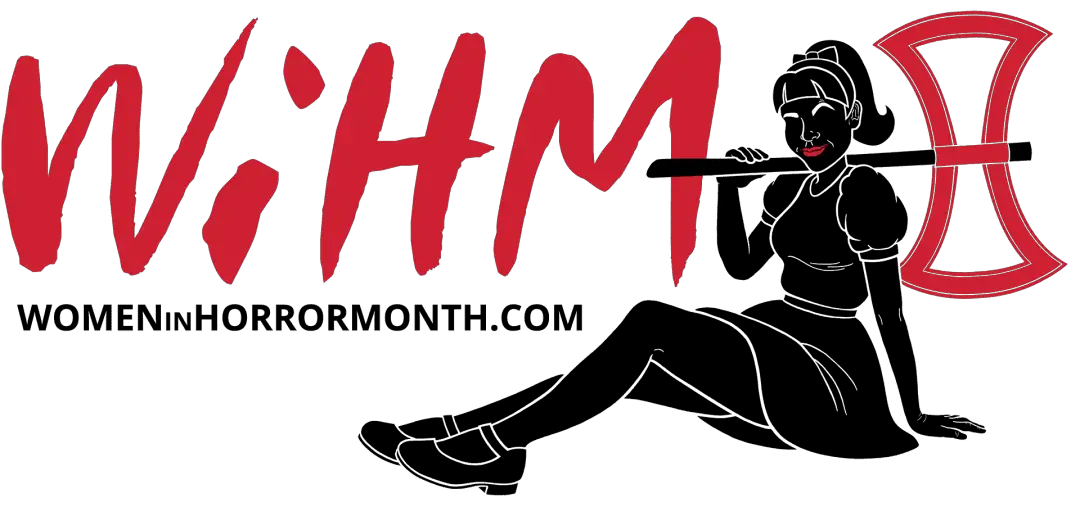 Over a year ago, I fell into a slump in my writing. I had published the first book of The Blasphemer Series called Maxwell Demon and though I knew what I was going to do in the next book, I wasn't fully sure the direction of that singular piece to continue the smooth flow of the series as a project in and of itself. I stopped writing. I was stifled and that bothered me. I began to worry that I was going to end up in a writer's block, something I strongly believe is possible and even has experienced. At this stage that would've been the death of my publishing career when it had just began. I couldn't have that!
I would open my word document to begin and the blinking vertical line would ultimately begin taunting me, "Come on, type. You can't? Well neener–neener." As all writers, I too am hard on myself. I am my worse reviewer and tell myself all the petty comments as I write, but I'm also a self-motivator and slowly began taking this as a challenge. I began looking into writing programs, researching methods, and even tried old school outlining. I bought Scrivener, I got WriteWay, and even LibreOffice hoping that maybe writing in something different would help me, to a point it did. Scrivener was something gotten to help with my writing, but instead of writing it keeps me organized and it's a fantastic organizer for stories and projects. WriteWay quickly fell for me into the background and LibreOffice didn't really change anything.
After wracking my brain, trying so hard to figure out what to do as this struggling began to affect other writing projects I needed to just get everything out for every single story. I had ideas, but wasn't working, and outlining has NEVER worked for me. I can never keep to them when I had tried in the past so all together quit doing it. I once more had the vertical line taunting me with its blinking. I began to purge. I started with writing all the titles of the books and if I didn't have one I would replace it with 'book 4' or whatever the book in the line for my series it would've been. Under each title I began purging all that I wanted to happen in that specific book, dialogue I thought would be very good, asking questions that I would need to answer, and all of that. I just had to get it all out.
As I worked through my new little project of purge I began answering the questions I had typed. I would see flat out in a bigger picture style that some things could or should work out in sooner books rather than later ones. Slowly, but surely this took The Blasphemer Series from eight books that I had figured it would be to tell the story down books, condensing them until I was left with roughly five books. I also gained through this method a better sense of each book as a singular project within the greater one.
I even continued into the secondary series that I wanted to do in the world I was creating focusing on the witches in the world 'after'. I loved it!
After I had solved my problem I began noticing fellow writers struggling and decided to posted snips or screenshots of my newfound method on my Facebook page.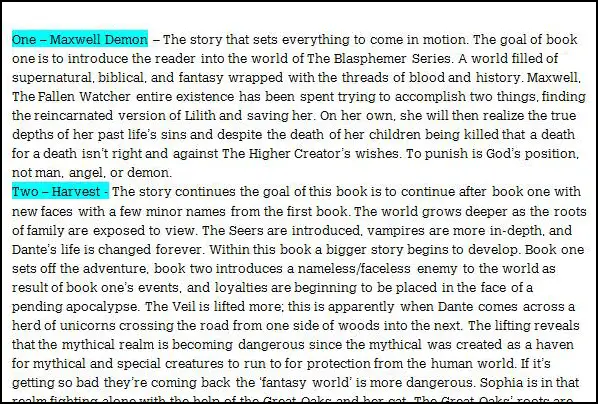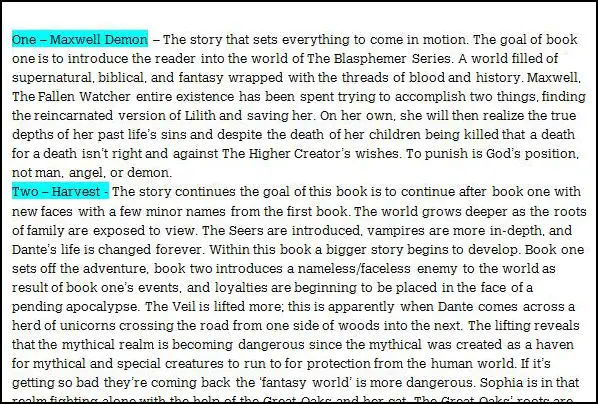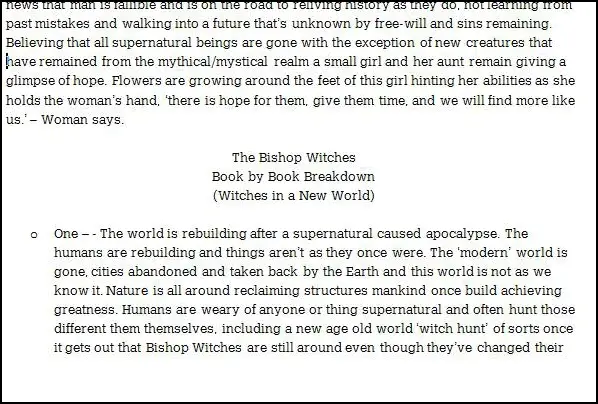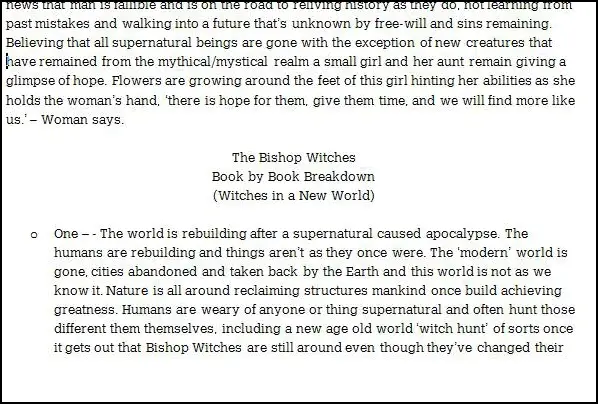 I explained that this is what my madness had brought me to and how it had actually helped me. It was shortly around the time of my post that a friend of mine, Rae Ford, contacted me asking more about the method I had posted about. I then proceeded to explain it to her in more depth what I had went through, what I had done, what I had asked myself, how I answered myself, and about the post. I even sent her the snips I had previously shared so that she could use them for reference. I hoped it would help her, but wasn't sure if it would. I wasn't sure if it would help anyone it wasn't anything I had been taught in school, it wasn't anything I had seen others doing, but I held hope.
As a writer I can have sympathy for my fellow writers when they struggle because I've been there. I know what works for me may not work for others, but a suggestion can change things. I didn't hear much about Rae and this method until recently when I discovered she wanted me to write an article about this method. She had done her own independent research and found that this method had a name, brain dumping. I had never heard of that before and was very interested. It's not a method that works for everyone, but for those it works for it's wonderful. This was also when I discovered that Rae had continued using this method! I was pleasantly surprised. I'm still glad that I was able to help a friend struggling.
When I was given the chance to write something for a website that could possibly help others as it had helped in the past I jumped at the chance. That doesn't mean that this will definitely work for everyone, but you never know, it may work for you in the way it has helped myself and Rae. This is a method that I continue to refer to when I'm truly stuck, it has morphed from computer to notebook and converted back, but it's always the same set-up. Title, ramblings, questions, answers to the questions, and next title then repeat the process until I've struggled out of the quick sand of my block. It's a method I highly recommend with personal testimony!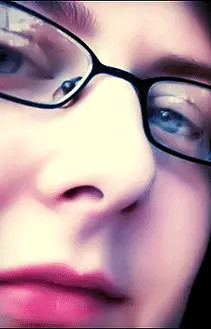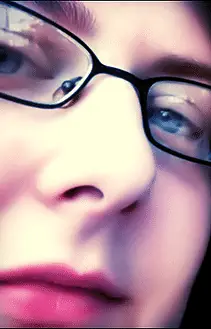 L. Bachman
At a young age, L. Bachman started creating stories and art. This form of expression led to becoming a published author with the stories Maxwell Demon, Human Ouija, and Harvest. She has also been included in several anthologies. In March 2016, her short story, The Painting of Martel, was included in the anthology Painted Mayhem. Following its release, she was once more included in an anthology, And the World Will Burn: A Dystopian Anthology, with her work The Gaze of Destruction. She will once again be included in a December 2016 anthology called Crossroads in the Dark II: Urban Legends with a short story, A Farmhouse Haunting.
Bachman first gained attention in the independent publishing community with her cover design of the collection entitled Murder, Mayhem, Monsters, and Mistletoe: An Anthology. This led to her working with several authors, including Lindy Spencer and Rae Ford. Following her work on the anthology, she wrote The Blasphemer Series: Maxwell Demon in January 2015. It was nominated for Indie Book of 2016 by Metamorph Publishing, along with her bestselling short Human Ouija.
Her graphic arts provided the beginnings of her portfolio. Testimonials of her clients can be seen on her graphic design website, Bachman Designs. When she is not working in the graphics arts sector of the independent publishing industry, she works for the publishing house Burning Willow Press, LLC. They took notice of her portfolio after she provided a graphic design for author Kindra Sowder, CEO of Burning Willow Press. L. Bachman now is a full-time staff member working in the graphics department of the publishing house doing promotional media… videos, promotional materials, and cover design. Through her work with Burning Willow Press, she's provided materials for the likes of Kerry Alan Denny, SL Perrine, Jay Michael Wright II, and James Master. She continues to work independently for her own clients, having plans to continue her independent writing.
After the passing of her father in April 2016, she dedicated The Blasphemer Series: Harvest to him, dubbing him one of her biggest supporters, if not her biggest fan. In honor of him, she continues to do charitable work and supports active duty military personnel. Her submission to the anthology Painted Mayhem raised money for military personnel suffering and living with PTSD. This also led to her donating some of her work to "Authors Supporting Our Troops", an event held by author Armand Rosamilia that sends copies of books to active duty military.
Between her publishing and her graphic arts work, she has been a featured guest for many book releases held by other authors, interviewed multiple times by blogs, featured on many podcasts, such as "Unfleshed" with TJ Weeks in September 2015, and has been a returning guest on "Armcast" with Armand Rosamilia and "The Darkness Dwells", just to name a few.
She continues to write from her home in Northern Alabama where she lives with her husband, the poet and writer DS Roland, their son, Damien, and one very judgmental rescued elderly cat named Mouse. Bachman continues to educate authors interested in improving their writing and marketing skills, as well as holding onto her mission of empowerment, inspiration, and aid to young writers.
My links –
About the Author
Latest Posts
Stuart Conover is a father, husband, published author, blogger, geek, entrepreneur, horror fanatic, and runs a few websites including Horror Tree!