WIHM: An Interview With Jessica McHugh

Jessica McHugh is the author of more than 20 books, including an edgy young adult series, The Darla Decker Diaries, and acclaimed novels The Green Kangaroos and Rabbits in the Garden. She's appeared in high-profile anthologies alongside names like Jonathan Maberry and Jack Ketchum.
However, it's her upcoming poetry collection that has her almost literally beaming with joy.
"My first poetry collection, A Complex Accident of Life, comprised of blackout poems found in Mary Shelley's Frankenstein will be released from Apokrupha Press in April," McHugh announced in an exclusive interview with Horror Tree. "I seriously couldn't be more excited about this. I even feel … sparkly."
Oddly enough, the death of her precious feline companion, Tyler, led McHugh to discover her love for creating blackout poetry. She writes movingly of Tyler Durden Bonito McHugh in the acknowledgments of the anniversary edition of her novel Rabbits in the Garden, sharing that losing Tyler changed her as "an artist and human being."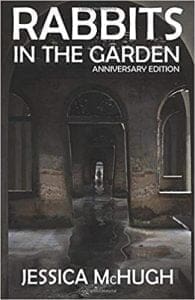 "It's really quite amazing how grief changed me," McHugh said. "I mean, not beneficially as an author sometimes, but it's still pretty fascinating how losing him affected my brain chemistry. Grief stole from me a certain spark I've never quite been able to regain. It also caused my hands to shake, and I began having bad panic attacks. It was really bad for a while, as Tyler was incredibly tied to my writing life.
"I do feel a lot better in that area now, but sometimes when I try to write I'm overcome by that deep loss and my hands shake again. Luckily, I have the tools to combat that now. Meds, breathing exercises, and yoga have helped me immeasurably.
"And the thing is, even though the spark I had with him is gone, I've found other sparks. I discovered my love of making blackout poetry last year and sold a bunch of pieces and books at an art fair around Christmas; it's been years since I did a festival or con, so it was a pretty big deal for me. As I say in my poem 'What You Get For Caring,' grief's a witchy trickster, and yes, I was changed by it, but not all those changes are bad, or unwelcome."
Of course, February is Women in Horror Month (WiHM), and McHugh recognizes the value of it. She has a new story titled "This Can Happen to You" in the upcoming Strangehouse Anthology By Women of Horror, Not All Monsters.
"For me, it's about celebration and education," she said of WiHM. "It's the exchange of joy and knowledge and, yes, sometimes uncomfortable conversations (or really friggin stupid conversations where small-minded individuals are involved), and it's had a profound impact on me as a writer and reader. I discovered Octavia Butler during WiHM. I discovered Daphne Du Maurier. I read The Yellow Wallpaper for the first time.
"But more than that, I discovered a diverse and witchy horde of viciously talented artists who inspire me to own my power as an author and a woman. We still have a long way to go – trans woman and women of color still aren't represented as much as they should be – but I think there's value in spotlighting female horror artists whenever possible."
McHugh's fiction is edgy, often writing complicated characters dealing with issues of addiction and mental health. She said she's "know (and been) quite a few complicated people."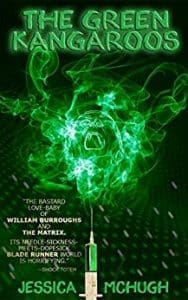 "The Green Kangaroos was directly inspired by my brother, who's an addict and middle child like Perry Samson," McHugh said. "And while the familial relationships are altered, there are some deep pockets of personal pain in that novel. It was also, oddly, the most fun I've ever had writing a novel.
"But I've had my struggles too, of course. I mentioned having panic attacks after Tyler died, but the truth is I'd had a bunch throughout my childhood without ever realizing it. I guess when Tyler died and the attacks affected my ability to hold a pen, my brain was finally able get through to me about the depression and anxiety I'd been self-medicating for years. Again, amazing things those brains.
"But it's also not as fun for me writing someone who isn't complicated, who doesn't have moral quandaries or an angry broken heart. I'm not always trying to write unlikable characters though. Except Rebecca Malone. I definitely set out to write the most unlikable character ever. I want my characters to feel realistic, and there are some pretty shitty people out there."
While McHugh boldly tackles adult themes, she also applies her edgy style to young adult fiction with The Darla Decker Diaries, a series following a girl's journey to adulthood.
"I feel like the life of a teen girl growing up still has elements of grit, addiction, and horror," McHugh said. "While The Darla Decker Diaries are mostly meant to be fun, I definitely didn't shy away from the icky and downright scary stuff. I don't change my style or intent much when writing for a younger audience. I'm not going to swear as much, of course – though the first Darla book does have the word 'fingerbang' – and I can't shred the flesh from anyone's face – but that doesn't mean things don't get bloody – but there is legitimate darkness on the edges of Darla's world."
Roald Dahl and H.P. Lovecraft were McHugh's chief influences when she started writing seriously at 19 years old.
"If you read my first stories, I feel like it's extremely obvious too," she said. "It tickles me to no end that I've actually reworked and sold some of them. But I was also hugely influenced by Bret Easton Ellis and Anne Rice, and I'd be remiss not to mention I'd been reading Stephen King since fifth grade. My selections weren't all that diverse back then, which is why I'm so grateful there are so many different kinds of writers in the small-press community. I love a fun horror anthology that allows me to hang out with some old favorites and get to know the up-and-comers."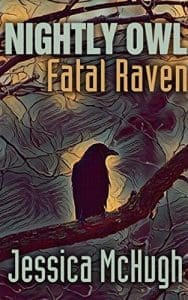 The Green Kangaroos published by Perpetual Motion Machine Publishing and Nightly Owl, Fatal Raven from Raw Dog Screaming Press are two McHugh novels by McHugh that would be perfect introductions for new readers of her work.
"They're both brutal, but in very different ways," McHugh said. "While The Green Kangaroos centers on body horror and the impact of Perry's addiction, Nightly Owl, Fatal Raven has more of a grimdark ensemble that battles the horrors perpetrated by the corrupt men who run their broken world. But I feel like both perfectly embody me as a writer and my fondness for genre-mixing."
Since Horror Tree is a website that supports writers with markets and writing advice, I asked McHugh if she had any tips to share.
"I didn't have any mentors when I was starting out," McHugh said. "I didn't go to school for writing (or much of anything), and I barely knew any other artists, let alone writers, so I wasn't given much advice. Except, when it comes to process, you have to find what works for you. I like working on multiple stories, in multiple genres and POVs, so if I get stuck on one, I can switch to something else. But that's madness to some people, and I totally get it. I mean, I handwrite my stories most of the time, and that's just not possible for other folks.
"But working as a creative writing instructor for kids 8-18 for 5-plus years allowed me to see this strange obsession new writers have with word count. They would literally call out their total every few minutes. I also saw this behavior mirrored on social media for a number of years. Not to say accountability isn't important – it's essential – but there's a point when you get so focused on accruing words, you stop noticing whether they're the right, or most powerful, words. And when you consider that a great piece of writing uses the least amount of words possible to convey maximum effect, my advice is this: Don't aim for a word count. Aim to make your words count."
LINKS:
Website: https://mchughniverse.wordpress.com/
Amazon: https://www.amazon.com/Jessica-McHugh/e/B003NUKAA4/ref=dp_byline_cont_book_1
Twitter: @theJessMcHugh
About the Author
Latest Posts
Lionel Ray Green is a horror and fantasy writer, an award-winning newspaper journalist, and a U.S. Army gulf war veteran living in Alabama. His short stories have appeared in more than two dozen anthologies, magazines, and ezines, including The Best of Iron Faerie Publishing 2019; America's Emerging Science Fiction and Fantasy Writers: Deep South; and Alabama's Emerging Writers. Drop by https://lionelraygreen.com/ and say hello.