WiHM 12: Quick Six Questions with Sarah Gribble

Welcome to The Horror Tree, and thank you for participating in Women In Horror Month. First, tell us a bit about yourself and your interest in horror.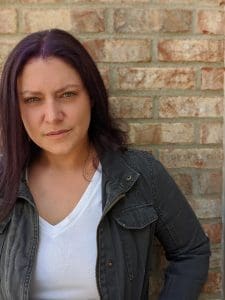 Great to be here! I live in dreary Ohio. I think we've had two days of sun in the last month and it's currently fifteen degrees outside, which is great for a horror-writing mindset, but not so great for going outdoors, which is another thing I love. I have a menagerie of pets and am currently fighting my cat for keyboard rights.
I've been into horror since I discovered my first Goosebumps book. It was a love affair from then on. As I got older and read more mature horror stories, I started to realize horror wasn't all about jump scares and spooky things. Most horror has an underlying theme and points out some seedy underbelly of society that needs to be changed. I try to keep to that in my stories.
Why is Women In Horror Month important, and what do you say to someone who says 'Oh, I don't care if it's by a man, a woman, etc., as long as it's a good story'?"
To anyone who just looks at how good a story is, I say good for them! It's refreshing. Though I also wonder if it's quite true. There's bias when you look at book covers, whether you know it or not. Female authors are less likely to be successful in the more "male" genres, like horror. I know quite a few women who use pseudonyms or their initials for their byline so as to not advertise they're female. Luckily, I've seen some change in this in the past several years. More women are refusing to hide their real names and forcing people to get over the fact that a woman wrote a horror story. That's one of the reasons it's important to celebrate women in horror: to support these women and to acknowledge that gender plays absolutely zero role in producing a good story, no matter the genre.
The other reason I love Women in Horror Month? It showcases horror in an empowering light. Unfortunately, there's a bias against horror writers in general. People tend to think we're going to hex them or somehow associating with us is going to get them a one-way ticket to hell. Seriously. At least a dozen people have told me this. Some members of my husband's family doesn't acknowledge that I write at all because they don't want to discuss the fact that I write horror. We're "icky" and "weird' and I've heard the line "why would a nice girl like you want to write that trash?" more times than I can count. I love what I do and the bad rap horror gets really bugs me. So this month is a time to say "hey, I write horror and I'm not a horrible person."
Who are some Women In Horror (or other women) who have influenced your work, and why?
Mary Shelley, Ania Ahlborn, and Mira Grant (Seanan McGuire). I remember reading Frankenstein in 10th grade and getting so furious at how the monster was treated. I wrote an entire book report on it that was basically just four pages of ranting about how people are the worst. I don't think a book has ever affected me that much. I don't necessarily write my stories to make people jump up in a fury and march into the street, but I do try to add a bit of that injustice in there when I can. And Ania and Mira/Seanan are just amazing and their books scare the crap out of me. There aren't many things that can get my heart racing, but these ladies' books can.
2020 will probably be remembered as a TERRIBLE year for many of us; tell me something GOOD that happened in the past 12 months.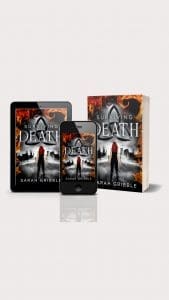 My dark fantasy book, Surviving Death, was published! Which was stressful and scary, but overall a great thing. It was a #1 New Release for over two weeks!
What have you got planned for Women in Horror Month, and the coming months of 2021?
I normally do giveaways and things like that, but I'm super busy at work this month, so I don't have a ton planned for my readers. I am sharing any work I see from women in horror to my fans. I have very loose plans for the rest of 2021. I made a ton of plans for 2020 and that was a bust, so I'm toning it down a bit this year. Lower the bar, you know? What I do know is I'll be finishing two books this year, and one's a gothic horror novel.
Is there anything else you'd like to tell our readers? Thanks for participating in Women in Horror Month!
I've been following Horror Tree for years now and I've become friends with a lot of you that lurk around here. I'm so happy to be part of this awesome community! Keep reading and writing horror and don't let the naysayers get you down. Oh, and go buy a book by a female horror author you've never read. (And leave a review!)
Bio:
Sarah Gribble is the author of dozens of short stories that explore uncomfortable situations, basic fears, and the general awe and fascination of the unknown. She released Surviving Death, her first novel, in 2020 and is currently working on her next book. Follow her on Instagram or join her email list for free scares.
Website: https://sarah-gribble.com.
About the Author
Latest Posts
Selene MacLeod is a night operator and sometime writing hobbyist. She holds a BA in Communications from Wilfrid Laurier University and resides in Kitchener, Ontario. Her work has appeared in several horror and crime fiction anthologies, most recently Shotgun Honey, Drag Noir (Fox Spirit Books); and the upcoming Freakshow: Freakishly Fascinating Tales of Mystery and Suspense (Copper Pen Press), and Tragedy Queens (Clash Media).She's most excited about editing a charity anthology for Nocturnicorn Books called Anthem: A Tribute to Leonard Cohen, due out late 2017.