WiHM 12: Quick Six Questions With Jo Kaplan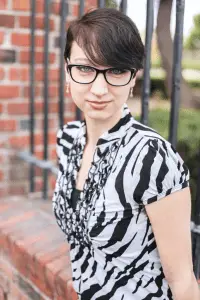 Welcome to The Horror Tree, and thank you for participating in Women In Horror Month. First, tell us a bit about yourself and your interest in horror. 
I'm Jo Kaplan, author of the gothic horror novel It Will Just Be Us. Ever since I was a kid, I've been drawn to horror. I used to scribble down my own scary stories, and I loved reading aloud the tales from Scary Stories to Tell in the Dark to freak out other people. These days I teach English at a local college and write horror, both novels and short stories, which have appeared in Nightmare Magazine, Black Static, Vastarien, Fireside Fiction, and in anthologies edited by Ellen Datlow, Lisa Morton, and Jonathan Maberry. I also write under the name Joanna Parypinski.
Why is Women In Horror Month important, and what do you say to someone who says 'Oh, I don't care if it's by a man, a woman, etc., as long as it's a good story'?" 
I don't think there's anything wrong with someone who doesn't care whether the story is by a man, woman, etc., so I don't know that I good have a response to that. Though it seems to me that sometimes the people who say that are just using it as an excuse against diversifying their reading… I've personally found horror helmed by women to be particularly provocative, emotional, beautiful, and potent. I also love horror by men! But because horror has for so long been a genre dominated by men—a genre which also has a history of blatant misogyny in the way women are portrayed both on screen and on the page—celebrating Women in Horror Month is a way of reminding everyone about the diverse perspectives that makes horror fresh and exciting. Reminding us that horror is not one-size-fits-all.
Who are some Women In Horror (or other women) who have influenced your work, and why?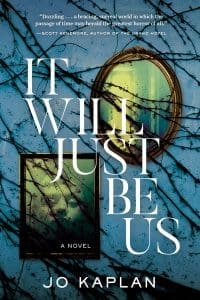 A major influence on my novel, It Will Just Be Us, is Shirley Jackson. She just had a way of taking the feminine domestic and making it strange and deeply unsettling. We Have Always Lived in the Castle and The Haunting of Hill House were big inspirations in exploring the dynamic between the home, hauntings, and women's relationships.
Angela Carter is another because of the way she infused such beauty of language into frightening tales. I love that blending of the beautiful and the macabre, and find myself drawn to emulating that in my work.
I was also inspired by Alma Katsu's take on historical horror for my recent manuscript, which also infuses horror into an historical setting.
2020 will probably be remembered as a TERRIBLE year for many of us; tell me something GOOD that happened in the past 12 months.
One of the most exciting things that happened to me was that, right around its publication last year, It Will Just Be Us got optioned for either film or TV by Nikolaj Coster-Waldau's production company, Ill Kippers. I got to meet him and the producers on Zoom to chat about it, which was a super cool experience. I'm eager to see what will happen with the project and how the story will play out on screen!
What have you got planned for Women in Horror Month, and the coming months of 2021? 
Surviving, probably. Honestly, I had nothing planned for Women in Horror Month except to occasionally post about some of my favorite books by women horror writers, which is not really that exciting as far as plans go, but it's something. As for the rest of 2021—who can say? I'm editing a manuscript (the historical horror I mentioned earlier), trying to find my way into a new novel, and dabbling in a few short stories here and there.
Is there anything else you'd like to tell our readers? Thanks for participating in Women in Horror Month! 
I'd just like to say thanks for reading! It's been a strange and terrible time, but I love how welcoming and kind the horror community is. Really nice people, considering we love reading about people dying in gruesome ways. I'm just glad to be a part of it. Happy Women in Horror Month!
Links:
https://twitter.com/JoannaPary
Instagram @JoannaPary
https://jo-kaplan.com/.
About the Author
Latest Posts
Selene MacLeod is a night operator and sometime writing hobbyist. She holds a BA in Communications from Wilfrid Laurier University and resides in Kitchener, Ontario. Her work has appeared in several horror and crime fiction anthologies, most recently Shotgun Honey, Drag Noir (Fox Spirit Books); and the upcoming Freakshow: Freakishly Fascinating Tales of Mystery and Suspense (Copper Pen Press), and Tragedy Queens (Clash Media).She's most excited about editing a charity anthology for Nocturnicorn Books called Anthem: A Tribute to Leonard Cohen, due out late 2017.