Wait a Minute, Did You Hear That? An Author's Look at Prophetic Fiction By: Mark Leslie


Wait a Minute, Did You Hear That? An Author's Look at Prophetic Fiction
Mark Leslie
I had no idea that a short story I would write when I was a teenager would turn out to be a prophetic look at my life.
Well, not all of the story, thank goodness. Because it is a horror story after all. A blood-soaked cautionary tale. But enough of it to make me pause.
I originally wrote the tale "From Out of the Night" in response to watching my mother running around the house one evening, turning off the lights and closing the curtains so that when the Jehovah Witnesses knocked on the door it could look like nobody was home. I remember, with an absurd smirk on my face, imagining that she might be hiding from something truly frightening, truly scary, that was stalking our house from the impending darkness outside.
As I often do, I let my imagination take me to those dark shadows of my mind and began to write the story.
My brain, it seemed, had always worked that way.
I would see something, and my curiosity would be drawn to the darkness, to the shadows, to the things unseen, unspoken, unknown.
Whenever I wrote a story, I remember my mom always asking me why I couldn't just write a nice story. "Nice story" to her, was romance, her preferred genre. My earliest memories of her involve her sitting at the kitchen table, a coffee mug in front of her, an ignored cigarette burning away in the ashtray, and a mass market Harlequin paperback in her hand. I'm pretty sure she read at least ten books a week. I remember her complaining that she would sometimes pick up a book and be halfway through it before realizing she had already read it. We lived in a small town with no bookstore and a single small library. It was difficult for her to actually get the supply needed to fulfill her love of reading.
Because of this hearty book-loving environment, I grew up with a similar love of reading, too. It started with comic books, and migrated into young reader, young adult, and adult novels. I loved adventures, science fiction, fantasy, mystery and ghost stories. From Encyclopedia Brown to The Hardy Boys to Alfred Hitchcock and the Three Investigators to Stephen King and Richard Laymon and anthologies edited by Charles L. Grant.
When it came to non-fiction, I pretty much stuck to books about the unexplained and the paranormal.
Even the small-town librarians in my hometown knew my penchant for eerie mysteries, cryptid creatures, UFOs and ghosts. One of them would excitedly greet me to let me know she had put aside a new book about Sasquatch or about the Loch Ness Monster the moment it came in, knowing I would be interested in it.
And I was. I loved them. Read every single one I could my hands on.

Because I loved exploring the unknown. I loved wondering what was out there.
I loved, to paraphrase Hamlet, speculating about the "more things in heaven and earth than are dreamt of" in our philosophies.
One such book, which I picked up at a church basement bazaar, was called Monsters Among Us: Journey to the Unexplained by John Lee and Barbara Moore. I think it cost me 5 or 10 cents. The printed price on the cover of this 1975 mass market paperback, which I still own, is $1.25. And there was a "precis" on the first interior page that started with these words:
"Monsters have always been with us – strange beasties that inhabit the night, creatures that defy explanation, myths that suddenly become frighteningly real."
 I was reading that book when I started to write the story that my Mom, in her panic to hide inside the house from the "threat" outside, had inadvertently inspired.
I imagined a world where science was so far advanced that religion and superstition had been mostly abolished. And, perhaps, because I was heavily influenced by the Rod Serling style of storytelling from The Twilight Zone, I opened my story with a similar narrative voice.
Although technology dominates our world today, there still exist things that have been with us since we huddled in caves around brightly burning fires and avoided the ominous shadows. Strange beings of the night become frighteningly real to use even now as we venture into the twenty-first century. Unknown things are still out there going bump in the night; a night where most of our dreams are nightmares. Scientifically, we have grown out of the dark ages, but our fears will forever remain among other frightened figures, jumping at shadows outside the cave.
And perhaps for good reason . . .
I ended up incorporating that voice into the story itself. Because the story is told from the point of view of a middle-aged man named Jack who is writer of books about fear and the unknown. Jack uses something disturbing and frightening happening to his family as fodder for his writing, and the prose on his typewriter is intermixed into the story, allowing me to provide a Rod Serling-like set of observations and commentary on what's happening.
This story, which I continued to poke at and re-write, and which first was published in a magazine called The Darker Woods in 1997, has been reprinted multiple times, including in my first book, a story collected called One Hand Screaming.
It wasn't until a few years ago, when I was preparing to do a reading of the story for a library audience, when I realized that I had become the character of Jack in that story.
You see, I started off writing horror stories, odd and weird speculative fiction. I also incorporated urban fantasy and thriller into my repertoire. But it wasn't until 2012 that I would consider writing non-fiction tales about ghosts and the paranormal.
A veritable 360 back to the books I couldn't get enough of as a young teenager.
Haunted Hamilton was released in 2012 and came out from Dundurn, Canada's largest independent publisher. It was a bit of an interesting side project. I had been drawn to the local ghost walk tours, wondering if the tour operators would ever consider publishing a book of stories about the tales they shared on their haunted walks. They said they were too busy but would happily share their research with me if I wanted to write one. At about the same time, I'd overheard an executive from Dundurn say that they'd always wanted to publish a book of ghost stories about Hamilton, Ontario. (Their name, Dundurn, was inspired by Dundurn Castle, in Hamilton).
And thus, I pitched the book to them (Haunted Hamilton: The Ghosts of Dundurn Castle and Other Steeltown Shivers), and within 9 months it was on bookstore shelves. The following year, a prompt from a local journalist lead to the co-authoring of Spooky Sudbury. Then I wrote a passion project on haunted bookstores and libraries called Tomes of Terror. And it seemed I was hooked. Creepy Capital (about Ottawa, Canada's capital city) came out, followed by Haunted Hospitals and Macabre Montreal which were also co-authored titles.
I didn't notice until half of those books were published that I had become a middle-aged writer, like Jack, whom I'd imagined when I was perhaps fifteen, making a living off of writing about fear and the unknown.
It was, most certainly, an interesting turn of events.
But it was also, of course, a bit worrying.
If "From Out of the Night" was a prophetic story that predicted me as a middle-aged writer of true paranormal and unexplained things, what about some of the other stories I had written when I was younger?
What about "Phantom Mitch" my first published horror story which involved a scotch-loving man who lost his arm and his wife in a tragic accident after drinking too much scotch? Or what about, "But Once a Year" where an old man's best friend returns from the grave to visit him on Halloween? Or "Treats" the grumpy old guy living alone in the creepy house at the end of the street who allegedly has the dead body of his wife kept upstairs and is deathly afraid of bugs?
Naw. Those are just stories. Made up stuff.
Those are fictional tales. There's nothing prophetic about them.
Right?
Wait a minute. What was that noise? It sounded like an odd scratching at the front door. Sounds like there's something outside looking for a way to get in. I'm just going to play it safe, hunker down here in my upstairs office, close the curtains, turn off the lights, and quietly sip at my scotch.
Maybe I'll write another short story.
Or about the uncanny fear I'm experiencing as I wait in fearful anticipation that what's outside might just get inside.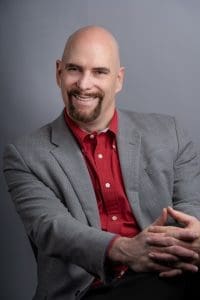 Mark Leslie is a writer of "Twilight Zone" or "Black Mirror" style speculative fiction. He lives in Southwestern Ontario and is sometimes seen traveling with a life-sized skeletal companion named Barnaby Bones. His latest books are Too Macabre for Montreal (non-fiction), the urband fantasy thriller Stowe Away and a mixed genre anthology Obsessions which includes all original stories from Kristine Kathryn Rusch and Dean Wesley Smith. His next novel, due in Feb 2021, is Fear and Longing in Los Angeles.
When he is not writing, or reading, Mark can be found haunting bookstores, libraries, or local craft beer establishments. You can find him online at www.markleslie.ca.
About the Author
Latest Posts
Stuart Conover is a father, husband, published author, blogger, geek, entrepreneur, horror fanatic, and runs a few websites including Horror Tree!