Our October 2020 Giveaway Lets You Win A Digital Copy Of Thylacines By Deborah Sheldon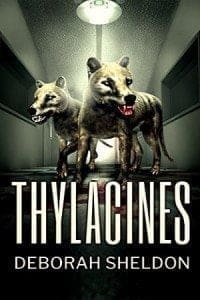 ENTER TO WIN A DIGITAL COPY OF 
THYLACINES
The Horror Tree is giving away TEN ebook copies of Deborah Sheldon's bio-horror novella, Thylacines, which was nominated for the Australian Shadows "Paul Haines Award for Long Fiction".
https://www.amazon.com/Thylacines-Deborah-Sheldon-ebook/dp/B078WKDC1N/
The Tasmanian tiger, or thylacine, was hunted to extinction some eighty years ago. Now, Professor Rosie Giuliani and her staff at The Resurrection Lab have done the impossible: created a living, breathing litter from a preserved specimen. Yet Rosie can't share this scientific breakthrough with the world. The cloned animals are more like monsters than thylacines. By chance, a small band of activists hears about the caged litter, and their decision to free the tigers will unleash a deadly havoc upon the campus of Fraser University.
AUTHOR BIO
Deborah Sheldon is an award-winning author from Melbourne, Australia. She writes short stories, novellas and novels across the darker spectrum of horror, crime and noir. Her award-nominated titles include the novels Body Farm Z, Contrition and Devil Dragon; novella Thylacines; and collection Figments and Fragments: Dark Stories. She won the Australian Shadows "Best Collected Work" Award for Perfect Little Stitches and Other Stories, which was also long-listed for a Bram Stoker. As guest editor of Midnight Echo 14, she won the Australian Shadows "Best Edited Work" Award. Her short fiction has been nominated for various Australian Shadows and Aurealis Awards, and included in "best of" anthologies. Other credits include TV scripts and award-winning medical writing. Sign up for her monthly newsletter at: http://deborahsheldon.wordpress.com
About the Author
Latest Posts
Stuart Conover is a father, husband, published author, blogger, geek, entrepreneur, horror fanatic, and runs a few websites including Horror Tree!