Trembling With Fear 04/15/2018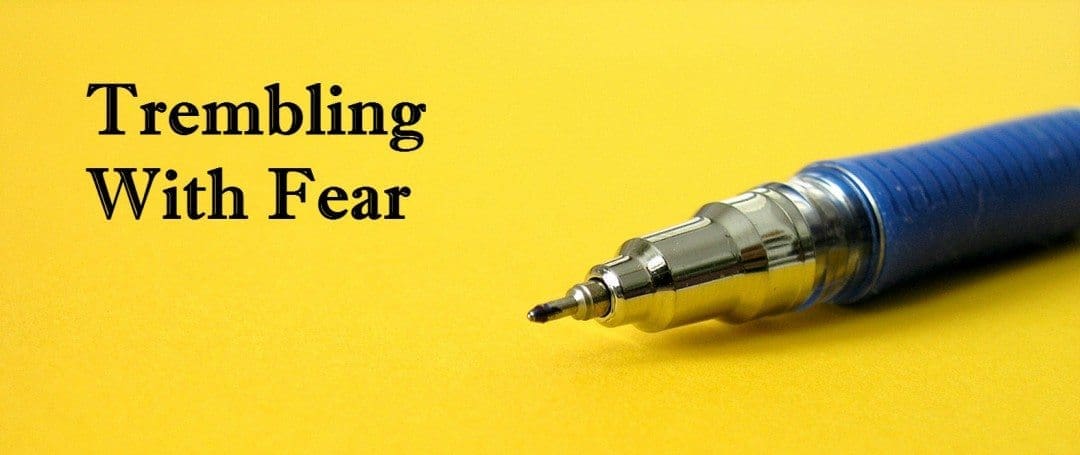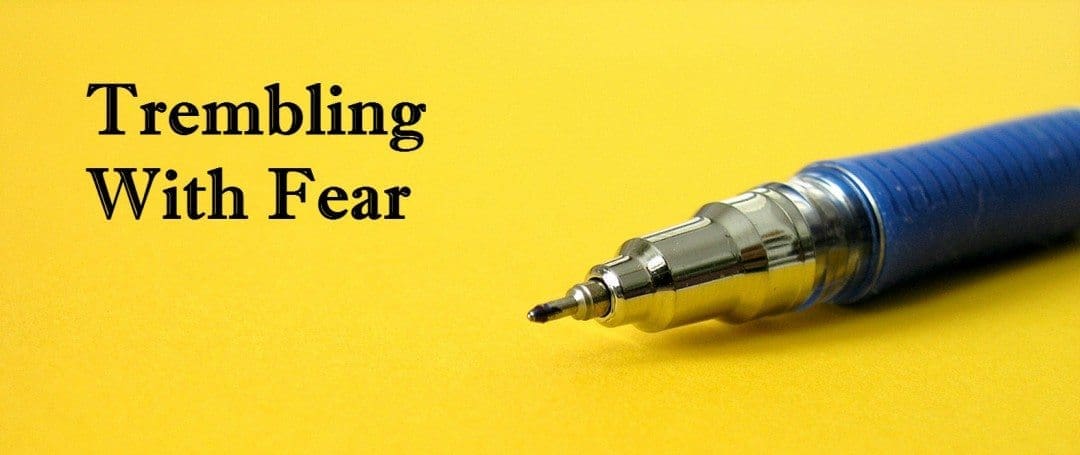 Reading is the lifeblood of writing, it expands vocabulary, introduces new ideas, shows you how the great and the good have achieved their status. Reading is the easiest way to learn the craft, an escape which teaches you without you even realising it as you unconsciously absorb the tricks of the trade and discover what works and what doesn't. I read regularly, I always have done but find that on a regular basis editing and writing takes that time away from me. After a few days of this however, I find the need to pick up a book and lose myself become overwhelming and then I shelve the writing, try and ignore the editing and just disappear. Do you allow yourself this time of vanishing into the pages? If not, why not? In the words of the master "If you don't have time to read, you don't have the time (or the tools) to write. Simple as that." (Stephen King)
And this quote I just discovered from another favourite author, Ray Bradbury (you MUST read Something Wicked This Way Comes and Fahrenheit 451 if you have not already done so):
"If you want to write, if you want to create, you must be the most sublime fool that God ever turned out and sent rambling. You must write every single day of your life. You must read dreadful dumb books and glorious books, and let them wrestle in beautiful fights inside your head, vulgar one moment, brilliant the next. You must lurk in libraries and climb the stacks like ladders to sniff books like perfumes and wear books like hats upon your crazy heads. I wish you a wrestling match with your Creative Muse that will last a lifetime. I wish craziness and foolishness and madness upon you. May you live with hysteria, and out of it make fine stories — science fiction or otherwise. Which finally means, may you be in love every day for the next 20,000 days. And out of that love, remake a world."
We have made a bit of progress on our first 'Trembling With Fear' anthology over the past week and I'm hoping to provide you with a substantial update in next Sunday's installment!
'Trembling With Fear' Is Horror Tree's weekly inclusion of shorts and drabbles submitted for your entertainment by our readers! As long as the submissions are coming in, we'll be posting every Sunday for your enjoyment.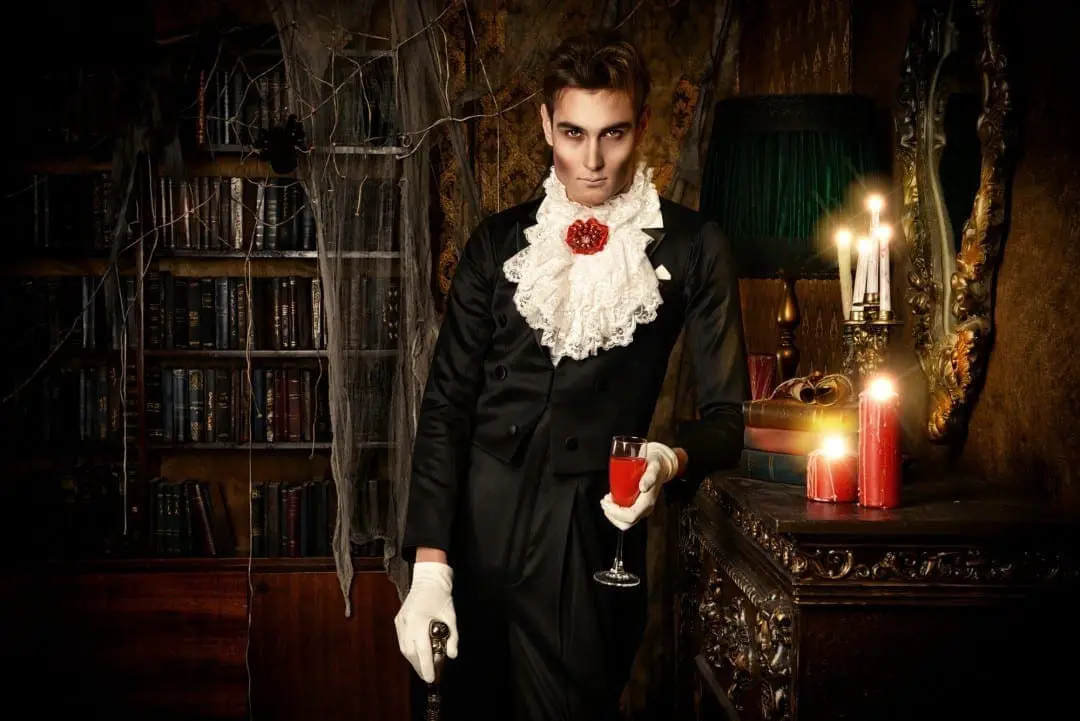 Damp Wind and Leaves
Dracula.  Frankenstein.  The Mummy.  The Wolfman.  Posters covered his walls, as did cotton cobwebs, rubber tarantulas, and bats strung with elastic.  Dribbles of wax added authenticity to the gold-painted candelabra on shelves covered with Tales from the Crypt  and Vault of Horror  comics and antique Aurora monster models.  Layered across this display fit for a wax museum was the season's own finishing touch, stark claw-like shadows of brittle, bare branches cast through his window by the flickering street lamp outside.
As he stood gazing down at Marlborough Street, Jeff wished he were twelve again—old enough to go even a block ahead of Dad while still young enough to get pounds of free candy.   Since he was seventeen, though, he was supposed to be a bit old for that.  Might look too threatening to the generally older, wealthy residents of Back Bay Boston should he, a six foot tall walking corpse, lean into a well-lit foyer and growl, "Trick or treat!"
Jeff refused to let go of Halloween any more than he had to.  He turned from the darkening street back to his bed, where white facial stage makeup, a sponge, black eyeliner pencil, white formal gloves, a circular, golden amulet on a red ribbon, and the heavy, long, black cape were strewn.  Smiling over the goods, he felt totally prepared.  Jeff already wore his uncle's tuxedo, and his hair was black shoe polished and slicked back.  After joining the living (his parents) for dinner, he would don the rest of the costume, inspect himself in his bathroom mirror, pretend he couldn't see a reflection in it, and fully become the only Dracula these trick-or-treaters would care to remember.  Practicing his best Lugosi, he said, "There are far worse things awaiting man than cavities." Then Jeff gave a goofy smile made wicked by the porcelain fitted fangs he had worn off and on all afternoon.
He heard his Mom call down from the kitchen and he returned to reality.  Scaring crowds of costumed kids was not going to be the exciting work it was on TV and in smaller towns.  These days, especially in a city like Boston, trick-or-treating was on its way out due to publicized stories of poisoned candy, and most of the neighborhood was reluctant to open doors very often at night.  So this year, Jeff's parents were doing their part for safety by holding a party and asking parents to bring their children.
There was a tap on his door, followed by the wild creaking of the hinges.  A couple of tightened screws had achieved the effect.  His Mom entered.  "Honey, we've got to eat now so I can clear the table in time.  And I don't want you to rush or else you'll get tomato sauce on your costume."
He came out of the bathroom, yanking his fangs out.  "None of these kids are going to appreciate it anyway.  The effect is gonna wear thin when they laugh at my accent."  Jeff sat on the edge of his bed and sighed.
After a moment, his Mom sat down next to him and put her hand on his knee.  "I know you're not looking forward to this, Jeff.  You probably wish you were a little younger tonight."
He rolled his eyes.  "Yeah, yeah, we all grow up, whatever."
"But I'll tell you something, pal, this was always one of my favorite holidays, and it still is.  I'm forty-four.  So there.  Incidentally, the Morrises's daughter Melanie is around your age.  They're making her come along.  Now come on down to eat.  You can have some wine, if you like, on this grand occasion."
They stood and she patted her son on the back.  In the doorway, he said in character, "I never drink…wine."
            They finished eating just as twilight crossed over to the beginning of true night.  Jeff flew upstairs and donned the Dracula wear.  The plates went into the dishwasher as soon as the doorbell rang.  At the bottom of the stairs, he caught his Mom's gaze and saw her wink.  From behind a newspaper his Dad grunted, "Go suck their blood, son."  Jeff floated across the foyer, wrapped his cape about him, and opened the door.
"Trick or treat!" Before him stood a four-and-a-half foot cat-woman carrying a writhing mouse-boy on her back.  Their eager smiles soon faded to looks of concern.  The Mouse's head whipped back in search of parents back on the sidewalk, but the King of the Vampires held the Cat's eyes in his piercing gaze.
Then he opened his cape, changing from mysterious to elegant.  "I am Dracula.  I bid you welcome." The girl's smile returned even if the younger boy was still unsure.  As Jeff opened the door wider Susan and little Mike Morris entered, followed by Mr. and Mrs. Morris.  They were both shy, and they smiled at Jeff as they walked back into the living room.  As they left the foyer, he noticed Mr. Morris was wearing gorilla feet instead of shoes.  This made Jeff grunt in approval; the grunt became a sinister chuckle, and soon Dracula was testing the echo of the empty foyer with a resounding, evil laugh.
Then a creak from the open door made him turn toward it, arms still outstretched, head still high, mouth still wide open.  It was not the usual pose for attracting women.  Slouching somewhat in the doorway was Melanie Morris.  At least that was who it must be, thought Jeff, as he composed himself—but still remaining in character, for he wasn't sure how to act around girls he didn't know.  Her wide brown eyes focused on him in an expression of amazement mixed with what must be the Morris Adult Shyness; her head was tilted down a touch so that those eyes looked out from under a prettily concerned forehead.  She gave a sudden, brief smile and walked briskly past him into the living room.  As he watched her go, he almost shut the door in Mr. Finch's face, who was just arriving with his wife and their twin boys.
For the next half-hour, the crowd down the short hall in the living room grew.  So did the noise, between uninhibited adults, like the boisterous Mr. Finch who got onion dip in his wife's hair and proceeded to lick it off, and their children who were high on sugar and numbered around fourteen.  Jeff wafted in and out of the room, trying to look darkly dignified when not putting on a show for newcomers at the door.
On one of his return trips he noticed that Melanie had situated herself by the clean but currently dormant fireplace.  On either side of her the festivities raged, but she sat in a pocket of calm.  Back out in the darkened foyer, he realized that she was in the one spot where she could see the front door.  When he suddenly looked down the hall toward her, her pretty eyes immediately darted away to the right.  Although they were at opposite ends of the house, they could see each other as if through binoculars.
By the time the last guests wondered in, Jeff stopped returning to the living room.  He rested out on the staircase near the door in anticipation of the madness that awaited him in the form of the kids. All the gaiety in there seemed about to overflow into his area of refuge.  Sure enough, a shadow slowly began to take over the light pooled on the floor by the hall.  But instead of his Mom or, God forbid, a couple of bored, costumed children, it was Melanie who quietly stepped into his shadows.  At first, she did not see him, and she moved over to the front window, hands clasped behind her, and knelt by the unlit jack-o-lantern.  Jeff had forgotten it was there; apparently his Mom had asked Melanie to light its candle.  The flickering light from the match she struck and the candle she lit gave him not only an ethereal image of her face but a feeling that slowly made him stand.  Then he forgot why he stood and just watched her.
Then he spoke softly.  "Melanie."
Instead of jumping up in surprise, she merely replied, "Count Dracula, is that you?"  Then there was a long moment of exciting silence.
He descended from the stairs.  "Actually my name is Jeff.  Somehow we've never met.  I mean…"
"I know." When the light from the hall suddenly revealed him right in front of her, Melanie gasped and said, "I really like your costume."  Then she moved out of the shadows.
He saw her try to hide her smile as soon as the light showed it.  They now stood two feet apart.  Jeff was terrified even though he knew he must look scary to her.  He wanted to slip back into character and was just about speak Transylvanian when rapid footsteps approached from behind him.  He knew exactly what to do.
By the sound of it, all fourteen of them were scurrying toward them.  His Mom had probably sent them.  Just as they were about to reach the foyer, the Great Vampire turned on them with a vicious snarl, his vast cape of darkness spread wide.  High-pitched screams erupted, followed quickly by hysterical giggling, as the hallway became a chaotic mass of miniature monsters, princesses, and various creatures delighting in the scare.  Then one small voice spoke up: "Where's Melanie?" Now all were quiet.
Jeff moved to the side and quickly glanced about the foyer and the dimly lit staircase, but she was gone.  Then there came a low creaking sound as the front door slowly swung on its unoiled hinges.  There was nobody there.  No body, but there sat the jack-o-lantern flickering away in all its spookiness.  They silently gathered around it.  In an intentionally trembling voice, Jeff said, "Melanie?"
"Boo!" An explosion of screams perhaps even more impressive than those Jeff had elicited came from the rear of the group.  There stood Melanie in the middle of the foyer laughing proudly at her scheme.  She gave Jeff a wink, and he was now in love.
He decided, too, that he wouldn't mind showing these kids a frightfully good time if she were there.  So he led them all up the pitch-black staircase, using the jack-o-lantern as a light.  Jeff prepared them for his Monster Palace by giving an ominous warning not to touch the models or cobwebs, it being in their own best interest as mortals.  Then he showed them inside.  They gasped and shuddered (and, of course, giggled) as he gave each ghastly prop the show-and-tell treatment.  Particularly effective were the glow-in-the-dark, life-size skull and Ben, his gerbil who, he told them, was a rat who came over on the ship from the old country.  Finally, he prepared them for Borris Karloff in Frankenstein.  By the time he was done setting the mood, even the older kids were ready for a black and white movie.  He set the jack-o-lantern on the shelf above the TV and started the creature feature.
The second feature was a full-color homage to the monster films to which his palace was dedicated, Fred Dekker's The Monster Squad.  Ten minutes into it, the kids were so hooked on monsters that he felt he could leave them entranced for a while.  He put Jamie Barton in charge, told his Mom to look in on them, and stepped outside into the damp, breezy night with Melanie.
Through filling the kids with the spirit of Halloween, he felt satisfied and happy.  As he stepped onto the sidewalk with this girl he had met only hours before, he felt impossibly comfortable with her.  Halloween was a night when the impossible, the strange, and the supernatural, aspects of humanity the civilized human ignores the rest of the year, were remembered and celebrated in all their mystery.  They had walked more than a block in silence.  Now they reached the vacant corner of Marlborough and Exiter, and a cold gust swirled dead leaves around them.
Melanie spoke up first.  "You were fun with those kids.  You really have a way with them."
"That's because," he said, "I wish I were one of them."
She though for a few seconds.  "Then you wouldn't be out here with me." They kept walking in the crosswind, both suddenly afraid again.
"I wish I had worn a costume, but I don't know," she stuttered, "I-I'm, you know, shy sometimes and…"
They stopped and more leaves blew past.  Jeff looked at the full moon and said into the night, "You don't need a costume, because you have beautiful brown eyes."
It was a surprisingly easy thing to say.
Amy Grech
Amy Grech has sold over 100 stories to various anthologies and magazines including: Apex Magazine, Beat to a Pulp: Hardboiled, Dead Harvest, Deadman's Tome Campfire Tales Book Two, Expiration Date, Fright Mare, Needle Magazine, Real American Horror, Shrieks and Shivers from the Horror Zine, Space and Time Magazine, Tales from The Lake Vol. 3, and many others. New Pulp Press published her book of noir stories, Rage and Redemption in Alphabet City.
She is an Active Member of the Horror Writers Association and the International Thriller Writers who lives in Brooklyn. Visit her website: https://www.crimsonscreams.com/. Follow Amy on Twitter: https://twitter.com/amy_grech.
Fright Done Right: https://www.crimsonscreams.com/
Live Journal: https://amygrech.livejournal.com/
Twitter: https://twitter.com/amy_grech


Gingerbread
The house was just there one day.  Big porch, fancy carved decoration, like Victorian. It shone white, like sugar icing.
Grace wasn't scared.  She went up and knocked on the door.  It opened, light spilled out, too bright, I shut my eyes.  Then there wasn't any house, just a dusty alley.
Remembered just now, the house didn't have any windows.
They said I never had a sister Grace.  I almost forgot her myself.  Grew up.
I can see the house out the window, down in the motel parking lot.  I'll go knock.
The cash under this note is for Housekeeping.
Manuel Royal
Manuel has been published in online magazines (Longshot Island, Dialogual, Jersey Devil Press, etc.) and in some anthologies. He has also sold one short film script and an audio script.
Manuel Royal, like Tristram Shandy, was born with a broken nose. He will die. In between, he lives and writes in Atlanta, Georgia.
Kill Code
Androids aren't supposed to commit suicide.
I scroll through security footage, trying to piece together what happened before Unit 291 threw itself from the roof. A shadow flickers, almost a glitch, but not quite. It walks in the wrong direction, falls on the wrong wall. Two silhouettes cast by one body, from one light.
Hitting pause, I see the shadow doesn't stop. It lurches, disjointed, then peels itself from the wall. It turns toward me. It approaches the camera, moving from two dimensions to three. It smiles, then it disappears.
There's a ghost in our machine world.
It's getting closer.
Kevin Holton
Kevin Holton is a cyborg and fitness junkie from coastal New Jersey. He's the author of At the Hands of Madness (Severed Press), as well as the forthcoming novels The Nightmare King (Siren's Call Publications) and These Walls Don't Talk, They Scream (HellBound Books). He also co-wrote the short film Human Report 85616, and his short work has appeared with Sci-Phi Journal, The Literary Hatchet, Radiant Crown Press, Pleiades, Rain Taxi, Mighty Quill Books, and Thunderdome Press, among others. He is also a blogger for The Bold Mom, a columnist for Helios Quarterly, and a Game Master at Escape the Puzzle, which basically makes him The Riddler.
You can find him at:
www.amazon.com/author/kevinholton
Party Killer
The walls reverberated to loud techno music, and dim lights made it hard to see beyond the shadows of dancers writhing like snakes in a pit. Flashing lights occasionally bathed the scene in alternating reds and blues, sliding over one shadow, darker than the rest. The masses shied away from the light unwilling to be seen. A low moan could be heard. Once in a while screams rang out followed by silence.
Every beat brought the masses further into a frenzied trance until they suddenly stopped. The music continued on, but they did not. Death became the ultimate party killer.
Kim Plasket
Kim Plasket is a Jersey girl at heart relocated to sunny Florida. She enjoys writing mainly horror and paranormal stories and lives with her husband and 2 kids. When she is not slaving away at her day job, she can be found drinking coffee with fellow author Valerie Willis and planning the demise of some poor character. Currently she has several short stories featured in anthologies such as 'Demonic Wildlife' and 'The Hunted', also has a story in an Anthology Titled Fireflies and Fairy dust she also has had a story featured in Shades of Santa  with more to come.
You can find Kim's work on Amazon.
About the Author
Latest Posts
Stuart Conover is a father, husband, published author, blogger, geek, entrepreneur, horror fanatic, and runs a few websites including Horror Tree!