The Horror Tree Presents… An Interview with Jim Phoenix, Founder Czykmate Productions & Haunted MTL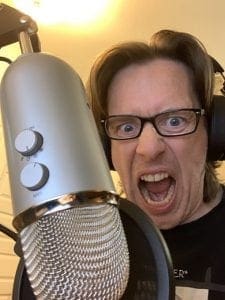 An Interview with Jim Phoenix, Founder Czykmate Productions & Haunted MTL
By Angelique Fawns 
There is a dark and creepy place lurking on the internet for those that LOVE all things that go bump in the night. Hauntedmtl.com publishes horror news, criticism, and original fiction.  Looking to learn about the hottest new survival-horror video game? Need some direction finding the best in scary television and movies? How about some original dark fiction? Jim Phoenix and his team keep the daily horror feed current and prolific.
Haunted MTL is also announcing a new project called The Undead and Uncut -Live! It's a podcast running just for the month of October, where everyday is a new episode building to an exciting climax Halloween. Any and all "listens" equal donations to the Ottawa food bank for Canadian Thanksgiving. Also anyone who donates to a food bank this month can show the receipt to @HauntedMTL, and get a free PDF copy of their new anthology 101 Proof Horror, which is for sale right now on Amazon.
Czykmate Productions is the publishing branch and produce anthologies and novels/novellas. They look for work that is "strong, punk, dark, humorous, and just strange enough to be true." 
 I discovered this gem when I found a call on Submittable from Czykmate Productions, "How HORROR-able".  I uploaded one of my very first short stories "Death Metal Fan" in February of 2019 and it was accepted. It was the first money I ever received from my fiction, and I was thrilled to make the $2.00 US. 
Jim Phoenix is also a very interesting and mysterious character. When asked about his day job, he said, "I used to write scripts and book adaptations but put that away once Czykmate started up. I do have 'another life' outside of horror, but I can't say what it is here. Let's just say my current day job isn't exactly 'open' about things."
Well, now I'm intrigued! Let's learn more about the man and his mission…
AF: How has your company evolved since you opened your figurative doors?
JP: We started out 'way back when' as a punk 'zine. It was something I wanted to start for people who normally wouldn't have a voice in publishing. Our first venture was Ricky's Back Yard named after my friend's brother who died way too young. He was a new punk that wrote his own songs – something damn rare – and the name was a tribute to him. Our 'zine was anthology based and we would have certain themes where all the money (not profit–all of it) went to the charity that was tied to the theme.
Back then it was Lizzie Nicodemus doing all the cover art and Jenni Hill reading the subs. I made sure that the people who we accepted got paid and did me best for internal design. We experimented a lot back then (still do, really) and hit major conventions like the AWP (The Association of Writer's and Writing Programs) to help us grow. I remember 'inventing' a Trello board slush pile scheme because we didn't have enough money to use Submittable. That's how raw things were.
That moved slowly to Czykmate with an experiment of 'ebook only' authors where I likened it to 'not ready for prime time' but they had 'something'. The result was offering an 'ebook' only contract where if the ebooks sold enough, we'd offer a print  book contract to the author. We were getting bigger then and, unfortunately, Lizzie and Jenni had other obligations so they parted ways.  I did most of the ebook covers and interiors (again, learning form conventions like AWP on how to do it) and went to out source the print books. With Lizzie and Jenni gone, I had to move into the freelance market to round off the staff (readers, editors, cover, interiors). 
From Czykmate came HauntedMTL. I've had this 'real life hauntings' idea for some time now. Originally, the website showcased some ghost hunting material that I was part of in Montreal with Taylor G and Stephanie R. We even had a pilot filmed where the concept was not so much 'we believe everything' but 'we doubt'. Who knows, maybe one day I'll dig that old pilot off…
After the ghost hunting died down (no pun), I turned the focus to covering horror. We've kept the charity grass roots and are huge supporters of LGBTQ and BLM issues, as well as food banks, retired veterans, and other projects of the more political nature. In the early days of that the site was just me–then Dave Davis came around. I gave him a shot as a writer and he expanded into designer and creative push for the site. I started recruiting from Submittable and put people in. Now we have reviewers, original content (short stories and art), a line of podcasts, and even a bit of swag available on Red Bubble. The future has a few tricks in store (video and radio dramas and choose your own adventures with RPGs and oh my! I've said too much!) but it's always family first. I don't have staff–I have a horror family with Brannyk, EV, Payne (yes, 'that' Doctor Payne), LJ, Parz, Shane, two Nicoles, Court, Dave, Vicki, Jenn, Jake, Brianna, Sarah, Rachel, Wade, Scream, Ruby, 3C3, Kayla, and Kota. And, of course, all of our listeners (special shout outs to Eric Gengle, a Missouri friendo of Brannyk's, and someone who beat the dog act, and everyone lurking daily on the site and on our feeds–come say hi!).
AF: What kind of writing do you do yourself?
JP: I had a career as a script and novel writer (read as ghost writer). I got tired of ghost writing. It felt weird getting money for something I could never put on my CV. I still like to write, though. I have a novel in short stories that is coming out in 2021 where every chapter is a stand alone short story (yet they are all linked together like a traditional novel). After that, there is the Choose Your Own Adventure along with a YA novel. Believe it or not, I've got a card game coming out with an old friend (hi, Mike!) in 2021, too. 
AF: You certainly have a lot of irons in the fire! Is there any profit margin in your website/publishing?
JP: I've never done it for the profit. It's always been about creating a safe space for horror fans. To be fair, we still give most of our money to various charities. Heck, there are people like Payne and Cleaves on my staff who have donated all of their pay to charity. I think giving people a voice, especially underrepresented people, is far more important that money. We used to use Google ads, but I got sick of banning so many crap political ads (and that damn earwax ad gave me the willies–if you use Google Ads, you KNOW the one I'm talking about). I'm a bit weird about money. It's just funny little numbers to me. I'm definitely not a 'money beats soul' person (as Morrison would say). 
AF: There is an alternative, avant garde feel to your website. What sort of stories and/or writing are you typically looking for?
JP: Authentic. Make it real–from you. Don't retell the same ol'. Grab me. Make me shiver. Make me go HOLY FUCK DID YOU SEE THAT?! It all comes down to being real with your art. Hone your craft and send in the best version of that story you can. 
AF: Thank you for picking up one of my very first stories. Why did you like Death Metal Fan?
JP: Remember when I said 'grab me'? Check this hook: 'The weather was unbearably hot. Smoking, steaming, bra-dripping hot. Mia lay on top of her bed with a fan blowing air on her body. Moderate relief.' 
Let's break that down. It's hot out. How hot? Smoking. Steaming. Bra-Dripping. Hot. Some writers ignore rhythm in their work, which is a shame–BUT–when someone does have a great sense of rhythm it shows up that much brighter. I loved the beats here. This play goes throughout your writing–'yada yada yada. Ya right.' That plays out as Bum-pa Bum-pa Bum-pa. BUM BUM! Alex Van Halen would be jealous of that rhythm. 
https://hauntedmtl.com/originals/death-metal-fan-angelique-fawns/
AF: Your contract has a clause where the contributor has to pay $1000 if the work turns out to have been previously published. Why do you have that clause?
JP: Previously published can mean two things:
1) The author ripped someone off directly (boo!) or were using lyrics because they've seen their favorite authors do it (I think most people who haven't studied writing need a big lesson…ready for it…here we go: If you didn't write the song–then please don't include the lyrics in your writing. Lyrics are expensive for rights and we don't have Random House's money.)
2) They published it before somewhere — maybe with another publisher or even a blog — and don't own the rights for a republish. Not owning rights to republish puts us in a shitty spot. Don't be that guy. Also, if you put something in a blog–and gave it away for free–why would I pay you for it? Why would a customer pay you for reading something they just read for free?  Writing is a business. 
AF: What are your plans for your website in the future?
JP: The immediate future includes an audio version of an exquisite corps for October. We are recording 30 one-minute story extensions October first 'live' and then releasing them one per day until Halloween as a special episodic podcast feature. Also–very exciting–short film and radio story originals are coming your way! COVID 19 makes some filming a bit tricky, but there are always possibilities…
AF: Any advice for others who want to start up a horror destination on the web like yourself?
JP: Family first. Don't chase followers. Build a product people want to see and they will come to you. Be real with people. Don't be a dick (Jim Breuer rule #1). Have fun. Learn from people (shout outs to SexyFandom, BlueBlood, Molly, Amelia G, Forrest Black, Sandy King-Carpenter, S.R., Darcy n Joe Bob, the Shudder crew, Kevin Smith, Sharknado crew, Tony Todd, Norm MacDonald, and everyone else that pushed, taught, gamed, and help us along the way–luv on ya). 
Most of all–do it with a purpose. There are so many amazing horror voices that need amplifying–if you are one of them, drop me a line. If you are in a position of power–help others. Be kind–I guess it all boils down to that. Just be kind. 
About the Author
Latest Posts
Angelique Fawns writes horror, fantasy, kids short stories, and freelance journalism. Her day job is producing promos and after hours she takes care of her farm full of goats, horses, chickens, and her family. She has no idea how she finds time to write. She currently has stories in Ellery Queen, DreamForge Anvil, and Third Flatiron's Gotta Wear Eclipse Glasses. You can follow her work and get writing tips and submission hints at http://fawns.ca/.