Taking Submissions: Year of the Tarot: Pentacles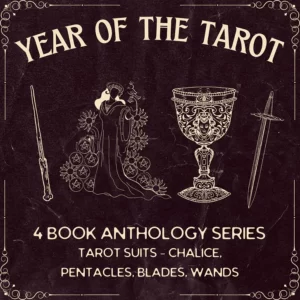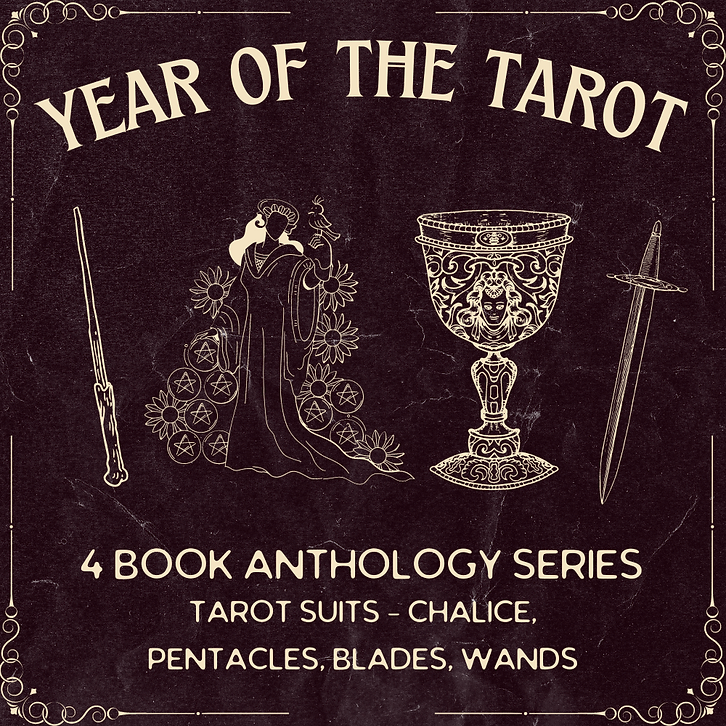 Submission Window: June 1st – 30th, 2023
Payment: 1 cent CAD per word
Theme: Horror inspired by the Tarot: Pentacles
Welcome to our four-book series, dedicated to horror inspired by the Tarot. 
Does the story have to be about Tarot Cards… NO. Think cups, knives, wands, and pentacles. We are looking for the theme to be the element, not necessarily the card itself, although we would love to read that as well. 
Chalice – Pentacles – Blades – Wands
​
**Patron Members get an extended submission window**
​
March 1- 31: Chalice  (Patron dates Feb 21 – April 7)
June 1- 30: Pentacles (Patron dates May 23 – July 7)
Sept 1- 30: Blades/Swords  (Patron dates August 24 – October 7)
Dec 1- 31: Wands (Patron dates November 23 – January 7)
​
​
Each book will have an overriding theme of a Tarot suit and be between 50k – 60k words in length. They will be stand-alone books but will make up a four-book series.
​
​​Word count: 1500 – 7000 firm.
Payment: Flat rate payment ¢1 per word CAD after approved edits.
Reprints? No
​Multiple Submission? No 💀 Only one submission per author per theme/quarter. 
​Formatting:
Please use 12 pt Times New Roman, 1.5 line spacing, set auto-indent new paragraphs.

Add the story title to the top of the manuscript.

Do not include your name or email in the manuscript. These stories will be read "blind" by our reading team.

Title your manuscript "Title of Story – Theme" for example "Borderline Nuisance – Tarot Wands"
Please make sure the title of the story and the title on the manuscript match.
​
How to submit?Submit via the Form – Which will open on the start of each quarter. (A button will appear)
IF you have issues with the form, please email your manuscript to [email protected]
Title your email the same as the manuscript
​
What we are looking for:Unique, clever, and terrifying stories. Well-written relatable characters with flaws and real dialogue. Take us on a journey and scare the sh*t out of us while doing it. 
​
What we are not looking for: Erotica (some sex is fine, just not all of it), rape, and animal abuse (kill the dog, but don't f* it).
​
Curated and Edited by S.O. Green
Remember to read the submission guidelines in full. 
Failure to comply could result in your submission being rejected or sent back for correction. At this time we are only accepting manuscripts in English. 

Word count requirements, themes, and deadline dates are detailed against each submission call.

Submitting your work
From this point forward we will be accepting submissions via form documents only. Please review each call out and use the link provided in the button or wording, to direct you to the correct form. You will complete the questions and upload the manuscript directly. Double check your email before you send it. If this is wrong we have no way of contacting you.
​
Formatting your manuscript – Blind reading
All manuscripts must be in .doc/.docx format. PDF's will not be read.
Unless specified please do not include your name or any identifying information on the manuscript itself as we are reading these stories blind.  
​
Our standard manuscript format request
Font: Times New Roman 12 point
Spacing: 1.5 line spaced. Indent new paragraphs or set formatting to do this.
Spelling: American English
​
Rights
Unless specified on the contract we ask for Exclusive First Worldwide Publication and Electronic Rights for twelve months, and non-exclusive rights thereafter. Audiobook have non-exclusive rights for as long as there is a demand for the audiobook.
​
Compensation
Paid via PayPal – see details in listing
​
If you have any questions do not hesitate to contact us here or on our Facebook Page.
Via: Eerie River Publishing.
About the Author
Latest Posts
Stuart Conover is a father, husband, published author, blogger, geek, entrepreneur, horror fanatic, and runs a few websites including Horror Tree!