Horror Dressed in Black – A Look at Gothic Horror

Horror Dressed in Black – A Look at Gothic Horror by Lauren Carter
Fancy walking into shadows? Gothic horror will take you there, gladly. 
Gothic horror looks at the fear we feel and the hauntings that may happen in between all of that. The genre dates back as far as the 1700's with The Castle of Otranto by Horace Walpole, with many classics following closely behind such as The Picture of Dorian Gray by Oscar Wilde or Dracula by Bram Stoker. We all know gothic horror to be a certain aesthetic, dark castles in remote areas, candle lit rooms with portraits overlooking it all, creepy gargoyles, and bats just outside. The genre, however, is always evolving, sometimes separating more for its close cousin of gothic romance or even, in some cases, pairing the two together – which is true in the case of my novelette "Your Darling Death."
While gothic horror tends to focus on the setting on the book, there are many out there that look further than that and even don't write much about where the characters are, instead they focus on the terror of the characters or just the story itself. Especially in the last few years, gothic horror has started to expand even more and taking more (what might be considered) risks to branch out from the norm of gothic template.  
Let's take a look at ten of my personal recommendations that I not only love but helped inspire parts of Your Darling Death.
We Have Always Lived in the Castle by Shirley Jackson
When I think of gothic horror, I think Shirley Jackson. This is one of my favourite books, it's unsettling, it's fast paced and it's full of character. Small town settings are massive in horror and this book proves why those types of settings work (even though you may say this isn't horror at all, it heads only towards the gothic side of things). You may want to also consider picking up The Haunting of Hill House or watching either of the adaptations. Mike Flanagan changes a lot in regards to Hill House but We Have Always Lived in the Castle by Stacie Passon stays rather true to the source material.
Mexican Gothic by Silvia Moreno-Garcia
With gothic being in the title itself, this is one I highly recommend you read (but do be aware of the content warnings before delving in). The gothic setting was a highlight of the story, the house being shrouded in dark mist, beautiful yet cold. How the house and its history ties into the story is amazing and really drives a dark atmosphere throughout the whole read. Plus the town is inspired by a real place, called Real del Monte/Mineral del Monte and that's not the only truth in the book…
The Hacienda by Isabel Cañas
Compared to Mexican Gothic with a mix of Rebecca, The Hacienda has a unique combination of the gothic house that is filled with terror and a love story in the blend of it. You'll meet one of the most interesting yet horrifying characters in this book alongside a bunch of other strong characters that really tie the whole book together. It's a very memorable read, packed with emotional and frightening moments. If you like supernatural gothic horror, this is for you.
The Death of Jane Lawrence by Caitlin Starling
After falling hopefully in love with Caitlin's first novel, The Luminous Dead, and seeing a gothic release from them, I picked this one up immediately and soon had another great read to add to my shelves. One of the most eerie reads I've had the pleasure to devour, the story follows a marriage made of business, not love and a manor with secrets. This story will make you question everything. It's filled with unnerving moments that will make you think about leaving as soon as possible…if the house lets you, that is. Another historical gothic romance book that will play with your emotions harshly and bitterly. 
A Dowry of Blood by S.T. Gibson
We briefly touched upon Dracula earlier, now I want to share with you the tale of his first bride, Constanta. This queer re-imagining of Dracula's brides, with sapphic characters and polyamorous relationships, has one of the most aesthetic writing styles I have ever come across, both in dialogue and in prose. The romance really stands out in this book, a hauntingly beautiful tale with the romance everchanging and growing stronger as the book continues. This is one of the only gothic books where it focused more on the characters rather than the setting and it really paid off with A Dowry of Blood.
House of Hunger by Alexis Henderson
After reading and loving The Year of the Witching, seeing Alexis come out with this gothic queer tale about bloodmaids and wealthy nobles was a must read for me. A story soaked in blood and tragedy; this was a delicious read filled with a variety of bold characters and their stories, many kept secret to begin with. The vivid descriptions really bought the story to life, down to the clothing and the teacups used. This slow burn/build of the story comes crashing at the end, keeping your pulse high and your heart racing. 
Miss Peregrine's Home for Peculiar Children by Ransom Riggs
A series that will always hold a place in my heart and only just touches on horror, I still had to mention the books that started my love of the gothic genre. With the use of creepy photos, the story paints a whole world hidden from us, filled with extraordinary children and their amazing abilities. The series has a lot of immersive mysteries, some that are withheld from us, some that are told in pieces before revealing the whole hidden truth in the climax. I love how each of the characters are unique and how overwhelming it is when something happens to any of them, being so "young". The setting of the mysterious island, the abandoned orphanage, is enough to really capture the gothic aspect of the novel but the adding component of how the characters are perceived and the change in time period really evolved the story into something more.
White Is for Witching by Helen Oyeyemi 
A mysterious house on the cliffs do you say? With gothic roots implanted at the base of it all? Just the cover alone screams gothic horror to readers. The storytelling is thrilling yet heart breaking, Helen really knows how to tug at your emotions and leave you high and dry, in the best way possible. The lyrical writing matched with the gothic style keeps you and doesn't let you go until it's all over. A strange tale, that's quick and rather beautiful. 
Catherine House by Elisabeth Thomas
Are you curious? Because it's sometimes dangerous to be, especially at Catherine House. Delve into this atmospheric gothic dream, rich in mystery and a drowsy feeling at time. The whole feel of the book is hypotonic at times, pulling you into a false sense of security at times and waking you up to madness. An addictive and unique tale, full of secrets and a strange school system, this will have you second guessing everything. If you like weird and character driven stories, consider picking this one up.
The Dark Descent of Elizabeth Frankenstein by Kiersten White
I didn't mention Frankenstein, but I am mentioning a re-telling of it. Kiersten writes a variety of different genres, and they are always fantastical told through her interesting writing style. This goes beyond the story of the man and the monster – it looks into the power of women. This character driven story has a slow pacing to it then really drives the dagger into your chest in the last hundred pages. Dark is in the title, and dark the story is. 
I hope you added one or two to your TBR, just be beware of what lurks in the dark…
About the author
Lauren (she/they) is a library assistant by day and writer by night. She is the author of YOUR DARLING DEATH and LET'S ALL GO TO THE LOBBY.
She has published several short stories including: ALIVE, JUST with The Horror Tree, THE CHILDREN OF OWL WILDS with Haunted Words Press, and THE SACRIFICES WE MAKE with Rooster Republic Press (18/09/23). You can find their website and socials here: sleek.bio/writerlcarter 
About the Author
Latest Posts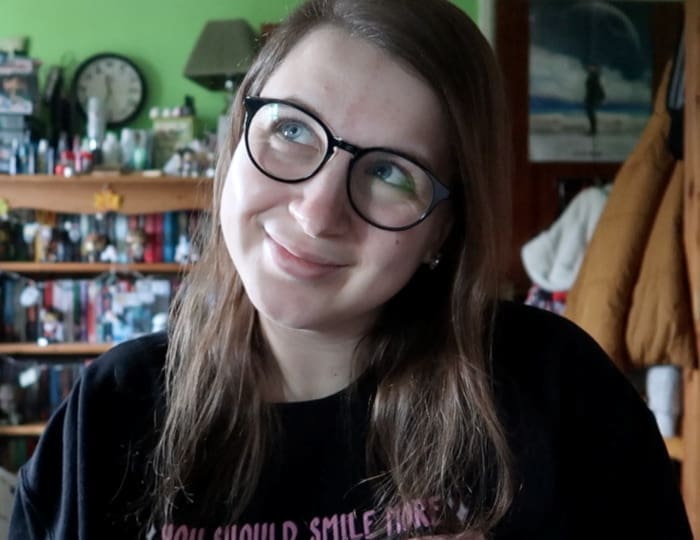 Lauren (she/they) is a library assistant by day and writer by night. She is the author of YOUR DARLING DEATH and LET'S ALL GO TO THE LOBBY.
She has published several short stories including: ALIVE, JUST with The Horror Tree, THE CHILDREN OF OWL WILDS with Haunted Words Press, and THE SACRIFICES WE MAKE with Rooster Republic Press (18/09/23). You can find their website and socials here: sleek.bio/writerlcarter