Taking Submissions: If I Die Before I Wake Volume 8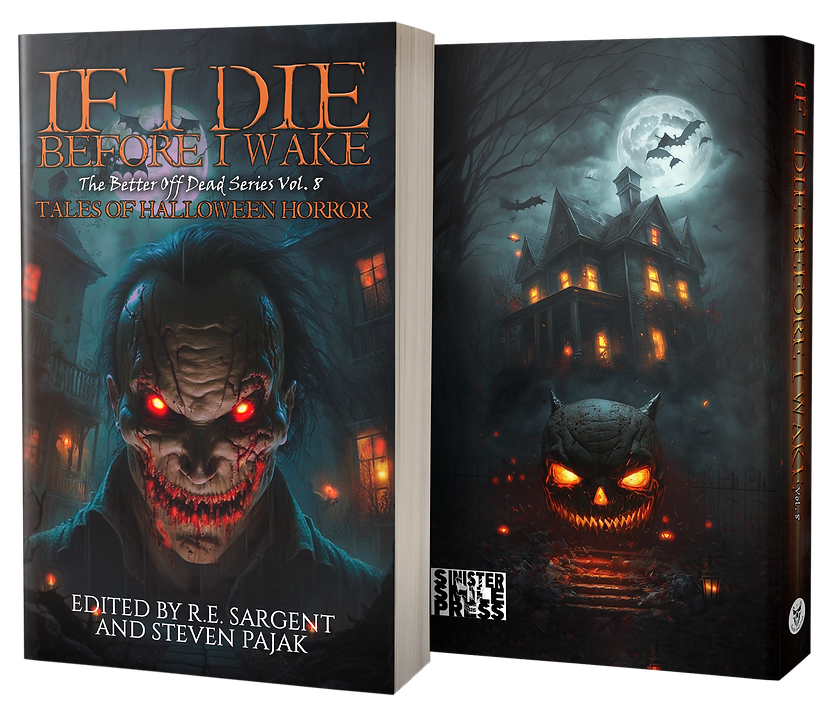 Deadline: April 19th, 2023
Payment: 4k-6k word story – $30 (USD), 6k-8k word story – $40 (USD), 8k-10k word story – $50 (USD)
Theme: Tales of Halloween Horror
Volume 8 of the popular Better Off Dead series will be themed around Halloween Horror. Submissions open until the deadline listed above.
SUBMISSION INFO
Submissions must be between 4,000 and 10,000 words (Word counts are firm)

Title, submitter's name, pen name (if different), story word count and author email address must be centered at the top of your submission

Submissions must be written using American English spelling and terminology

Submissions cannot be written by AI (Artificial Intelligence.) Any author that submits work that is not written by them will be disqualified from submitting to SSP in the future. Believe us when we say that we can spot an AI written story a mile away. Don't waste our time or yours.

Submissions must be written in 12 pt. Times New Roman font, 1″ margins, double spaced with a special first line indention of 0.3″

Submissions must not contain headers, footers or page numbers

All scene breaks must be three asterisks, centered on the page, with no spaces in between (***)

Submissions must be in .Docx or .Doc format

Submissions should be clean and edited to the best of author's ability

Submissions must contain elements of horror centered around the Halloween holiday.

The editors are looking for originality. Many tropes have been recreated over and over. We'd love to see stories that are fresh and jaw-dropping.

Extreme horror is okay for this publication, however submissions need not be extreme

Submissions must not have been published elsewhere before in any medium

Authors may submit as many stories as they want for review, however, there will be a limit of one published story per author

Simultaneous submissions are allowed, however we ask that you inform us immediately if another publisher picks up your story

If I Die Before I Wake Volume 8 will be released October 16th, 2023

Authors will be notified on whether or not their story was accepted by July 18th, 2023
Compensation Information
Author will receive a one-time payment per selected story, using the following scale:

4k-6k word story – $30 (USD)

6k-8k word story – $40 (USD)

8k-10k word story – $50 (USD)

Receive a free paperback copy of the anthology within 45 days following the release date

Agree to sign a Memorandum of Agreement giving permission for the story to be used in the anthology with exclusive rights for 12 months
Via: Sinister Smile Press.
About the Author
Latest Posts
Stuart Conover is a father, husband, published author, blogger, geek, entrepreneur, horror fanatic, and runs a few websites including Horror Tree!