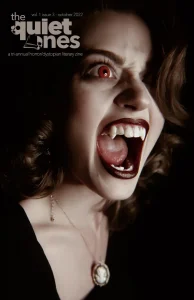 Submission Window: July 15th, 2022 – August 31st, 2022
Payment: $25
Theme: Nocturnal Animals
The Quiet Ones is a tri-annual e-zine that centers LGBTQIAP+ and women's voices in the subgenres of quiet horror and intimate dystopian fiction, both for YA and Adult audiences.
New installments of The Quiet Ones are released on the last Thursdays of October, February, and June, and are available for download on our website. We are exploring other avenues for distribution and will update accordingly as The Quiet Ones becomes available by other means.