No Longer Ongoing Submissions: Nightscript
At the time of updating this post, Nightscript is still open for submissions. However, our definition of ongoing submission no longer applies to this market and we will post updates as we see that they are open.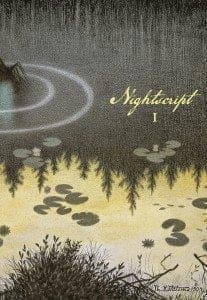 Payment: $25 and contributor's copy
Nightscript will be published annually, during the grand month of October, in both trade and electronic editions. Each anthology will feature twelve contemporary fictions ranging in length from 2,000 to 7,000 words.
N. is a venue for 'strange tales', a term used to describe fictions supernatural, uncanny, weird, and so forth. In other words, I am looking for subtle and darksome literary horror. If you feel that your work has been inspired in no small part by authors such as Robert Aickman, Shirley Jackson, Dennis Etchison, Flannery O'Connor, Terry Lamsley, Lisa Tuttle, Thomas Owen, Mary Shelley, Arthur Machen, then N. is probably the venue for you.
Authors are asked to submit their original tales via the email provided below and should allow 2-4 weeks for a response. The reading period will begin January 1st and end March 31st — though of course there may come a time when the spigot must be closed early due to volume or the final acceptance of tales.
Please submit either .rtf or .doc files to: nightscript.editor@gmail.com
Payment is a miserly $25 (with the hope that in future years this figure will increase) and includes one contributor's copy.
N. is a labor of love, and as such I shall endeavor to produce an aesthetically pleasing product for which all contributors can feel proud.
That said, I look forward to reading your work!
Thank you kindly for your interest.
C.M. Muller, editor & publisher
P.S. The slated cover image above is one half of a painting by Theodor Kittelsen, entitled "Nøkken" (1904). It is provided at this early stage to give an impression of the understated horrors I seek to acquire.
Via: C.M. Muller.
About the Author
Latest Posts
Stuart Conover is a father, husband, published author, blogger, geek, entrepreneur, horror fanatic, and runs a few websites including Horror Tree!