Nightmares Are Made By These: More Books by Horror Actors/Directors-turned-Authors
We're back! Following up on our previous article Misery Loves Company

—

where we shared with our readers books written by their favorite actors/directors

— we continue with our next set of horror stars-turned-authors.
For the next two on this list we have the dream stalker, Freddy Krueger — aka Robert Englund — and the man behind the nightmares, Wes Craven.
Robert Englund
First up on this list, we have the charred-faced, dream killin,' ugly sweater wearin' villain— Freddy Krueger. Or — as his friends like to call him — Bobby. Actor Robert Englund had been a veteran of Hollywood for sometime before being cast in his iconic, career-defining role in The Nightmare On Elm Street series. As you might imagine, Englund has accumulated enough anecdotes and insights about his experiences in Hollywood to fill a book. And so he did.
In Englund's memoir Hollywood Monster: A Walk Down Elm Street with the Man of Your Dreams— published in conjunction with the 25th anniversary of the first film — we get an insider's look into the making of a horror icon. This book covers it all: from the audition process, the inspiration behind Freddy, the grueling make-up sessions he had to endure, close-calls on the set, and other little-known trivia.
Among the praises that this book received was from Star Wars legend — and Englund's former roommate — Mark Hamill. His blurb says: "Monstrously entertaining! Robert proves as gifted and versatile on the page as on the screen. Irreverent, uproarious, revealing!"
Actor Robert Englund On Hollywood Monster
Wes Craven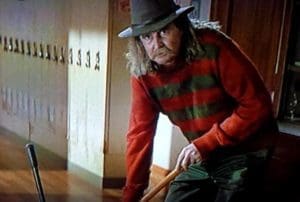 Next, we have the man behind the nightmares himself, director Wes Craven. Craven had established himself long before the aforementioned Nightmare on Elm Street series through his work on such films as The Last House on the Left, The Swamp Thing, and The Hills Have Eyes. Then, in the 1990's, he created another iconic franchise with the self-deprecating Scream films.
Craven's foray into literature includes a novel and a comic book series. Craven's first and only novel, Fountain Society, is a science-fiction/suspense-thriller about cloning. Specifically, it is the story of a young financier named Han's who unbeknownst to him is the clone of an aging physicist named Peter Jance. Han's is kidnapped and the brain of his original donor is transported into his body by Dr. Frederick Wolfe, the scientist responsible for the unethical cloning experiments.
Hans/Peter are fused together into a hybrid leaving the aging scientist with his clones memories. He is later reunited with his clone's former love interest, Elizabeth, and the romance between the two is rekindled. The old ties with the mad scientist, Dr. Wolfe, along with the reborn physicist's own diabolical weapons research creates the main conflict for the hybrid and his mistress.
Craven also collaborated on a 5-issue comic book series with 30 Days of Night writer, Steve Niles. "What happens when a vampire, a werewolf, and a zombie walk into a bar?" That was the punchline that sparked Craven's imagination and led to him telling the story Coming of Rage.
The coming-of-age story with a twist focused on a young man named Ritchie and his journey from being an innocent person with a unique condition, to being one of the most powerful vampires in the world. Helping him reach this destiny were the young man's two unlikely, monstrous friends. One of them a werewolf, and the other a zombie. The result of these three crossing paths is a buddy story unlike any other. The best comparison for it would be The Lost Boys meets Natural Born Killers.
Francesco Biagini was the artist behind the gory, horrific images of this memorable collaboration and it was published by Liquid Studios.
Nick's Bookchat: Fountain Society by Wes Craven
That's it for now. Next up, we'll be looking at some child actors, along with a few of our favorite Star Wars/horror legends-turned-authors. In the meanwhile, don't read anything too scary. After all, we don't want Freddy coming to see you.
About the Author
Latest Posts
My name is Jason Dwayne Ivey. I was born in Dillon, SC and raised in rural North Carolina. I am a graduate of the University of North Carolina at Pembroke where I majored in Computer Graphics. My true passion though is writing. I've had a few credits to my name so far including: winning a "Last Man Standing" contest with Wizard Magazine, being a finalist in a Game of Thrones compendium for an essay of mine, interviewing a New York times best-selling author for a Star Wars website, and having a bunch of letters published in several Marvel comic books. Besides writing, I am also a huge movie fan (action, sci-fi, horror), love reading (comics, Stephen King, A. Lee Martinez, Ripley's Believe It Or Not), and enjoy the action and theatrics of professional wrestling. I've been living in the same rural area I was raised for nearly 40 years now, with my family, and several pets. As far as life goals go I hope to one day be a professional author, restauranteur, and to work in the comic/film industry. As for any horror-related experiences I've met Gunnar Hansen and Ken Forree years ago at a local halloween themed fund raiser. Oh and I've met Steve Niles too. Then there is my personal project that I hope to publish one day which is a fictional universe about monsters inside of a specially-built prison.
Okay, well, in the words of Forrest Gump, "That's all I have to say about that."