Lloyd Penney & Amazing Stories Magazine

Lloyd Penney & Amazing Stories Magazine
By Angelique Fawns
Amazing Stories had its 97th birthday in April. This juggernaut of magazines credits itself as the very first science fiction magazine started in 1926 by Hugo Gernsback. Stephen King talks about receiving rejections from this publication at the beginning of his career. Lloyd Penney has taken over at the helm of Amazing Stories and would like to encourage authors to send him the hardest science fiction stories they can create. I sat down with this fellow Canadian editor to learn more. 
AF: Tell me how you became the editor for one of the oldest and most respected magazines in the industry.
LP: I think it was through attrition. I knew about the return of the name as a website but found out in 2012 that there were plans to have the magazine return. In 2018, I saw the announcement of the new magazine under the editorship of Ira Nayman, who also lives in Toronto, an old friend, so I sent him an e-mail congratulating him, and I asked him if he needed any help, and he said yes. From the second issue, through to the last issue produced, I was the proofreader and copy editor. Then, Ira resigned to get back to his first love, writing, and Steve Davidson, the publisher, transferred all of his publisher's responsibilities to Kermit Woodall (art director and webmaster) so he could look after a sick mother. That left Kermit and me, and he asked to be the editor-in-chief on November 2, 2022. A day that shall live…in infamy…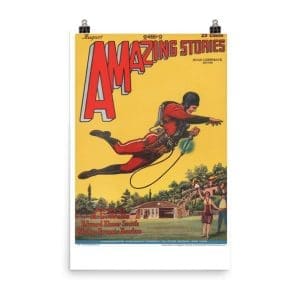 AF: How is Amazing Stories evolving and changing?
LP: I am not sure how it is changing, but Kermit and I decided to return the magazine to its roots, to the hardest science fiction we can get. That's what our base readers want to see. We want a publication you'd be pleased to see when it arrives.
AF:  Can you give us some hints as to what kind of stories are most likely to be successful? 
LP: Hard science fiction, with accurate science within, a story that will keep you reading to the end, and perhaps a little twist to make the story somewhat unpredictable.
AF: What challenges have you faced as you explore the future of magazine publishing?
LP: Our biggest challenge has been that we are unable to produce the kind of magazine we'd like to produce. Our last Kickstarter was unsuccessful, so we are accepting stories to be published on our main website. We pay what we can, $20 for publication, and $10 if it is a reprint. We hope we can change all of this very soon, and I think we will try another Kickstarter, sometime in the coming months.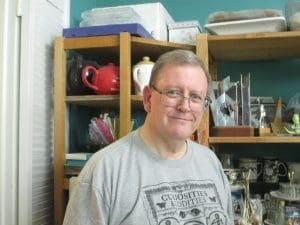 AF: What personal projects are you working on? What do you do in your spare time?
LP: Spare time? What is this 'spare time' you speak of? These days, I go into a publications office in Toronto's east end twice a week to do the proofreader/copyeditor thing for one print magazine and two e-magazines. Then, I am the occasional editor for a British author's long-time series of books, D.J. Holmes and his Empire Rising series of space adventures. And, for the past 40 years, I have been a regular correspondent and writer in the Letters Column for a long series of fannish publications, fanzines. I try my best to juggle all of this, and I hope not to drop anything. I have been an editor/copyeditor/proofreader for most of my working life, and I have always been an SF reader, so this is the first time I've been able to combine the two, and I have tried my best to run with it. I was told it should be fun, and it has been.
AF: Though you are Canadian, you have worked for several American science fiction publications. What is the difference in the speculative landscape between the two countries?
LP: I can't really say there is a lot of difference between what Canadian and American readers want to read. We all want good stories to read, stories that will entertain us and give us something to think about and enjoy. I did some editorial work with Scot Noel's Dreamforge Magazines, but left it when I was asked to be the editor-in-chief here.
AF:  What is in the future for Amazing Stories and Lloyd Penney?
JR: Well, in April, we marked the 97th anniversary of the publication of the first Amazing Stories, edited by Hugo Gernsback. So, what will we see in the next three years? I hope we can be back with lots of new paper issues, and celebrate with SF readers and fans everywhere the Amazing Stories centennial. And, I want to be there.
About the Author
Latest Posts
Angelique Fawns writes horror, fantasy, kids short stories, and freelance journalism. Her day job is producing promos and after hours she takes care of her farm full of goats, horses, chickens, and her family. She has no idea how she finds time to write. She currently has stories in Ellery Queen, DreamForge Anvil, and Third Flatiron's Gotta Wear Eclipse Glasses. You can follow her work and get writing tips and submission hints at http://fawns.ca/.